By Patty LaTaille
Okay, granted, there are many riveting experiences found in the mountain town of Salida. Whitewater rafting, mountain biking, climbing a fourteener, to name a few—mostly outside adventure activities. For those who prefer an indoor enthralling experience, scurry your way to downtown Salida proper and release your inner creative energy at the unique Riveting Experience Jewelry-making and gallery located at 121 North F Street,
How intriguing, one may think—a jewelry-making enterprise framed in the context of creative expression gatherings—accompanied by wine and beer and snacks! A place for individuals to explore their own creativity and create a one-of-a-kind masterpiece to wear and/or share.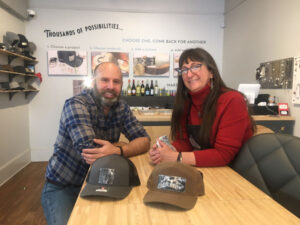 "Making is better than buying! This is the birthplace of something great and fabulous," state artists and owners Harry and Nicole Hansen, with broad smiles under their COVID-conscious masks. "You'll find the machines and materials for designing and crafting your necklaces, rings, bracelets, hat badges, ornaments, book marks, etc., made of different metals: sterling silver, copper, gold fill, aluminum and leather—along with a variety of stones, crystals and ornaments to attach."
Machines for roller printing, hole punching, stamping and of course attaching—by riveting—are fixtures in use in the studio. Examples of designs and items created are on display and original ideas and designs are encouraged. Participants are walked through the process with as much help and guidance as they want or need.
The Hansens are the perfect hosts and highly experienced creatives and metalsmiths to support and empower you on your path to creative success. They have over 60 years of shared experience in working with metal and designing and crafting custom jewelry. Nicole continues her family's legacy in this initiative—she literally was raised in a home with a fine jewelry shop attached in Boulder. Her artistic metal and precious stone jewelry was showcased in the former local Cultureclash Gallery. Harry took a different path initially as a welder, then as a farrier—with over 40 years of experience in hammering metal. He regards a hammer as a literal extension of his hand. They are a family of "makers"—creating things with their hands to gift each other with. Their son is currently enrolled in college for a degree in metalsmithing. Together,  the Hansen's traveled to sell their unique creations, and then left the circuit of fine art shows that took them across the country for quite a number of years to settle more into Salida, which they have called home for 23 years.
Despite the COVID-19 challenges of 2020, the gallery's one-year anniversary was at the end of September, and even though Nicole and Harry didn't write in a worldwide pandemic as part of their business plan, it seems as Riveting Experience is here to stay—and to hopefully expand. Their first-of-its kind business idea and subsequent flagship store has created quite an appeal.
"This is the pilot store," Harry explained. "We are looking at expanding this concept into a chain of stores across the United States—with the next one on the Front Range in Colorado."
Riveting Experience seems to be ideal for parties: think bachelorette, birthdays, company team building activity, etc., to experience a two-hour low stress, fun environment where "You cannot fail at this because we won't let you!," as their brochure states. No intimidation factor—it's a very social and upbeat atmosphere—and there's always the organic Italian wines and interesting beer selections to ease the anxiety of producing solid art.
A maximum of 10 people can be seated at one time, although eight is more comfortable. Ages five and up. Handicap accessible. Online booking is encouraged.
Individuals, couples and household groups only can reserve the space at this COVID-conscious time. Because of the close quarters, Riveting Experience can only accommodate individuals and members of the same household at any one time. Participants are welcome to bring their owns snacks and purchase beverages, otherwise charcuterie and dessert trays or sandwiches and cookies by an outside vendor can be ordered and provided.
Cost: a $25-35 budget is a good range to be able to complete a nice piece of artistic expression, with costs dependent on the type of metal and design you choose. Gift cards are available and encouraged as an economical way to plan a party.
So reserve a time at the Riveting Experience to experience a new concept in jewelry—design and wine—and explore the thousands of potential possibilities to create a piece you can wear with pride, while enjoying the collaborative creative process!
Contact info: 719-530-3032
rivetingexperiencejewelry@gmail.com
www.rivetingexperiencejewelry.com
Patty LaTaille regards writing, reading, loving on animals and enjoying outdoor activities in nature as the best things in life—and loves being back with her tribe in Salida.