By Chelsea McNerney-Martinez
The Frontier Drive-In, located on U.S. Hwy. 285 just minutes from the town of Center, has been vacant for years. But before the pandemic made drive-ins more popular as the most practical way to hold outdoor gatherings, the potential for the Frontier to be on the frontier (not sorry) of tourism and event spaces was evident, at least to Mark Falcone, CEO and founder of Continuum Partners, a development firm in Denver. Positive changes are on the horizon for the project.
In 2018, Falcone and Mike Anderson, Development Manager for Continuum, spoke at the annual meeting for the Upper Rio Grande Economic Development organization. According to the Center Post-Dispatch, they explained their main goal was to develop "a space for re-creating and relaxing, using familiar half-round metal structures as a conference center, welcome center, guest accommodations for 55 to 60 and two common dining facilities." They stated the projector booth and snack bar would be retained and keep the nostalgic 1950s style and the area would also feature an RV park, cabins, yurts and camping spaces. It will be utilized for artist residencies, along with workshops on cooking, indigenous arts and crafting with materials native to the area.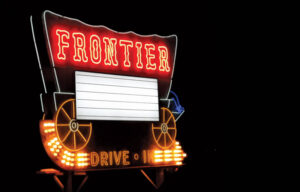 Although Continuum has completed many iconic projects in the Denver area, Falcone is no stranger to the San Luis Valley and had a hand in the development of the Zapata Ranch. When Continuum was contacted for comment this December, Founder/ President of Annabel Media Kate Bailey returned the call, stating Continuum was not quite ready to unveil any more details about the project. Bailey stated there will be a major press release about the Frontier and any upcoming timelines in late January or early February. Their goal is to have a "soft rollout" with public events in the summer of 2021 (COVID restrictions permitting), with gradual infrastructure expansion through 2022, when it will be fully open.
The most vibrant and apparent improvement to the grounds has been the return of the original sign, which was restored by Morry's Neon Signs, also of Denver. Morry's is a third-generation family owned and operated business, founded by Glen and Morry Weseloh in the early 1980s, now owned and operated by Glen and his son Darryl Weseloh. Darryl and Glen explained Morry had been "bending neon" since the 40s when he returned from serving in World War II. Morry had worked in a union which tried to force him into retirement, so he founded the company instead. He remained working there until six weeks before he passed away at the age of 88.
Darryl stated they have lots of experience in sign restorations of all shapes and sizes, with one of the most notable being a 50-foot sign for a motel on Colfax Ave., so the Frontier sign was interesting but did not present any new challenges. The staff at Morry's began by cleaning the whole sign, apparently quite a task after it had sat for decades adjacent to agricultural fields and a highway, serving as a home to generations of pigeons. Glen stated they took out five 40-gallon trash bags worth of debris. After disinfecting it, they replaced the metal on the sides of the sign and reinforced the interior with new fiberglass, touched up the paint, and completely rewired it, including new sockets and reader boards. They then replaced all of the neon. "We tried to keep as much of the original material as possible, to keep it within that era," Darryl added. Glen also praised the craftsmanship of the original sign noting "It earned its stripes; we should let it keep them." The whole restoration took about four months and the installation took two full days. Morry's will also be working on some smaller signs for the Frontier grounds, including a "Wish you were here" sign. Darryl's favorite aspect of the project was including the chasing lights, a feature he explained is illegal in Denver. Glen said "We were pleased to be a part of this history." He estimated the total cost for the sign restoration was $10,000.