By Jan MacKell Collins
Arcadia Publishing
ISBN 978-1-4671-3093-6
127 Pages, $21.99
Reviewed by Forrest Whitman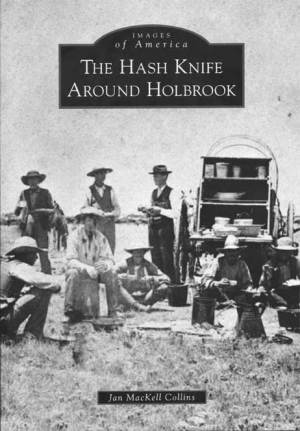 The Hash Knife brand and the cowboys who were part of that legend have created a cottage industry around Holbrook, Arizona. Each year a well-funded trail ride, called the Hash Knife Pony Express ride, goes from Holbrook south to the urban centers of Arizona. It's a January boost to the local economy. Western history lovers and casual tourists alike are attracted to to Hash Knife sites such as the OW Ranch and the towns of Holbrook, Joseph City and Winslow. This book spells out the historical basis for this, one of the West's most romantic cowboy tales.
Jan MacKell Collins has written a careful and loving history of the Hash Knife cow camps and their colorful, sometimes bloody, history. The many historical photographs highlight the tale as the reader turns the pages. Her interest in the story is personal since her great-great grandfather, George Hennesey, and another great-great grandfather, Frank Wallace, rode for that brand. It's not an exaggeration to say that beginning in 1884, the Hash Knife brand of the Aztec Land and Cattle company largely shaped northern Arizona. The range wars and fights at the "bucket of blood" tavern left quite a few dead, and the bad press the Hash Knife received was somewhat merited. The railroad made a good profit transporting cattle, and most of the towns along the line depended on the cow trade. It was an easily romanticized time. Yet the day-to-day existence of the cow punchers was tough and often boring. The distant money managers made their decisions based on the bottom line, just as today. She spells all of that out very well.
I have the same quibble with the book that I have with all of these western "Images of America" works: It's a cleaned-up image. What about the serious conflicts with Native Americans over the range and water resources? What about the depletion of the range that led to the federal government stepping in with the Taylor Grazing Act in the 1930s? That one hasn't ever been resolved completely. Witness Cliven Bundy defying the "feds" with his armed militia buddies today. I know I should probably stop carping here and just let the cowboys be cowboys, but some mention of context would be welcome.
Collins has done a fine job with her presentation. The images follow the tales beautifully, and you can almost feel the trail dust in your teeth. It's well worth a read.