By Mike Rosso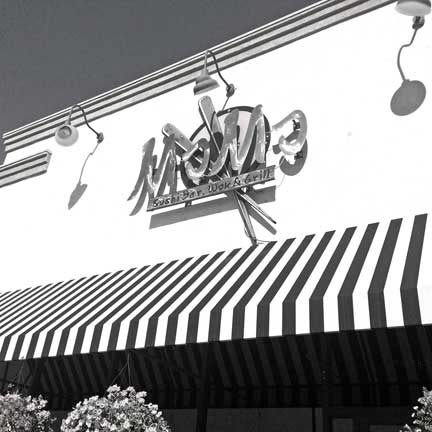 Mo Mo Sushi Bar Wok & Grill
1540 Royal Gorge Blvd., Suite D
Cañon City, Colorado
(719) 275-3667
Monday – Thursday: 11 a.m. – 8:30 p.m.
Friday – Saturday: 11 a.m. – 9 p.m.
It seems a little redundant to write a review of a restaurant sixty miles from Salida, only to find not one, but three other tables filled with hungry, unrelated Salidans. That Mo Mo's has been discovered is no secret to many fans of Asian food around here, but for the uninitiated, let's get to it.
The restaurant was founded by Grace McNiel and her brother Han Son in June 2007. They are of Korean-Japanese-American descent. Han is the general manager and the mastermind behind the food. He has been working with Asian cuisine since he was a teenager and has trained under a variety of skilled chefs. Chances are good that if you go to Mo Mo, you will be greeted by Han at some point.
This is not your garden-variety Asian restaurant. Featured on the large menu are dishes as varied as Pineapple Fried Rice, Yakisoba Noodles, Bento Bowls and of course, sushi. A variety of chef specialty rolls, from Alaska Rolls to Yakiniku Rolls (fried spicy tuna with cucumber, topped with minced jalapenos, onions, wok-seared beef and teriyaki) are offered. Most entrees are served with a tasty miso soup and a side salad, which arrive at the table very quickly while your main course is being prepared.

On my last visit, I enjoyed the Chicken Jungle Curry – green coconut curry sauce with broccoli, red bell peppers, onions, ginger and Thai basil leaves with rice (they offer white or brown rice). On previous visits, I've ordered Drunken Tiger Noodles – wok-seared thick wheat noodles with garlic, ginger, carrots, spinach, shitake mushrooms, onions, zucchini, and kamaboko, tossed in sweet soy ginger sauce. My dining companion ordered the classic Thai dish, Pad Thai, and declared it "Just the right amount of spice, vegetables, tofu and yumminess!"
Mo Mo also offers some unusual sides for an Asian restaurant, including: Beer-battered Onion Rings, Steamed Asparagus and Homemade Mashed Potatoes (I've had these and they are amazing.) Appetizers include: Crab Blossoms, Edamame, Baked Green Mussels, Chicken Lettuce Wraps and more. In the sushi department (there is a classic sushi bar on the premises), they offer combinations as well as sashimi, with choices from albacore to yellowtail.
The menu is extensive. If you are new to Mo Mo, you may need a few minutes to absorb all the choices before you. Portions are very generous, and the prices are very reasonable. The ambience is also worth the visit. There are no bright florescent lights with cheesy Asian music coming from the ceiling; the place has a crisp, modern feel and doesn't seem loud, even with a packed house, which is often the case.
In April 2013, they opened a second location in Pueblo – Tsunami – which is being run by the eldest brother, Richard Son, and from all reports, is as great as Mo Mo. If I sound like I'm gushing, well, just try it out for yourself if you haven't yet been initiated.