By Mike Rosso
It might be a reaction to the mega mansions and trophy homes of the 1990s and 2000s. Housing shortages and rising home prices may also be contributing to it, but the minimalist, tiny home movement is alive and kicking, nationally and here in Central Colorado.
What is a tiny home? Also known as small houses, these living spaces can be as little as 100 square feet up to 500 or 600 square feet. Many are self-contained with kitchens, bathrooms, and sleeping and living spaces, and are designed to be ecologically conscious with a tiny carbon footprint to go along with their size. They are often affordable and a possible solution to a growing housing crunch nationwide.
Dignity Village
The first large-scale tiny home project began in 2000 in Portland, Oregon as a response to growing homeless problem in that city. Called Dignity Village, it is located near Portland International Airport and houses an estimated 60 people who, up until then, had been illegally squatting in tents and campers. Considered to be a transitional housing campground by authorities, the Village is incorporated as a 501(C)(3) and is governed by bylaws with a board of directors and corporate officers. Available are common showers, sanitary facilities, communal cooking facilities, access to counseling, telephones, education, first aid and other basic services. Housing structures vary in size but are generally no larger than 10 by 15 feet. As shelters wear, their materials are recycled to fashion new structures. Since that time, other transitional small housing communities have sprung up in Madison, Wisconsin; Olympia, Washington; and Austin, Texas, among other communities. A project called Little Denver is currently under way in that city with a vision to create a community of micro-houses grouped together in a "Tiny Home Village" of residential structures between 100 and 200 square feet.
Walsenburg
The first community in the state, and one of the first in the nation, to change its land use codes to allow tiny homes on any residential lot is Walsenburg, Colorado. The new zoning law will allow for homes as small as 130 square feet. The idea, according to City Administrator David Johnson, is to allow retirees to live more cheaply and comfortably. The catch is, the homes must be on a permanent foundation.
A three-acre lot in the city will become host to 28 tiny houses, manufactured by La Junta-base Sprout Tiny Homes, which is behind the project. The company also has a proposal in the works for Salida – more about that later in the story. Sprout's models max out at 500 square feet and are built to be energy efficient with chemical-free interiors and are available on wheels or for placement on a foundation. The houses proposed for Walsenburg will range in size from 260 to 672 square feet and will cost between $59,900 and $115,000.
The Katrina Cottages
The town of Buena Vista saw an early example of smaller living when Jed Selby, developer of the South Main Project, purchased 12 small homes from a FEMA auction in Mississippi that had been used as temporary shelter for victims of Hurricane Katrina in its aftermath. Selby moved the units onto permanent foundations on a vacant lot within town limits. The town required a special use permit and several variances to make them work, and Selby increased the insulation in the ceilings and floors to bring the units up to state code. The homes, which are 728 square feet for the two-bedroom units and 396 square feet for the one-bedroom units are leased out long-term. This year, eight more units are scheduled to be installed.
Poncha Village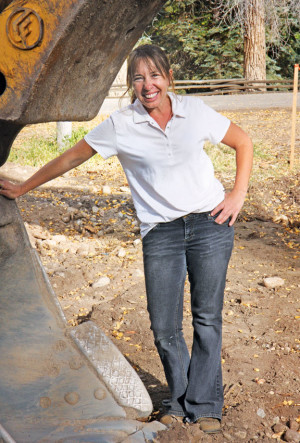 In October of this year, a tiny home project has broken ground in Poncha Springs, which recently changed its land use code to allow for smaller units. Angie Jenson, owner of Terra Firma Forestry, is building five 420-square-foot, energy-efficient units on her property adjacent to her home with the goal of offering housing to those seeking a more simple, clean and uncluttered lifestyle. "If a person has space, they will inevitably fill it up with consumeristic items often bought cheaply and made without regard to the environment. The less a person cares about stuff, the less they will care about image and care more about creating experiences and memories," said Jenson.
In making the decision to construct these unique homes, she considered the fact that the average Colorado residence does not necessarily consist of a husband, wife and kids. Many folks choose to live alone or don't need large homes as they might be single or temporally away from their families. "It makes sense to build for a demographic of single people that have not been represented in the housing market in the past," she said. "The concept of sharing my space is not easy, but it feels good to know that 5-10 people will have a nice, well-built home to live in. I hope my renters are successful and able to have a nice environment to spend their time and advance their path in life."
The units, which were designed by Jenson with help from Gravitas architectural firm in Boise, Idaho, are being constructed with passive solar design to take advantage of the abundance of sunshine in Central Colorado. "I want my renters to live without high utility and heating bills. I would rather they spend their money on hiking boots and mountain bikes or use their money to better themselves and invest in their careers and future," she explained.
Parking for the tenants will be clustered in a separate area from the actual cabins. "I want the homes to look green and landscaped without the utility look of cars and a large paved/gravel spot next to each unit. It also will reduce the amount of 'stuff' that a person will bring into the cabin to reduce clutter."
The units are scheduled to be completed by May 2016, just in time for the summer recreational season.
Tiny Homes On Wheels
Gunnison residents Tessa Jonson and Callum Curley are taking matters into their own hands. They are constructing a 160-square-foot home on wheels using sustainable, salvaged and nontoxic building materials. The project is happening at a local salvage yard so the couple have access to "funky, recycled materials," according to Jonson.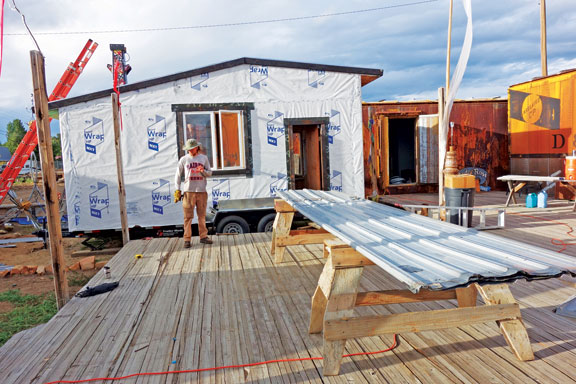 The couple moved out of their high-priced Crested Butte apartment this past spring and spent the off-season living and camping out of their car in order to save money to build their dream. "It was always our intention to live in the house as we built it because we felt it was necessary to interact with the space in order to understand what we really needed and how we were going to use it," said Jonson.
As followers of the tiny house movement for several years, it wasn't until they arrived in the Gunnison Valley that they found a community where they could grow some roots. "Along with the awareness that our rent money was not going towards any long-term objective, we decided the time and setting was right and began to plan and save," she explained.
"We began to realize that having excess space leads to excess belongings, which can easily detract time, energy and money away from the things we truly care about," said Jonson. "We designed an open space specifically for developing our yoga and meditation practices, and the layout still gives us freedom to host dinner parties with our friends. We feel that living in a space that limits us to having only meaningful possessions will create a lifestyle that gives us freedom to work less and live more."
They decided to build the home on a trailer in order to have the ability to move it anywhere to accommodate their "nomadic lifestyle," but they do hope to set up the house in a semipermanent location somewhere in the valley. Because it is built on a trailer, the City of Gunnison considers it a recreational vehicle, which does not fall under R-1 zoning regulations of just under 500 square feet.
Had they visited any tiny homes before they began construction? "We looked at photos of countless tiny homes, but never visited one in person. I guess we just dove in headfirst, knowing that this change would be beneficial for our lifestyle," said Jonson. She and Curley have set up a very informative blog detailing the construction of their home at:
homebuildingwithcallumandtessa.wordpress.com
Only a block away from this author's home in Salida, another 160-square-foot tiny home on wheels is under construction by Frank Gurney, who was frustrated in his efforts to find affordable housing in Salida. His solution? Save his rent money and build his own self-contained tiny home on a trailer bed, one that can then be towed nearly anywhere in the U.S. "One year of rent pays for this whole thing. Why should I sign a six-month lease in this town only to get booted out for a vacation rental?"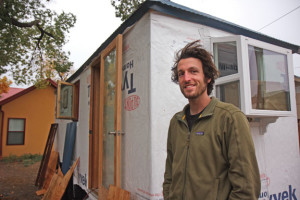 With little construction experience at the start, Gurney is learning as he goes, buying overstock materials from commercial builders as well as from the local Habitat for Humanity ReStore, which helps to keep his costs down. A visit to the first-ever Tiny Home Jamboree in Colorado Springs in early August, where he heard talks on ways to save money in the construction, also inspired his decision to build his new home on wheels.
As it is on a licensed trailer, he has a maximum width and height but is free to design it as he wishes, as it is not limited by building codes. He plans to install a composting toilet and a shower; he will catch and recycle his graywater and will incorporate a working kitchen. He intends to power his home with photovoltaics and will heat it with a small propane gas furnace. A sleeping loft is already built, leaving more living space below. Gurney also created a small, self-contained workshop, accessible from the exterior to practice his glass-blowing craft.
Where does he hope to put it once it's completed? "I'm not sure. I'll probably take it on the road a lot; I'd like to put some miles on this," he said. Eventually he'd like to park long-term on some land, possibly with some other friends who are also bucking the high rent trap and blazing a new trail, living smaller and simpler.
Senator Takes Notice
The tiny home movement has caught the attention of freshman state Sen. Kerry Donovan, D-Vail.
"There hasn't been much work on tiny homes across the nation," she said. "The one state that has addressed it said that non-city areas can't put restrictions on houses, such as minimum room sizes. This is not a path that Colorado can take because of local control and home rule." Donovan has set up an email account to receive comments from the public about this new housing concept at ColoradoTinyHome@gmail.com. She is asking for feedback and insights from folks about elements of Colorado's laws that might stand in the way of tiny homes. "Tiny homes are not right for everyone, but for some they are the perfect fit," she said.
Recycled Tiny Homes
Another variety of tiny homes is currently on display at the intersection of U.S. Hwy. 50 and Hwy. 285 in Poncha Springs. A Boulder-based company, Rhino Cubed, is repurposing used metal shipping containers into living spaces. Starting at $39,000, the units feature insulated walls, floors and ceilings. Kitchens and bathrooms are also available to add to the base models, which range in size from 160 to 640 square feet and meet the 2012 International Residential Code for One- and Two-Family Dwellings.
Tiny Home Subdivision for Salida?
Back to Salida: Sprout Tiny Homes is looking at a parcel of land off C.R. 102 east of the city for a possible tiny home subdivision. The land lies between the current cattle sale barn and the waste treatment facility and would have up to 200 tiny homes laid out in pod group lots. A community building, which would include laundry and exercise facilities, as well as a common area, is also included in the plan.
The subdivision would have two parks, and the homes would be built to be energy efficient. They will not be for sale, however, but will be available for lease in the hopes of easing the current housing shortage in Salida and to provide transitional housing for those who are just starting out. The subdivision is looking to be annexed by the city by next spring and will require a new land use code. If built, it will be the largest tiny home subdivision in the state to date.
SOME USEFUL LINKS
www.meetup.com/Tiny-House-Enthusiasts-Denver/
Live Simply Colorado – www.livesimplycolorado.org
www.littledenver.wordpress.com