Nestlé Waters update
SALIDA – As of this writing, the final decision by the Chaffee County commissioners on the special land use and 1041 application by Nestlé Waters North America, Inc. has been delayed for more public comment.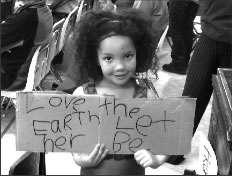 A public meeting is scheduled for April 29 in Salida where opponents and supporters of the proposal will have a final opportunity to make their case.
Nestlé Waters wants to collect 200 acre feet of water annually from a spring five miles south of Johnson Village and pipe it to a transfer station on U.S. Hwy 285 where it will be trucked to Denver for bottling and distribution.
The proposed project has stirred the residents of the communities involved, with many fearing possible negative consequences of the project including: depletion of the aquifer, little compensation to the county from the corporation, wetlands mitigation, augmentation arrangement, future attempts at water grabs, even the amount of truck-driving jobs that may go to area residents.
The story has made national news and has been covered by Front Range media as well.
The county hired consultants to review the application who voiced concerns about the site and called for more monitoring and a mitigation plan.
Public groups who have come out against the project include the Executive Committee of the Chaffee County Democrats who went on record publicly opposing the Nestle project as did the Greater Arkansas River Nature Association. The Upper Akansas Water Conservancy District also has concerns about the water augmentation plan which involves acquiring water from the city of Aurora.
The issue may or not be resolved as of the publication date of this issue of Colorado Central. The commissioners may go ahead and approve the permit against the wishes of a large number of their constituents. They may choose to delay the decision again to gather more information and data, or they may choose to deny the permit – an outcome likely to produce litigation on the part of Nestlé Waters.
Recall election in Buena Vista Fails
BUENA VISTA – An attempt to recall three members of the town board of trustees failed in a recall election held on April 21.
The recall effort stemmed from an effort by the trustees to remove Buena Vista mayor Cara Russell after she published a column in the October 30, 2008 Chaffee County Times in which they believed they had been unfairly maligned in a public forum with no opportunity for rebuttal.
The trustees felt they had been undermined and criticized by the mayor and called for Russell's resignation, but the mayor claimed the right of free speech.Shortly afterwards her supporters began organizing a recall petition of the three trustees.
Fremont Commissioners reverse zoning decision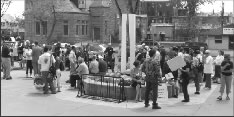 CANON CITY -Approximately 150 Penrose residents attended a hearing on April 22 with county commissioners to voice their concerns about a proposed zoning change that would allow a cement company to open a limestone quarry adjacent to their residential development.
Residents claimed Holcim (US) Inc., obtained the zoning variance using fraudulent and deceitful means.
After a three-hour meeting, commissioners decided to rescind their earlier ruling and not allow Holcim to begin mining limestone adjacent to the Top Rail Ranch residential development.
Commission Chairman Mike Stiehl claimed this is the first time in Colorado history that an approved zoning change has been reversed.
Lamborn criticized for earmarks
WASHINGTON D.C. – A watchdog group, Citizens Against Government Waste, a Washington-based group opposed to pork-barrel spending, says 5th Congessional District Representative Doug Lamborn (R) led Colorado's seven-member House delegation in the dollar amount of earmarks he introduced in the current fiscal year.
The report showed Lamborn's earmarks for the fiscal year that began in October totaled $21.73 million.
Earmarks are funding requests attached to other legislation by a single member of Congress.
Lamborn responded, "I don't ask for earmarks," he said. "Earmarks are done in the middle of the night." according to a report by the Colorado Springs Gazzette.
Ski Train leaving Colorado
DENVER – The ski train that served Winter Park from Denver has been sold to the a subsidiary of the Canadian National Railway Co., thus ending service to the ski resort that began in 1940.
The train was owned and operated by the Anschultz Co. of Denver who cited a number of issues for the sale from loss of revenue to "operating issues with freight trains," according to an Anschultz spokesman quoted in The Denver Post.
The train served an average of 750 passengers per trip 56 miles to Winter Park and back on weekends from late December to the end of March, according to The Post.
New wilderness area dedicated
ESTES PARK – A ceremony was held April 9 to dedicate a newly designated wilderness area in Rocky Mountain National Park.
About 250,000 acres of the park were set aside after President Barack Obama signed a bill in March increasing the amount of protected wilderness in nine states by almost two million acres.
In attendance were Interior Secretary Ken Salazar, Sens. Mark Udall and Michael Bennet, and Congresswoman Betsy Markey.
Republican Reps. Doug Lamborn of Colorado Springs and Mike Coffman of Aurora twice voted against the bill when it came before Congress back in March.
The total number of designated wilderness acres in the park is now about 265,000.
Also included in the bill were Colorado public-works projects including the creation of The Sangre de Cristo National Heritage Area — covering part of Conejos, Costilla and Alamosa counties — which is being recognized as the confluence of American Indian, Latino and Anglo cultures.
Bob Farris, first black sheriff in Summit County, dies at age 72
BRECKENRIDGE – Bob Farris, who was sheriff of Summit County from 1975 to 1983 and a black man in a largely white community, has died at the age of 72.
Farris had sold used cars and worked in the beauty supply businesses before he was hired by a sheriff. In 1974, he ran for sheriff as an independent. This was shortly after the movie "Blazing Saddles," a comedy that featured a black sheriff, was released. On his watch as sheriff, the Hell's Angels held a rendezvous in Summit County at a place called Officer's Gulch, and the gathering was held without significant incident.
Noise squabble verging on feud in Crested Butte
CRESTED BUTTE – Call it a squabble verging on a feud. Neighbors of The Pub, a bar in Crested Butte, say there's just too much racket. "I'm a partier, but I can't sleep through this," said Priscila Banks, who lives nearby. "And I can sleep through anything," she added.
Owners of The Pub insist they have mostly complied with the rules, which mandate noise be kept to 60 decibels or less. That, they say, is in line with the noise threshold specified in other resort towns. A creek that tumbles through the town, immediately behind the bar, is louder, says bar co-owner Chris Werderitch.
Peter Giannini, described by the Crested Butte News as a community gadfly, said viability of the core business district is at issue. Anybody living there "should expect to be subjected to more noise. There are tradeoffs living in that area, and increased noise is one of them. To make it harder for tourists to have fun is a mistake, especially in this economy."
Of course, there was a counter argument to that: "Noise isn't the only way to have fun," said another neighbor, Cricket Farrington. "In fact, I'll bet if you lowered the decibels, people inside wouldn't even notice it."
The town council, reports the Crested Butte News, doesn't want to change any laws, but is leaning on the operators of The Pub to work out a solution with neighbors. "Now, go have a group hug out in the hallway," said Mayor Alan Bernholtz,
Lease bidder sued and indicted
SALT LAKE CITY – Tim DeChristopher, the man who disrupted the sell off of public lands in Utah during the waning days of the Bush administration has been sued by the U.S. Bureau of Land Management for $81,000 for artifically driving up the prices of gas parcels near several of Utah's National Parks.
The actions of the 27-year-old made him a hero to those in the environmental community.
DeChristopher's lawyers received the bill from the BLM one day after he was indicted on a pair of felony auction rigging charges by the U.S. Attorney General's office.
U.S. Attorney Brett Tolman said each charge was punishable by up to five years in prison. He later sought to diminish the possibility that DeChristopher would draw anything close to the maximum punishment.
Tolman told The Salt Lake Tribune that without a criminal record, DeChristopher faced no more than a few years if any of imprisonment, rather than a full ten years, the maximum for a conviction on both charges. A judge would make the decision.
Tolman also said he was willing to negotiate a plea bargain, presumably on lesser charges. He made the offer to DeChristopher's lawyers the day of his indictment and during an open news conference.
DeChristopher is scheduled to be arraigned April 28.
Notable Quotes:
"Many will probably pitch tents and camp along the river, creating a hobo jungle along the river."
– Tallahassee resident and president of ROAR – an anti-Christo group. The Mountain Mail, April 24, 2009
"They got their spot in heaven and don't want any change," said McMurry, 70. "The old-timers — and there's not many of us left — you never see them protesting. But by God, the longhairs and the ponytails come out of the woodwork just to protest something."
– Chaffee County rancher Frank McMurry, who sold Nestlé Waters the Bighorn springs property in 2007 for $860,000.
Los Angeles Times, April 2, 2009
"To be a true Crested Buttian, you have to polka"
– Flauschink (Spring festival held in Crested Butte) organizer, Michelle English. Gunnison Country Times, April 2, 2009