Brief by Ed Quillen
Local News – January 2009 – Colorado Central Magazine
We officially start our seasons by the equinoxes (roughly March 22 and Sept. 22, when the day and night are the same length) and the solstices (longest day about June 22 and shortest about Dec. 22). And by that measure, winter started this year on Dec. 21.
Around here, though, we might observe that summer actually starts with the opening of passes that are normally closed in the winter: Marshall, Cottonwood, Independence, Old Monarch, Hagerman, Mosquito, etc. And the season ends when those roads close.
By analogy, winter would start when a pass that is normally open is closed on account of bad weather. Thus winter began on Nov. 30, when Kenosha Pass was closed from 2 a.m. to 5 p.m., then from 11 p.m. Dec. 1 to 10:15 a.m. on Dec. 2.
Falling snow combined with high wind reduced visibility to dangerous levels, and the slick road had cars sliding. Park County Undersheriff Monte Gore called it "part of winter driving. I don't think it's anything out of the ordinary."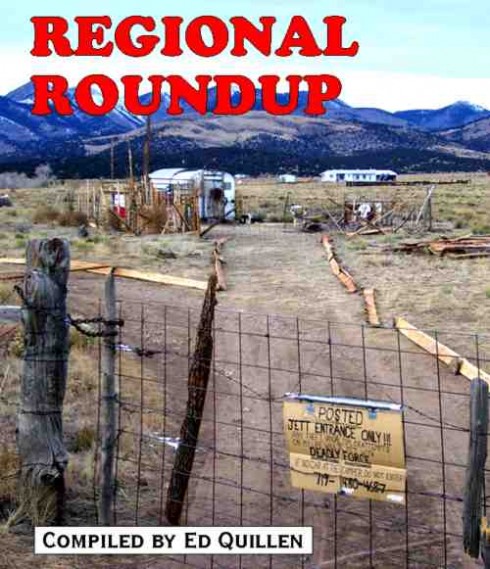 Strong winds hit the Bailey and Shawnee area on Nov. 20, lifting a roof, taking out electric power, and knocking down trees.
And how slick was Colo. 96 on Nov. 20? So slick that a Colorado Department of Transportation truck slid off the road near MacKenzie Junction east of Silver Cliff. The Wet Mountain Tribune reported that "when other motorists began to do the same thing, officials decided to close the highway to give another C-DOT truck time to arrive and sand the slippery road."
But if you set the start of winter as the start of downhill ski season, it was later than anticipated this year, for the snow didn't arrive in time for Thanksgiving weekend. Ski Cooper, at the top of Tennessee Pass above Leadville, postponed its opening until Dec. 19, and Monarch Mountain, west of Salida, had to wait until Dec. 5.
Trail inaction
After several months of study, the Saguache County Commissioners voted to take no action concerning some trails in the Crestone area that cross private land to reach public land.
The trails up Spanish and Cottonwood creeks cross land owned by the Manitou Foundation, the Rocky Mountain Zen Center, and the Haidakhandi Universal Ashram, which have posted "No Trespassing" signs.
If the county could show there were routes that predated the land becoming private, then it could assert a right-of-way under a federal law known as RS-2477. However, the oldest map available was dated 1909 and showed no relevant roads or trails.
Further, the land in question was transferred from the federal government to the Baca family in 1864, two years before RS-2477 was passed by Congress, and so the law may not apply even if the county had evidence of public passages.
Thus the commissioners declared that the board "does not have legal authority at this time to declare the two footpaths … where they cross private property as public access trails."
Emergency ends
A state of emergency, declared by the Lake County Commissioners on Feb. 13, came to an official end with a commission vote on Nov. 17.
The Leadville Mine Drainage Tunnel, completed during the Korean War, suffered one or more cave-ins which blocked acidic and metallic water from reaching a treatment plant. Water was building up behind the blockage. This could have lead to toxic leakage from the hillsides as the water level rose underground, or the pressure might wash out the blockage, leading to a catastrophic release at the tunnel's mouth, washing out the treatment plant and perhaps a nearby mobile-home park.
At the very least, the declaration of emergency got the attention of the U.S. Bureau of Reclamation, which acquired the tunnel years ago for its water rights. A well was drilled above the tunnel; the contaminated water is pumped up, then piped to the treatment plant.
It appears to be working, as the water levels above the tunnel had dropped by 17 feet from October of 2007 to October of 2008.
Prices steady but sales slow
Real estate in much of Colorado is hurting, with prices falling and not many sales. That's partly the case in Gunnison County, according to the Gunnison Country Times.
There, prices have held fairly steady, with the median home sales price in Gunnison County rising from $240,000 in 2007 to $291,000 in the first half of 2008. But the number of sales decreased from 137 in all of 2006 to 23 in the first half of 2008. And as the paper notes, "it's highly unlikely that there has been a banner second half of the year to make up the difference."
In 2005, the median house price in Crested Butte was $830,000 with 49 sold. In the first half of 2008, there were only six sales, but the median price was $925,000.
George Sibley doubtless remembers when you could have bought most of Crested Butte for $925,000, and come away with a wad of change in your pocket.
Victim identified
The skeletal remains found in a burning barrel in Saguache County on Sept. 20 have been identified. The county sheriff's department announced that DNA analysis has demonstrated that the bones are those of Brenda Kay Shepard, a 45-year-old woman who lived in Saguache.
She was last seen on Sept. 19, buying gasoline at the 1st Stop in Saguache. A missing persons report was filed on Sept. 22, and her vehicle, a 1978 Ford Bronco II, was found on Sept. 24 near the intersection of Colo. 112 and U.S. 285.
The case is under investigation by the sheriff's department, the Colorado Bureau of Investigation, and the FBI. Anyone with information is encouraged to call the department at 719-655-2544; those wishing anonymity can mail the department at P.O. Box 265, Saguache, Colo. 81149.
Accidental deaths
A Leadville man, 25-year-old Angel Medrano, died in a snowmobile accident on Dec. 5. He was driving on County Road 8 with a passenger, Robert Martinez, whom he was giving a ride home.
According to police reports, he was traveling at about 50 mph and attempting to turn the machine, which kept going straight and hit a utility pole, throwing both men off the machine. The passenger had leg injuries; Medrano suffered serious head trauma and was flown to a Denver hospital. Neither man was wearing a helmet.
Jerry Gregory, a 64-year-old resident of Custer County, was wearing a helmet while riding his mule on Nov. 16. He was thrown over the head of the mule, and pronounced dead at the scene from a broken neck.
Six heifers on their way to the Salida livestock sale barn died when their trailer tipped over just east of the summit of Monarch Pass on Dec. 5. Powderhorn rancher John Martin, 73, had 17 cattle in the trailer, and from the west side, "the road was perfectly dry, till you got to the top. But when you got to the other side, it was solid ice."
He slid off the road, with State Trooper Jim Boccacio noting that Martin "was not going fast; the road was just slick."
Truce in Bjüni
Some years ago when he was mayor of Buena Vista, Clint Driscoll proposed that the town's informal name be spelled Bjüni, rather than Beunie or Buny. We made some joke about an official spelling, and Clint cautioned us. "It's just a suggestion. I don't want anybody to think it's official because that could rile somebody, and you have to understand that politics up here is a blood sport."
No kidding. This started with a proposed annexation of a parcel called "the Meadows at Cottonwood," which was the subject of a public vote on Nov. 4. Most town trustees supported the annexation.
Mayor Cara Russell writes a column about municipal issues in the Chaffee County Times. On Oct. 30 she presented arguments for and against the annexation, noting that there were risks to the town treasury if the development stalled.
The annexation was defeated. Some trustees blamed the mayor's column, and on Nov. 10 voted 5-1 to call for her removal, since she was undermining the decision of the town board.
"For me it was an issue of leadership and unity," explained Trustee Keith Baker at a public hearing on the issue.
But at a Nov. 25 meeting, where some people were mentioning the possibility of recalling the board, the trustees voted 5-1 to rescind the call for the mayor's removal. One reason may have been that state law requires malfeasance or misconduct for a town board to remove a mayor, and that would have been difficult to demonstrate.
So for the moment, the town board members and the mayor will retain their offices.
Heating Help
There's a government program called LEAP (Low-income Energy Assistance Program) that helps people with winter heating bills, and doubtless there are others.
And we just read about a different kind of heating help in Saguache. BLM and Forest Service employees donate firewood for distribution to those who need it but can't afford it. The Saguache County Road and Bridge Department handles distribution on a first-come, first-served basis during office hours.
So the next time we hear some right-thinking radio talk-show host rant about uncaring government bureaucrats, we'll be tempted to ask Rush or Sean how much firewood he's gathered and donated.
Observations
"Someone broke into the synagogue at 201 W. 4th St. on Nov. 14 after 5 p.m. Nothing was taken. Entry was through a window where the lock had been removed for painting…. Police speculate it could have been someone seeking shelter from the cold that evening."
— Marcia Martinek
in the Leadville Herald-Democrat, Dec. 4, 2008
"We are so lucky to live here! How many places can one go dirt-biking and snowmobiling in the same day?"
— Todd Cook,
letter in the Gunnison Country Times, Dec. 11, 2008
"Economics are local and sustainability isn't just about growing our own food — it's about sustaining our communities during these times of 'recession.' The other day several advertisers paid their bills. I made a deposit at the credit union and paid Will to make iron frames for my Eagle signs. Will picked up some groceries at Curt's. An employee at Curt's rented some moves at Black Bear and paid her rent. Her landlord had lunch with friends at the Harvest — the Harvest donated certificates for a Neighbors Helping Neighbors benefit whose recipients bought a load of firewood. The guy selling firewood had a beer at the Palace and saw a massage therapist for his over-worked back. The therapist went to Wal-Mart. Wal-Mart sent the money off to China and it was never seen again."
— Kizzen Laki in the Crestone Eagle, December 2008
"Of course times are tough for any business that relies on people traveling great distances and spending large sums of money. But the sky is not falling."
— Chris Dickey
in the Gunnison Country Times, Dec. 11, 2008
"What is there to say about the Climax Mine? Well, the moly is still in the ground, the land already has had $150 million worth of improvements, and someday the economy will turn around. We're pretty sure about two out of three of these."
— Marcia Martinek
in the Leadville Herald-Democrat, Nov. 27, 2008
"With the economy sliding, [Kristyn] Niemeyer says people look at her like she's 'kind of crazy' for buying a bookstore, which is unlikely to be a big profit turner. 'All I can say is I know it's tough times, but I decided it's worth a try.'"
— Gunnison Country Times, Dec. 11, 2008