Brief by Ed Quillen
Local News – September 2008 – Colorado Central Magazine
Politics makes for no bedfellows?
There is the old saying that "Politics makes for strange bedfellows." There was also the observation, 40 years ago after Lurleen Wallace succeeded her husband as governor of Alabama, that "Bedfellows make for strange politics."
Then there's Ali Hasan, Republican candidate for the Colorado House of Representatives in District 56, which is essentially Lake, Summit, and Eagle counties. The seat is currently held by Christine Scanlan, a Dillon Democrat, who was appointed to fill a vacancy and is campaigning to keep the seat.
Hasan, who is 28 and single, told the Summit Daily News that he plans to remain celibate through the campaign, and won't even date. He said his decision had nothing to do with stalking allegations made by a former girlfriend, who dropped her request for a restraining order.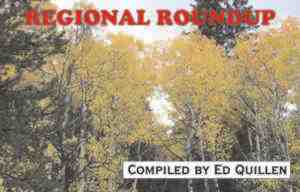 Instead, the decision means he can focus on his campaign, since "If I were to have a relationship in the next couple months, it could derail my chances."
Scanlan's reaction: "That probably falls in the 'too much information' category. Yeek."
Primary outcomes
Some years ago, Colorado moved its primary from September, when people might notice it, to August, when many Coloradans are more focused on getting outdoors with visiting relatives.
The primaries are where the parties pick their candidates for the general election. Some venues are so dominated by one party that the party's primary is in effect the deciding election. Such is likely the case in the very Republican Fifth Congressional District, where first-term Rep. Doug Lamborn survived primary challenges from Jeff Crank and Bentley Rayburn, getting 45% of the GOP vote to their 29% and 26%. He will face Democrat Hal Bidlack in the general election, but the Fifth has never elected a Democrat since it was created in 1972.
Custer County is so Republican that the Wet Mountain Tribune once referred to local Democrats as "the few, the proud, and the brave." So Jim Austin's 543-251 GOP primary victory likely means he'll be a county commissioner. He does face an opponent, but not a Democrat, he'll be running against the Green Party's Jerry Lacy. As far as we know, the only Green county commissioner in Colorado is Art Goodtimes in San Miguel County.
In Saguache County, there is no Republican candidate for a commission seat, so Sam Pace, the incumbent Democrat who won the primary 510-225 against Chuck Grant, is assured of another term unless a write-in materializes and somehow wins. Lake County Democratic voters ousted incumbent county commissioner Mike Hickman, giving him only 250 votes, in favor of Mike Bordogna, who got 586 votes.
BV wildlife officer honored for valor
Charlie Blake, a Colorado Division of Wildlife technician in Buena Vista, received an "Award of Valor" from the North American Wildlife Enforcement Officers Association.
The award did not result from wildlife enforcement, but from his rescue of a woman from a burning apartment building in Buena Vista on the morning of Feb. 20.
Blake and Gary Puckett, a Buena Vista police officer, arrived at the scene of the fire where smoke was pouring out the windows, and they could hear a woman screaming and coughing on the second story.
Firefighters hadn't arrived yet, so Blake and Puckett climbed to a second-story balcony, where Black entered through a broken window, crawled on the floor beneath the thick smoke, and found the woman. She did not respond to his attempts to revive her, so he dragged her back to the window and handed her out to Puckett. The fire crew arrived shortly thereafter, and an ambulance took the woman to the hospital in Salida,
About half an hour after the woman was saved, the building's roof collapsed. Blake was treated for smoke inhalation by the ambulance crew and released.
Lance Armstrong loses
America's most famous bicycle racer, Lance Armstrong, won the Tour de France seven times, but in the Leadville 100 on Aug. 9, he finished in second place to local racer Tom Wiens, a six-time champion at what may be the world's highest long bicycle race.
Wiens broke his own record with a winning time of 6:45:45, which was 13 minutes faster than his record-setting time last year. Armstrong came in 1:56 later.
"The guy that I raced today wasn't the guy who won the Tours, so I don't put myself in that category," Wiens said. "But it was great of him to come out and do this race and to race with all the people. He's a class act out there. It was fun. We didn't talk a whole lot because it seemed like it was pretty much business."
Before the race, Armstrong said he'd be pleased to finish in the top 5.
Elsewhere on the local bike-racing scene, there likely won't be a Banana Belt Fat Track race in Salida this summer, as the Chamber of Commerce has dropped its sponsorship. Director John Engelbrecht said registration had been dropping, and that organizing the race was a lot of work for no more than it brought into the chamber.
"It's a good race, and I hope some local group picks it up and runs with it," he said, "but it hasn't worked out for the chamber."
Murder Mystery
As we went to press, investigators had identified no suspects in the murder of a Salida man, James Durgan.
He was reported missing on July 11 after he was last seen on July 10 at the Holiday Inn Express in Cañon City. His car was found on July 15 at the Lone Pines Recreation Area on U.S. 50 between Salida and Cañon, and on July 19, kayakers discovered his body 13 miles downstream.
The missing-person case turned into a murder investigation after an autopsy revealed a fatal gunshot wound. Since the body was found in Fremont County, authorities there are in charge of the investigation; they're getting assistance from the Salida Police Department and investigators for the district attorney's office.
Durgan, 37, worked for Nortel Communications and traveled frequently. He had filed for divorce from his wife, Kristin. They had two children.
The Fremont investigators have made no arrests and have announced no suspects, but say there are several "persons of interest."
Anyone with information is encouraged to call the sheriff's department at 719-276-5615 or the police at 719-276-5600, and there are rewards for information.
Economic worries
In any presidential election year, "the economy" is an issue, and we're certainly not so isolated that we ignore it, especially with gasoline fetching record prices at the pump.
Salida seems to have a normal amount of summer visitation, but gallery owners tell us that business is down from last year, as do some restaurant owners.
In Custer County, building permits have continued to decline from an all-time high of 133 in 2003 to 67 in 2007 to a pace that will likely lead to less than 40 this year. Real-estate sales are also expected to decline by 25 percent this year from last year.
In Gunnison County, all three private schools — Sage Mountain School, Slate River School, and Crested Butte Academy — have closed on account of financial problems. Gunnison also lost a major private employer, the Town & Country Autoplex, in July when the auto dealer closed its Gunnison outlet and moved its inventory to its Salida outlet. The Gunnison dealership employed about 20 people.
Bear Season
Our ursine residents have been getting into a lot of trouble this summer, with widespread reports of bears roaming city alleys, raiding trash cans, invading homes and the like.
While there are such reports every summer, they seem more numerous this year, perhaps on account of the weather.
Last winter's heavy snows gave us a good snowpack, but the precipitation essentially ended in March. Salida, for instance, received no measurable precipitation from then until July 17, Park County was among 22 Colorado counties proposed for federal disaster aid by the state government, on account of reduced pasture forage on account of late spring frosts and a dry summer. Leadville reported one of the driest Junes on record, with .35 inch of precipitation, compared to the average 1.06.
That aridity translates into fewer roots, fruits, small rodents, and berries for bears to eat, and thus more reason for the bears to look elsewhere, such as houses, for dinner.
It could get worse this fall, since that's when bears seek up to 20,000 calories a day to prepare for winter hibernation. (Technically, it's not exactly hibernation because the bear's body temperature does not drop as much as that of other hibernators.)
So the bears are now even more eager to find food. But the late-summer monsoon rains have arrived, the landscape looks greener and more productive, and perhaps they'll be able to find what they need to eat without breaking and entering.
Dog Shootings
This hasn't been a good summer for dogs in Central Colorado, with widespread reports of canine shootings.
On July 28, a camper's dog was shot and killed near Washington Gulch in Gunnison County. It appeared that the malamute had wandered away from home camp and into the nearby Mountain Man Rendezvous about 200 yards away. The dog was later found in a shallow grave, killed by a short-range bullet to the head.
In the Silver Hills subdivision near Leadville on July 28, two loose dogs were shot, one of them fatally, by Clint Jewell. He said they looked like pit bulls when they ran toward him and his son and began attacking his German shepherd that he was holding. He went into his house, got a .22-caliber pistol, and found the dogs on a neighbor's property, where he shot them. The neighbors wanted Jewell arrested at the time of the shooting, but no charges had been filed as of Aug. 7.
In a separate incident, Margaret Sandoval of Leadville was charged with allowing a vicious animal to run at large after her pit bull jumped out of a car window on West Sixth Street and attacked a schnauzer being walked by its owner. The pit bull's fate will be determined in municipal court Sept. 10.
[Cartoon by Martha Quillen]
Observations
"Good sex life can help during bad economy."
— headline in the July 18 Fairplay Flume
"Unfortunately, there just wasn't cash flowing in Gunnison,"
— Matt Brown, explaining the closure of an auto dealership, in the July 31 Gunnison Country Times
After seeing the documentary Banking on Heaven about the FLDS church, "Never again will I joke about polygamy or excuse the abuse by thinking 'to each his own."
— Doris Dembosky in the July 17 Wet Mountain Tribune
"Our community is loaded with good-hearted mavericks. Let us become the real heart of America, and lead by example. Let's reach out to FLDS, welcome them with open arms, and serve notice to the world that Westcliffe, Colorado, puts its actions where its mouth is, and does not deny one another of our God-given right to freedom of religion."
— Betty Lee in the Aug. 7 Wet Mountain Tribune
"What are the back conversations we never get to hear? 'Hey, the ski team is folding and so is the Academy. Foreclosures are at a record pace, the construction industry is rocked on its heels, and tourism is down. But there's someone who wants to invest here. Let's make it as difficult as possible."
— John Norton in the July 17 Gunnison Country Times
"This is on the agenda because someone has contacted the town and requested to buy large quantities [of water] for transfer out of Alma over to Summit County. Nick and I both told him that we don't sell water in large quantities any more because we always get ripped off."
— Nancy Comer, Alma town administrator, in the July 18 Fairplay Flume
"The person in the [Boom Days] parade who was using a tiny, pointed shovel to pick up horse droppings, placing them in a bucket with a hole in it, and then spreading the droppings further along the parade route. Was this a parade entry, or a bad job of cleaning up?"
— Marcia Martinek in the Aug. 7 Leadville Herald-Democrat