Article by Alan Robinson
History – September 2008 – Colorado Central Magazine
Introduction
When driving up Highway 24 past Granite, who among us has not wondered what it must have been like to make the same journey by stage along the faint and narrow track you can see on the Arkansas River's east bank?
The early history of transportation in the Upper Arkansas region is nowhere more clearly evidenced than in the constricted canyon which connects the wide valley north of Buena Vista through Granite to the next wide spot north at Hayden Flats.
Early 19th-century trailblazers must have sought out the easiest traversable lands near the river for their roads, and in time the Leadville Stage Road was constructed there. The Stage Road was established in the period from 1875-1880. However, stage traffic was soon made obsolete by tracks laid along that same route by the Denver & Rio Grande and Colorado Midland railroads in the 1880s, and the Stage Road was in turn overlain by early unpaved motor roads, predecessors of today's modern Highway 24, which seems to have replaced the railroads.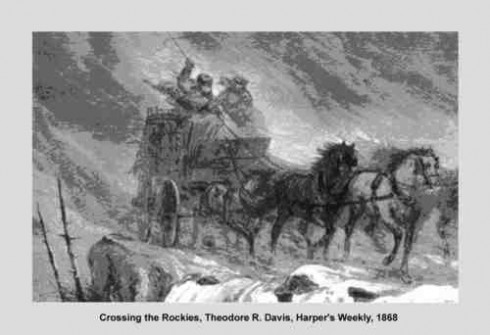 Sorting out those early routes and finding what traces can still be seen today has become a self-appointed task of mine over the past several years. I've pondered over how successive modes of transportation shoved others out of the way, where different routes crossed the Arkansas, and the small settlements which lined their paths.
By no means a professional historian, I have nonetheless become pretty familiar with the literature and photographic collections which document early stage road construction, stage stations and traffic along this south-north route. This article is an attempt to reawaken interest in the historic significance of this route, and ultimately suggest some ways it might be better preserved and even put to more appropriate modern use.
Many Stages to Leadville
The stage road from Cañon City to Leadville through Salida and Buena Vista was just one of many ways people could get to Leadville during its early boom years from the 1860s through 1880s. Depending on where you started, stages came from Denver over Tennessee, Frémont, Mosquito and Weston passes to Oro City, an early Leadville-area settlement. There was also service from Aspen over Hagerman Pass, and a route up from Twin Lakes. Passengers and freight coming from Pueblo and points south came up the Arkansas through Cañon City to Salida and Buena Vista, in due course traversing that most-evident section near Granite on their way into Leadville.
The Cañon City to Leadville Stage Road
The Cañon City to Leadville route was begun in the 1860s, and it's significant that in 1866 (long before the 1879 division into Lake and Chaffee counties) Lake County Commissioners voted for funds to construct a route "from Trout Creek to Oro City."
Official Lake County interest was likely inspired because Mosquito and Weston passes were especially difficult and dangerous, especially in winter, so an alternative was necessary.
For stages departing from the Denver & South Park railhead near Fairplay in South Park, going south to cross lower elevation Trout Creek Pass and turn north up the Arkansas was a more dependable, safer route — even though it was considerably longer. Old Buena Vista hands will appreciate that this route from South Park probably followed the old Lenhardy Cut-Off (Forest Road 376) through Fourmile or a lesser known "California Road" (FR 311) through the Goddard Ranch before there was a passable road where modern Highway 285/24 runs over Trout Creek Pass.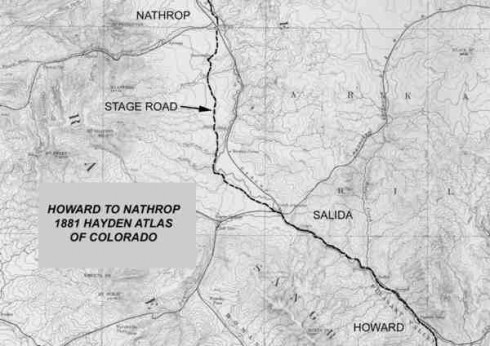 It gets a little complicated to follow all of the different stage lines as they evolved and changed hands, but basically the routes over Weston and Mosquito passes — and Trout Creek when the weather dictated — were dominated by the Spotswood and McClellan stage line. But Cañon City to Leadville was basically a Barlow and Sanderson line, which offered the early commercial connection up the Arkansas River from Pueblo before railroads arrived in the mountains.
As the Denver and Rio Grand (D&RG) pushed farther westward into the mountains, Barlow and Sanderson stages moved their departures upriver. Cañon City was the railhead from about 1874 and eventually Salida from 1880.
Stage stations were developed at intervals of 15 to 20 miles, which was the distance a team of horses could reasonably last. As it neared Salida, the road was along the north bank of the Arkansas. But from Texas Creek east into Cañon City, the stage route ran considerably south of the narrow and difficult Arkansas River canyons and the formidable Royal Gorge.
Early Stage Stations
Although I suspect that stages stopped in additional locations, the formal schedule I've seen quoted (Fossett, 1880, p. 25) reports stations, distances and cost from Cañon City as:
Copper Gulch 14 mi $1.75
Texas Creek 28 mi $3.50
Pleasant Valley 39 mi $4.90
South Arkansas or Cleora 60 mi $7.50
Centreville 78 mi $9.75
Lenhardy 98 mi $12.25
Granite 108 mi $13.50
Leadville 126 mi $14.
The total time running day and night from Cañon City to Leadville was 26 (jarring) hours.
Just south of Salida at Bale's Station, there was a tavern by that name in the mid 1870s. Stages stopped and sometimes passengers overnighted there before going on to Leadville.
In anticipation of the arrival of one of the railroads then competing for the right of way through the Royal Gorge (the Atchison, Topeka and Santa Fé and the D&RG), a formal townsite was established around 1878 a little upriver from the tavern, and named for Bale's daughter Cleora. Cleora predates South Arkansas (later Salida), and was a post office from 1878 through 1882.
Salida was established farther upriver in 1880 on land controlled by the Denver & Rio Grande after that company had won the bitter Royal Gorge right of way legal battle. Cleora residents promptly decamped for Salida and their town withered away.
After the D&RG reached Salida in May of 1880, the stage no longer routinely ran from Cañon City, and relay stations east of Salida became obsolete. Interestingly, the D&RG officially reached Leadville in July, 1880 a scant two months later, suggesting that stage stations north of Salida probably also became obsolete soon after, after having served their transportation purposes since the late 1860's.
It's puzzling why some communities along the stage route don't appear on the quoted schedule, most obviously Buena Vista, which was established in 1864. Also missing is another location which appears to have been a logical stop: the tiny long-abandoned community called Helena just north of Fisherman's Bridge (where CR 301 crosses the Arkansas) which was a post office as early as 1866 before Nathrop took over that role.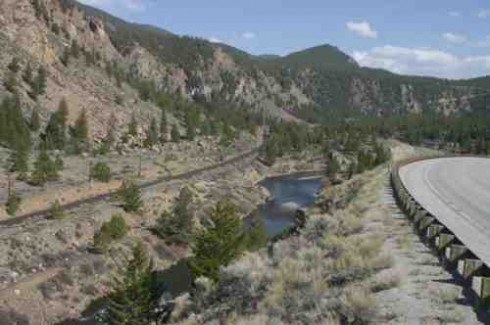 Actual Route and River Crossings
The precise route of the stage road, and where it crossed the Arkansas, most likely changed during the course of its active use from about 1865 through 1880. My most useful source of information for the end of its heyday has been the 1881 Hayden Atlas of Colorado, on which a route can be traced that seems to be the stage road as of about 1880. I include a section of that 1881 map as an example of the impressive detail of Hayden's early survey.
In general terms, north of Salida the stage road stayed west of the Arkansas, probably along county roads which still exist through Centerville and Nathrop. The road made its first crossing to the east of the river just north of Fisherman's Bridge (CR 301), where it passed by Helena. It continued east of the river until just south of Buena Vista where it crossed back to the west to enter the town.
North of Buena Vista the route stayed west of the river until the area of the Midland tunnels on CR 371 where it crossed back to the east, and stayed on the east side of the river until the AHRA campground at Railroad Bridge. Then, after passing through a station at Lenhardy's Ranch, it stayed on the west bank until Clear Creek (many sections of which are now obscured by Highway 24). From that point onward to Leadville, the stage road continued along the river's east bank, perhaps in some years being forced away from the river's edge by high water.
By studying this map closely some 127 years later, some interested friends and I — with help from old-time residents — have been able to locate physical evidence of bridge crossings: one just south of Buena Vista; another north of Buena Vista near the Midland RR tunnels on CR 371; one at the Railroad Bridge campground; and on Pine Creek west of Highway 24; and a final crossing to the east side of the Arkansas just north of Clear Creek. At low water levels, log supports of the rubble-filled abutments can clearly be seen, all of roughly similar style. In the case of the Midland tunnels and Clear Creek crossings, we have located historical photographs which confirm there were indeed bridges there in those years.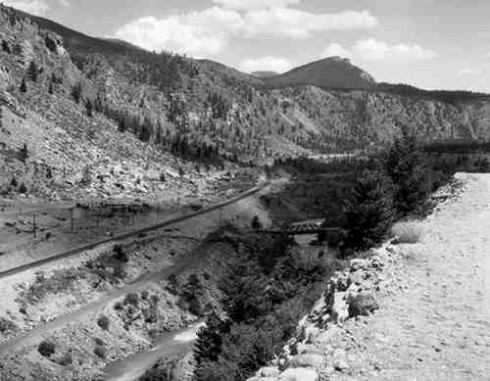 The Clear Creek Crossing
The Clear Creek stage road crossing (as confirmed by those bridge abutments and historical photos) made its crossing almost exactly where the Midland Railroad crossed and the railroad's fine sandstone supports and abutments are still standing. In fact, at one point in time the stage road actually passed under the Midland trestle at its west end.
Recall that the stage road was built ten to fifteen years prior to the arrival of the Midland and the D&RG, and that these heavily engineered rail routes must have overwhelmed the hand-built stage road wherever they met up. Not only did the stage have to go under the Midland's trestle, but immediately after crossing the river the stage road had to cross the original narrow- gauge route of the D&RG.
It's possible that railroad construction forced the already-existing stage road to relocate higher up on the canyon slope (as that really evident road cut we can see from Highway 24 might suggest), but since several miles of nearby stage road show evidence of extensive hand-built retaining walls. it's more likely that this was the road's original alignment. Here, as elsewhere, it's a little hazy as to whether or not the stage road was abandoned as soon as the railroads reached Leadville, or if the route continued to be used by freight wagons and even early motor cars until better routes were available on the west side of the river where Highway 24 now runs.
Granite Northward
For a mile north of Granite the old stage road follows a modern Chaffee County route, CR 397, and after crossing into Lake County goes another mile on a numbered Forest Service track. Then it keeps to the river, where in many sections it's been overgrown by willows and is almost untraceable because the river's course has meandered and encroached on it.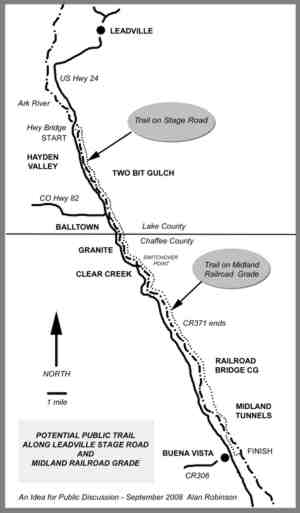 Eventually the road reaches the end of this narrow stretch at Two Bit Gulch, and rounds the corner to enter the wide Hayden Valley. For much of the next six or seven miles to Hayden Meadows (where Highway 24 crosses the modern tracks and the river), the road travels just above the major flood plain. Here, the terrain offers lush meadows and small streams.
From Hayden Meadows northward, the route is less easily followed, probably because it's been overlain by Highway 24. But it probably turned eastward, as the modern highway does, to take the most direct route into Leadville.
What's next for the Stage Road?
While doing my amateur research, which is by no means all confirmed, I began to wonder if some 140 years after the route's initial construction, and a century after the last stage passed over it, there might be something we 21st-century citizens might do to commemorate the Leadville Stage Road's contributions to Chaffee and Lake counties, and to keep it from simply eroding away.
Knowing that successful historic preservation projects often involve not just restoring the physical form of something but also finding an appropriate on-going use which keeps the structure or site alive ("adaptive restoration" it's called) it occurred to me: Why not consider a public use hiking/biking and horse trail from Leadville to Buena Vista along the stage road?
Actually, the practical route would be about 13 miles along the stage road from Hayden Meadows to Clear Creek. At Clear Creek it could shift to the right of way of the Midland Railroad and, farther south, to Chaffee County 371 for the remaining 27 miles into Buena Vista. This switchover is why I included details about the crossings of both routes at Clear Creek.
South of Buena Vista to Salida, the stage road essentially follows modern, maintained county roads, which offer less historic ambiance. And north of Hayden Meadows the Stage Road is pretty much obliterated by Hwy. 24, although there may be alternatives which would allow the proposed trail to actually start in downtown Leadville.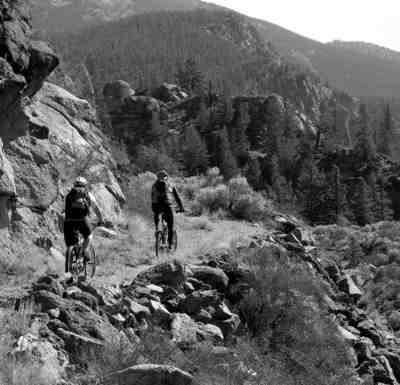 During the past ten to fifteen years, Lake and Chaffee counties have both taken steps to preserve their heritage resources and encourage environmentally sensible heritage and recreational tourism. Cases in point are the 1999 designation of the Top of the Rockies National Scenic Byway from the Highway 70 corridor through Leadville to near the Chaffee County line, and the 2005 designation of the Collegiate Peaks Scenic and Historic Byway, which stretches throughout Chaffee County, and the on-going Chaffee County Heritage Area plans.
In Lake County the successful collaboration of the Lake County Open Space Initiative between, among others, the city of Aurora, the BLM and the Arkansas Headwaters Recreation Area has resulted in tens of thousands of acres of land entering public ownership in the Hayden Valley, and active preservation of the Hayden Ranch buildings near Kobe (along the old stage route).
A public trail that stretches through both counties and preserves a vital piece of our region's history, sounds to me like something very consistent with where both counties are headed these days.
Granted this is a pretty ambitious vision: building a trail; stabilizing the physical remnants of the old stage route, such as its beautiful stone retaining walls; providing interpretive materials and appropriate signage which explain the road's crucial role in early Upper Arkansas development; and thus increasing access to the undeveloped east side of the Arkansas for fishing, photography, and nature study.
Hurdles
There are many. First among them is that even though much of these two routes pass through public lands, many sections run through private property. Private owners would have to be satisfied that their property would not be harmed, easements would have to be negotiated, funds would have to be raised, and legal determinations about rights of way resolved. There might also be concerns about how such a trail would impact wildlife and whether it should be open to motorized vehicles.
But rather than negatives, I prefer to dwell on the possible benefits:
The public would gain additional options for enjoyable educational and recreational uses in the Upper Arkansas corridor.
Some costs of trail development (planning, easement purchase, restoration, drainage, bridges, interpretive signs and routine maintenance) could be met through external grants, local matches and volunteer efforts.
Private land owners could enjoy not only direct benefits from their proximity to the trail but also enhanced property values due to its attractiveness.
Wildlife impacts can be minimized through seasonal trail management, and education of users.
Local economic benefits would be generated through additional low impact high quality tourism
Lake and Chaffee Counties would be drawn together by sharing the responsibilities for and benefits of the trail.
A significant historic route would be preserved, interpreted and actively maintained.
Both counties could gain stature for preserving heritage resources and supporting a popular win-win initiative.
Hmm. Doesn't this sound like something worth pursuing?
Alan Robinson studies the old Leadville stage roads from Buena Vista