Brief by Ed Quillen
Local News – July 2007 – Colorado Central Magazine
Jack Frost hangs around
One might ask "Where's that Global Warming when we need it?"
When Marcia Darnell sent in her "SLV Briefs" from Alamosa on June 8, she commented that "Hey , it froze here last night!" The official reading of 28° put that morning's low in Alamosa well below freezing.
That afternoon, Riff and Marilyn Fenton of Saguache stopped by Central World Headquarters and before they went out with us for a beer, mentioned that they had awoken to heavy frost that morning.
Salida was chilly the day before, with its newspaper showing an angler "bundled up to go fishing at Frantz Lake" on account of "the unseasonably cold weather for June."
The average date for the last killing frost in Alamosa is May 24.
Leadville and Gunnison residents are accustomed to scraping their windshields on June mornings; their average last frost dates are June 17 and June 23.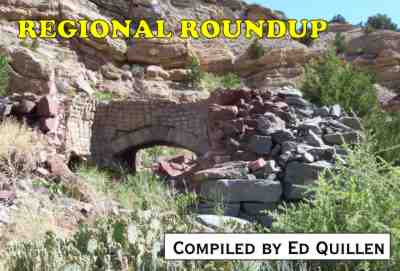 Remembering the real Duke
Fairplay may hold the world's only monument to a burro, but there aren't a lot of dog monuments, and Salida has one. If you stand downtown and look at the top of Tenderfoot Hill, then down and to your right, you'll find a small white structure that marks the grave of Duke the dog.
It suffered vandalism this spring with the theft of a memorial plaque, and there's a $1,000 reward offered by Chaffee County Crimestoppers.
In reporting that, Salida Mountain Mail reporter Ali Helgoth also did a fine job of tracing how the Duke legend has grown over the years. Original accounts date back to Duke's death in 1902.
He was a brown water spaniel owned by Charles F. Catlin, who ran the Monte Christo Hotel at the end of F Street. Duke greeted passengers arriving on the train, and was well-liked. When he died, Calin buried him atop "Little Tenderfoot Hill" and placed a wooden marker.
Sometime before 1921, the marker was replaced with the current concrete monument. Helgoth's June 8 article tracked how Duke's reputation grew over the years. "A 1951 United Press article reported Duke had saved a small child from a hotel fire," and in 1991, Rocky Mountain News columnist Frances Melrose wrote that Duke had rescued a child who was on the tracks as a speeding train approached. "The child's life was saved, but Duke died saving it."
Doubtless in the future we'll read about Duke rescuing people from the roaring river, protecting children from malign strangers, and stopping a crowded passenger train just before it would have reached a washed-out bridge. But Ali Helgoth has done her best to put the record straight.
Public transportation returns?
One story this month is about the last passenger trains to serve Central Colorado, and they quit running 40 years ago. At the time, as the railroad pointed out, there was ample passenger bus service for people who didn't drive.
Scheduled bus service diminished over the years, then it vanished entirely. On Aug. 17, 2005, Greyhound Lines dropped its service between Pueblo and Grand Junction, and claimed that the elimination was "essential to our ability to meet the needs of our customers."
But some form of bus service could return if the Gunnison Rural Transportation Authority can get a grant from the Colorado Department of Transportation, which is supposed to be announced about the time we go to press.
The plan is to run a bus from Gunnison to Denver International Airport via Poncha Springs, Buena Vista, and Fairplay, and the one-way fare would be $22. Local entities, like towns and counties, would have to pitch in to match some of the CDOT grant.
Considering what just parking costs at DIA, that sounds like a pretty good deal. And we are pleasantly surprised that CDOT is trying to address overall transportation, instead of just highways.
Quarry may re-open
The mineral gypsum is what you find in most drywall, and it's also a component of the cement that makes concrete. The Holcim cement plant in Florence currently gets most of its gypsum from Oklahoma, but the company wants to change that by re-opening a quarry near Coaldale in Frémont County.
Holcim purchased the quarry from Georgia-Pacific, which operated it into the 1990s when the company closed it.
If permits are granted after hearings this summer, the quarry should produce about 50,000 tons a year for the cement plant. Area residents have expressed concerns about noise, traffic, and potential effects on groundwater, but Holcim quarry manager Mike Toelle said the company planned to be "a good neighbor."
The cruelest month
The poet T.S. Eliot said April was most cruel, but May was a cruel month in Central Colorado. That is often the case, since it's the season of teenage parties accompanied by drinking and driving. But there were also some bizarre deaths.
In Leadville, a man died after he fell onto his own fence. Anthony Terry Martinez, 48, left a party in his house on the night of May 27. His sister looked out a few minutes later and saw him on the wrought-iron fence in front of the house. She called police. Martinez was found with his neck wedged between two pickets. One was pressed deep, but the skin was not broken. Efforts to revive him were unsuccessful, even though he was flown to Swedish Hospital in Denver.
A much longer fall killed Wyatt Martinez, 49, of Denver on June 2. He was at the Pioneer Point Overlook over the Black Canyon of the Gunnison River, and strayed away from the trail. His body was discovered 900 feet down the cliff. Alcohol may have been a factor, according to the National Park Service.
A raft guide died in Brown's Canyon on May 28 during a training exercise. Brian Kirkwood, 47, Buena Vista, was participating in a drill near Pinball Rapid where trainees enter the river, swim about 100 yards, and go ashore, so that they'll be prepared if it happens during a float trip. He lost consciousness before going ashore, and was pronounced dead at Heart of the Rockies Regional Medical Center.
Ben Young, 19, was home in Leadville on leave from the U.S. Army. He and AnaLisa Romero, 17, died after the car Young was driving skidded out of control on a Lake County road in the wee hours of May 27. His blood-alcohol content was 0.3%, according to the Colorado State Patrol; anything over 0.08% is considered DUI.
An odd place to camp
The Silver Cliff Cemetery dates back to 1878, and the legend is almost that old — that ghostly blue lights sometimes flicker through the graveyard.
Ten members of the Cryptoscience Society at Metropolitan State College in Denver decided to investigate, and spent the night of June 2-3 at the Silver Cliff Cemetery and its neighbor, the Assumption Catholic Cemetery. The night started with lightning, thunder, and wind, with a gibbous moon emerging after the storm cleared.
But no mysterious lights were seen; come morning, though, the researchers were rather bleary-eyed from sacrificing a night's sleep in the interest of science.
Road Closures
The timing couldn't have been much worse — a three-day holiday weekend with lots of stuff going on in Salida.
At 5:50 p.m. on Sunday, May 27, a butane tanker truck crashed about six miles east of Salida on U.S. 50. The tank, full of very flammable material, ruptured, and nearby residents were evacuated. The butane had to be vented slowly, and the highway was closed for about 20 hours — much longer than anyone initially thought it would take.
Some local anti-Christo activists (he and Jeanne-Claude spoke in Salida that weekend) were quick to point out that we should "connect the dots" between the highway closure and his planned "Over the River" project.
Just what the connection is, we're not sure. On the afternoon of May 29, a Ford spewt rolled over in Bailey, and U.S. 285 was closed for half an hour thereafter. So far as we know, there was no relationship whatsoever to Christo. Or, as the phrase doesn't quite put it, "stuff happens."
Mom and Pop Mine?
It may have been Daniel Kemmis who observed that there are family farms, but not family mines. And he may have been wrong about that.
A Montrose family has received permission to operate a small gold mine in the Uncompahgre Wilderness Area on a claim that predates wilderness designation. However, it will be a very small operation, with most supplies and ore being hauled the old-fashioned way — by mule pack train, although helicopters may be used on occasion.
Robert and Marjorie Miller, the claim owners, said they aren't sure whether they'll be able to meet the requirements and still make a profit.
Historic Preservation
The Fairplay Hotel will likely be nominated for the National Register of Historic Places. Its construction and history have to be documented, though, and that costs money. However, the county is in line to get a $5,000 state grant to cover those costs, and if all goes well, it will be submitted to the national body in December.
Evelyn Furman of Leadville received the 2007 state honor award from Colorado Preservation, Inc. Furman, 94, owns the Tabor Opera House. She saved it from demolition in 1955, and has worked to maintain and restore it ever since. Furman moved to the area to teach school during the Depression, and she knew Baby Doe Tabor during Tabor's last years at the Matchless Mine.
In Salida, some historic preservationists are concerned about the street trees which have been planted in the past decade. Early Salida had trees in Riverside Park but few, if any, along the streets. This might distract from the authenticity of the Downtown Historic District.
We note that early Salida had dirt streets, hitching rails, and horse troughs, none of which are present now, and the trees offer pleasant greenery and shade. We cherish Salida's historic buildings, but we also prefer to live in a vital community, not a museum.
Observations
"We'd like to see the forever-stamp concept expand. For example, how about a forever property-tax assessment…. Or forever car insurance? The rate would stay the same as long as the car remained operational."
— Marcia Martinek in the Leadville Herald-Democrat, May 17
"Besides the adventure of finding it under a sky full of stars, the outhouse [at their cabin] confers the greater boon of keeping snobs off the property…. But Park County now tells us that as it is, it's worthless…. It seems that Park County's assessor suddenly values all homes without septic systems at zero."
— Letter from Helen Ashmore of Bailey in the Fairplay Flume, June 1
"Leadville has a reputation of sin and debauchery. Tourists are always interested in this aspect of our city. 'No,' you can say with complete truth and some regret, 'our last house of ill repute shut down in the 1970s.'"
— Marcia Martinek in the Leadville Herald-Democrat, June 7
"I spent most of my youth in east-central North Dakota. I didn't mind the brutal winters, and that may be one of the reasons that Gunnison's comparatively mild winters don't bother me."
John Clement in the Gunnison Country Times, June 7
"I am very disappointed with the [big box] economic direction that Conifer is going at the expense of mom-and-pop businesses in the area. I hope they never do to Bailey what they've done to Conifer. They got rid of everything that made Conifer unique."
— Carrie Marsh of Bailey, quoted in the June 8 Fairplay Flume
"Sheriff Mike Norris transferred a female prisoner to Chaffee County because she was a threat to herself and others. Mr. Norris termed her a management problem, a euphemism for pain in the ass."
— Doug Larsen in the June, 2007, Crestone Eagle
"Forgive me if I view this latest oil shale rush as overblown hyperbole, with more to do about posturing than production."
— Former state Rep. Kathleen Kelley of Meeker, in the Western Colorado Congress Clarion, May/June, 2007.
"I capitulate, surrender, and otherwise give up — no more phone books, please! No low country or high country books, none with white or yellow or multi-color pages, certainly no more reverse, forward, or sideways numbers; none with (or without) menus. They litter the front step faster than they can be retrieved, fill the back hall waiting to be recycled, and challenge the dog's ability to tear things up. Please, no more phone books!"
— Ronda Connaway, letter in the May 31 Gunnison Country Times.
"Mr. Mayor, why do you insist on killing us?"
Wally Stealey, former president of Southeastern Colorado Water Conservancy District to Aurora's mayor, in June 3 Pueblo Chieftain