Article by Shanna Lewis
Local Artist – July 2007 – Colorado Central Magazine
AFTER MONTHS OF WORKING on a new home, fabric artist Grace Wever was finally back in her studio. Ready to make art, she got out her materials and tried to begin. Nothing came. Stymied, after such a long hiatus, she couldn't get started. "I was at loose ends. I'd walk to the drawing board and walk away again," she said. So she did something she wouldn't normally do. Picking up her bible, she said, "Lord, I never play bible roulette, but please, give me a verse." Opening to the powerful poetry of King David ignited a spark of inspiration for her.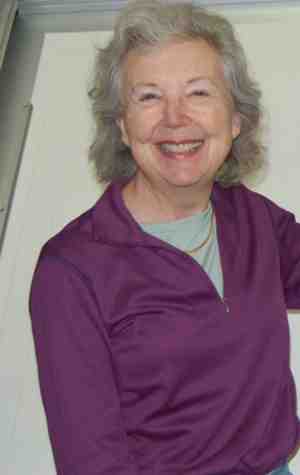 Stirred by the words of the ancient king of Israel, Wever snipped and stitched swatches of fabric for more than a year, creating a body of work based on the Second Book of Samuel. Layering fabrics of varying textures, colors and transparencies and sewing the pieces with painstaking detail, Wever creates subtle landscapes and intense abstracts. She calls the technique fabric collage. Under her deft hands silks, velvets, metallic fabrics and hand-dyed cottons turn into a luminous art form that draws the viewer into her vision.
The passion and depth of each image clearly reflects the sometimes quiet, sometimes tumultuous life of David. "David loved God intensely and had a side that was very human," said Wever, "the art goes from peaceful landscape scenes to others that talk about the power of God." Once started on this project, Wever threw herself fully into it. It changed her way of working and she made connections between her spirituality and her art. She studied the verses and looked for translations that felt authentic to her: translations that used the kind of language she believes David would have used.
"Creating a cohesive body of work that hangs together and reflects the poetry of someone else helps you to grow as an artist," she said. The project honed her persistence and gave her confidence in her work. She says she's also learned to know when a piece is finished. "The fabric itself speaks. I've learned to stop early and I know when it's done."
Earthquakes and tremors that rock the very foundations of the cosmos are depicted in her abstract work "Cataclysm." Most of the abstract pieces emerged during her initial study of different translations of the biblical verses. Later, as she delved into David's life as shepherd, poet, warrior and king, she became fascinated with the places he lived. Landscapes sprang from this phase. Wever sees many similarities between the terrain that David lived in and the landscape of the West. It felt comfortable and familiar to her as she created rocky pinnacles and golden fields from bits of fabric. She says the southwest is reminiscent of the Judean hills and caves near the Dead Sea where David was pursued by the armies of Saul. Finally she focused on David's many relationships, especially his relationship with God. "I thought, really meditated, on his life, what he experienced, what he thought, how he related to people and to God. He was larger than life," she said.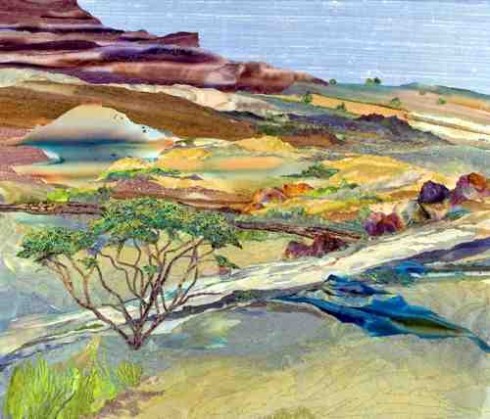 Wever came to her art via a circuitous route. She held a variety of positions in science, business and public policy including chairing the National Sea Grant Panel and research in cell and molecular biology, virology, electron microscopy and image processing. Wever was frustrated by childhood attempts at art, and as an adult she was sidetracked from forays into drawing and sculpture by family and career. It was a small kit for a quilted table runner that rekindled her desire to make art. Her second piece was an intricate representation of the Oregon coast and was entirely her own design. With each successive piece Wever tried new things, and her work quickly evolved from the homemade look of a quilt into sophisticated pieces of art.
Beginning with a blank piece of unbleached muslin as her canvas, she cuts fabrics into different shapes and sizes and lays out the background pieces. When she finishes placing the fabric, she removes the pieces and marks the location of each one. Then she puts them all back, permanently adhering them to the muslin. Additional layers can be added and the number of fabric swatches used in an individual piece can number into the hundreds. Depth and nuance is added to the piece by manipulating multiple layers of shimmery and translucent fabrics. Sometimes she uses stitching to embellish and add detail to the piece. Finally the piece is either framed or finished with fabric edging and backing. The result is a tantalizing and rich vision of the world as seen by Wever.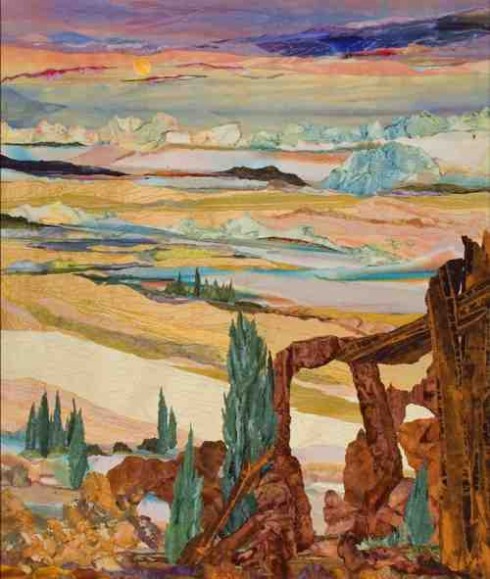 ALTHOUGH SHE HAS a sense of completion about the initial body of work she finished in the last year, the momentum of the project propels her on. She's already begun work on additional pieces inspired by the poetry of David. This delights her. "I had lost the thread, the artistic impulse and I'm finding my way back through the biblical verses," she said. "You just can't turn it on and off. You need a trigger to set up the connection between mind, spirit and soul to get to the artistic endeavor," she said. One of her recent pieces called "Out of Deep Waters," is from the biblical passage, "He reached down from on high and took hold of me; he drew me out of deep waters." This one and others describe the association she makes between her beliefs and her art. She said the link between symbolism and spiritual experience is very special to most artists.
Wever and her husband Albrecht, a physicist and engineer, moved to the Wet Mountain Valley from Buena Vista in 2004. She is a member of the Sangres Art Guild in Westcliffe. Plus she maintains her connection with the Arkansas Valley Art Center, where she served on the board and as president. Her future plans include a potential book collaboration with her daughter, Ingrid, featuring Wever's artwork and her daughter's poetry.
Thirteen of Wever's pieces inspired by the poetry of David are currently on display at Trembling Aspen Gallery in Buena Vista. The show is called On Wings of the Wind and will hang through July 2. Also one of her pieces was accepted into FLOW, a juried show at the Translations Gallery in Denver, sponsored by the Studio Art Quilt Association. The show runs from July 20 through August 25, with an opening reception on Friday, July 20.
For more information about Wever visit her website at www.weverart.com.
Shanna Lewis is a freelance writer, photographer and radio journalist living in rural Westcliffe, She spends her time piecing the collage of life into stories and images.