Brief by Ed Quillen
Local News – March 2006 – Colorado Central Magazine
Boilers behaving badly
Even though Leadville operates the highest school system in the United States, and there are winters when the Cloud City gets plenty of snow, its schools have never closed on account of snow.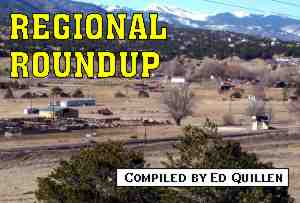 But kids at Pitts Elementary School there did get an unscheduled day off on Jan. 27, due to boiler problems. On the preceding day, a crew from Xcel was performing a study on high- altitude combustion. They noticed high levels of carbon monoxide coming from the chimney, but there was no monoxide inside the school during the day or in the evening.
That Thursday night, there was a temperature inversion, and apparently some carbon monoxide came in, for it showed up in tests on Friday morning. "We didn't want to take any chances," Superintendent Bette Bullock said, so school was canceled for the day. The boilers were adjusted over the weekend.
Gunnison High School students also got a "boiler malfunction" day off. When teachers arrived to start the day on Jan. 24, the school was gelid. The boilers that heat most of the school had gone out sometime the previous evening, and the overnight temperature was – 20.
No pipes had frozen, but "I can tell you it was cold," said GHS Principal Mike Adams. The students and faculty were assembled in the gym, which has a separate heating system, and told that school was canceled for the day.
"There are very few times as a principal that I get to tell kids what they really want to hear," Adams joked. But their vacation was short. By mid- day the boilers were working again, and by late afternoon, the building's interior temperature was comfortable.
And not just boilers
Sometimes county employees end up taking a lot of crap on the job, and that was literally true in Fairplay on Jan. 11, which led to a day off on Jan. 12.
A sewer pipe broke in the Park County Annex Building, and toilets began overflowing. "All of a sudden there was water everywhere," said Sandy Berryman, the county's administrative officer, who estimated that the basement and ground floor had an inch of standing water.
Employees and elected officials were sent home due to the stench and the health threat, and stayed home the next day while the broken pipe was replaced and the building was cleaned by specialists who "deodorized everything and killed bacteria with enzymes." The building re- opened at 8 a.m. on Jan. 13.
Highway closes, too
U.S. 50 was closed for about five hours on Feb. 15 after a truckload of uranium ore tipped over near Wellsville, a few miles east of Salida.
The truck was bound from uranium mines near Nucla on the Western Slope to the Cotter mill in Can City. It carried approximately 25 tons of ore that contains about of 1% uranium for nuclear power plants and 1.25% vanadium, which is used to harden steel.
The driver, Thomas Golightly of Grand Junction, was cited for improper mountain driving and excessive weight — the state patrol said the loaded truck was 2,140 pounds over the legal limit.
The main health worry from the spill was dust which might be inhaled, so the spilled material was sprayed by a hazardous materials crew. According to Cotter, six to eight truckloads pass along the route daily.
And how the wind did howl
This is the windiest winter we can remember, but that's just a personal feeling, and it could have resulted from our being outdoors more this winter, on account of living with a dog who demands at least two walks a day, no matter how intense the gusts.
However, some people have numbers, at least for the gusts if not for sustained gales. The Salida Middle School weather station recorded 48.7 miles per hour on the afternoon of Feb. 15, and in Custer County, Scott and Wendy Geary clocked one burst at 86 mph, which ranks right up there with hurricanes.
But we doubt that anyone was visiting the Wet Mountain Valley to experience those gales, despite the area's new marketing slogan announced on Jan. 30: "Every season brings new reasons to visit Custer County."
How cold was it?
Speaking of marketing slogans, the Gunnison- Crested Butte Tourism Authority has launched "We're glad you're here," which will include posters, buttons, and bumper- stickers to remind locals that four out of every 10 jobs in the county comes from tourism.
There's nothing wrong with that mantra, but it is rather generic. How about something more specific? One suggestion came about this way:
In February of 1985, our friend and frequent contributor Allen Best went cross- country skiing over Old Monarch Pass with publisher Ed Quillen and daughter Columbine (who was in fourth grade at the time, but has since grown into a contributor, too). They got bogged down in some fresh powder and their trek took hours in weather well below zero. Columbine and Allen both suffered frostbite on their feet.
Allen, who lived in Fraser (once "the nation's icebox") at the time, suggested this marketing slogan for that part of the Western Slope: "The Gunnison Country — where people from Fraser go to get frostbite."
That's cold. But this winter in Gunnison, it was "so cold the ice broke." Gunnison has a hockey rink, and when the local midget team skated out on Jan. 21 for the first game of the morning, the ice cracked.
"Once the temperature drops significantly below zero [it was – 23] the ice takes on different properties and starts moving, starts cracking, and becomes very brittle," according to Dan Ampietro, parks and recreation director there. The holes were filled, the new Zamboni machine smoothed the surface, and the game went on, albeit with a delay.
Growing district
Water expands when it freezes, and whether it's freezing outside or not, the Upper Arkansas Water Conservancy District is looking into expansion both upstream and down.
The Lake County Commissioners attended a UAWCD directors meeting on Jan. 13 to start negotiations regarding joining the district, which currently comprises Chaffee, Custer, and western Frémont counties.
Lake County would have to present a petition, signed by 25% of the owners of irrigated property and 10% of people inside city limits. Then the district court in Can City would have to find the petitions valid. If that happened in time, the voters would then make the final decision on joining.
Last summer, the proposed UAWCD expansion into eastern Frémont County was derailed when the judge found that there were not an adequate number of valid signatures.
The judge did not rule on another issue brought before the court then — whether a water conservancy district expansion requires a public vote. Under the TABOR (Taxpayers Bill Of Rights, also known as the Bruce Amendment) provision of the Colorado constitution, all tax increases require a public vote. Since the UAWCD collects a small property tax, its expansion presumably requires an election.
There may also be an inclusion election in eastern Frémont this fall. New petitions for inclusion are circulating, and the UAWCD board has agreed to support the inclusion, and to expand its board from nine to 13 members, with at least six from Frémont County.
One might wonder just how well the UAWCD would "protect our water from Front Range interests" when much of its board would be from the Front Range.
A different kind of kitty
When Kathy Schickling of the Wet Mountain Valley came home from work one January day, her dog was barking at a cat in a tree in her back yard.
But it wasn't a normal housecat. It was a three- month- old cougar kitten. So it wasn't the fire department that got called for the rescue, but the Colorado Division of Wildlife. DOW technician Jake Rodriguez used a catch- pole to get the feline down, and took it to the Wet Mountain Wildlife Rehabilitation Center in Wetmore.
There it will be kept away from humans until it's big enough to fend for itself next summer. The kitten was probably an orphan.
"Consider yourself lucky to even see one," Rodriguez said. "I was kind of skeptical when I got the call."
And a rare fish
A previously unknown population of the threatened Rio Grande sucker was found in Crestone Creek last fall, the DOW recently announced, and that's good news because the state wants the fish to thrive in the San Luis Valley so that it doesn't get listed as an endangered species.
Since Crestone Creek just sinks into the sand of the Closed Basin, its suckers are isolated from competitors and variants; thus this strain might be genetically pure. If so, some might be bred in a hatchery, with their fingerlings released to Valley streams.
However, "The hardest part of the whole program is finding candidate streams for reintroduction," according to DOW aquatic biologist John Alves. "Most of the streams have been disturbed by the introduction of non- native fish, and many streams are dewatered during the irrigation season."
Observations
"Large- scale coal mining giving way to a gas and oil drilling rampage, hot dusty roads and brown ski runs in January, is there a connection? I'm not sure, but I do know that, when it comes to boom and bust, the more things seem to change in the American West, the more they stay the same."
Larry Cherrier in the Wet Mountain Tribune, Jan. 19.
"[Rancher Jim Curtis] claimed that county representatives stood him up for a scheduled August meeting. I accompanied the commissioners on that day for a tour around the country. On our way home we spent an hour trying to locate the guy. He didn't answer the door, he wasn't in his garage, and lengthy trips up and down roads found him nowhere. A return trip to the house and another knock on the door met with no response. The conclusion? There ain't nobody home. He claims otherwise."
Doug Larsen in the Crestone Eagle, February
"The only weather whimpering I think ought to be heard around these parts is if it's too warm, or there's not enough snow. I mean, who's ever heard of wildfires in the wintertime?"
Chris Dickey in the Gunnison Country Times, Jan. 19
Should Leadville residents be called Leadvillites or Leadvillians? "Leadvillian is a term used in the earliest issues of the newspaper, and we adopted it from there, so it does have some history to it. We like the way it rolls off the tongue. Or perhaps there is another term? Leadvillers? Or, with a nod to fans of the Grateful Dead, Leadheads?"
Marcia Martinek in the Leadville Herald- Democrat, Feb. 9
In reference to a predicted influx of retiring Baby Boomers, "I'm searching for a downside here, so bear with me, please. Maybe if we bathe daily, which would place a strain on water supplies? And why in the world would anyone want to live in a place offering natural beauty, lack of congestion, and perceived safety? As newcomers, we will probably register and vote, get involved in community activities and groups, thereby becoming more of a nuisance. I don't mean to sound sarcastic — wait, yes I do.we are Americans, not a swarm of locusts."
Fred Balmos in the Buena Vista Chaffee County Times, Jan. 26