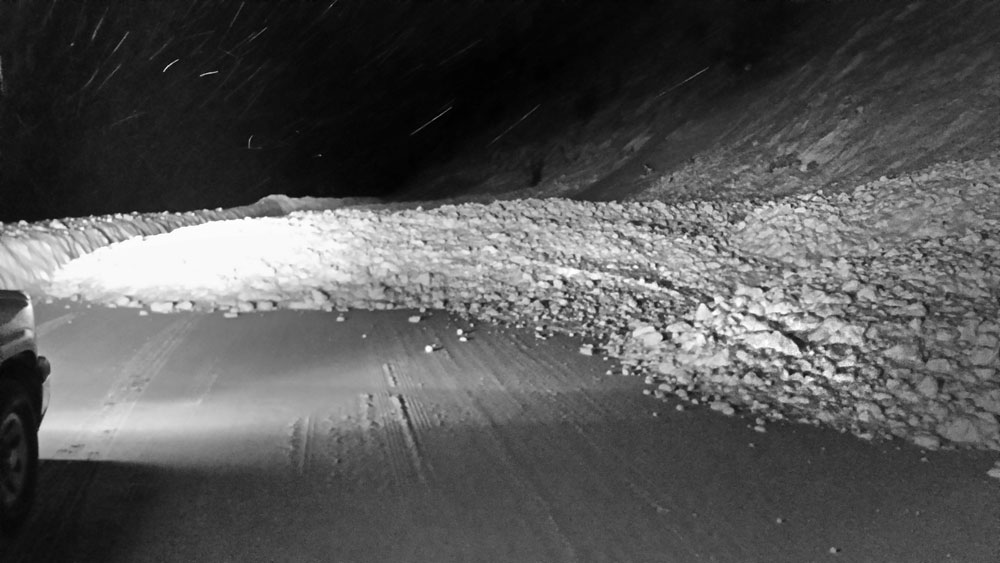 Suspect a He or She?
Suspected Planned Parenthood shooter Robert L. Dear was listed as a woman on his Colorado voter registration form, a detail that fueled speculation he may have identified as transgender by some right wing media sources.
Dear's driver's license form was mistakenly checked identifying him as female, rather than male, by a clerk at a DMV office in El Paso County. On Oct. 30, 2014, Dear visited the DMV office in Salida and corrected the mistake on his driver's license.
Salida to Gain RR Access
An agreement has been reached between the city of Salida and the Union Pacific (UP) railroad for a bike and pedestrian crossing to access the trail system on and around Tenderfoot Mountain. Salida will pay the UP a total of $35,000: $3,500 per year for 10 years for the access, which up until now has been technically illegal.
Rec Site Getting Facelift
The Ruby Mountain Recreation Site outside Nathrop, which borders the new Browns Canyon National Monument, is getting a facelift this spring. All current sites will be refaced, repositioned or moved. All campsites will have new grills and picnic areas, tent sites will have larger tent pads, and the campground as a whole will have improved access roads.
Construction is expected to be finished by May 20, 2016, just before peak camping season.
Big Spill at Cotter
Cotter Corporation's defunct uranium mill leaked about 1,800 gallons on its 2,538-acre property uphill from Cañon City and the Arkansas River in late November of 2015.
From 1958 to 1978, Cotter processed uranium for nuclear weapons and fuel at the mill, discharging liquid waste, including radioactive material and heavy metals, into 11 unlined ponds. The mill is one of the nation's slowest Superfund cleanups.
He Can't Help Himself
Rep. Doug Lamborn (R-Colo.) has introduced a resolution expressing the opinion of the House that "the symbols and traditions of Christmas should be protected for use by those who celebrate Christmas," amid warnings from the right that religion is being pushed out of the holiday.
The resolution states that the House "strongly disapproves of attempts to ban references to Christmas" and "expresses support for the use of these symbols and traditions by those who celebrate Christmas."
The resolution comes after coffee chain Starbucks decided to leave holiday symbols off its coffee cups and instead just serve a red cup with its green and white logo. (We really can't make this stuff up.)
Shorts …
• Gunnison native Patricia Elliott, who won a Tony Award for her Broadway musical debut died of cancer on Dec. 20. She starred opposite David Bowie in "The Elephant Man" and spent 23 years aboard the TV soap opera "One Life to Live."
• Alaska Airlines has commenced twice-weekly flights between Los Angeles and Gunnison. Alaska Airlines becomes the third carrier to serve Gunnison, with American Airlines and United Airlines also operating services to that airport.
• The existing EagleMed air ambulance base in Salida will transition to REACH Air Medical Services.
• Salida has a new sister city: Shreveport, LA. There are plans to organize a Sister City Arts Festival in both Shreveport and Salida on the same day.
• The temperature at Antero Reservoir plummeted to -51°F on Dec. 17, one of the coldest temperatures ever recorded in Colorado.
• The Rialto Theater in Florence received a $50,000 matching gift proposal from Mr. and Mrs. Larry Baker at its Lights, Camera, Action Fundraiser held on Dec. 20.
• Leadville Police Chief Mike Leake has resigned, possibly due to his two DUI arrests in 2015.
• The U.S. Justice Department is asking the Supreme Court to toss out a lawsuit filed against Colorado over legal marijuana by Oklahoma and Nebraska. The Fed is backing Colorado in a friend-of-the-court brief requested by the U.S. Supreme Court.
• Crested Butte Mountain Resort set the world record for the most skiing Santas in one place, with 827 Santa skiers and snowboarders, beating the previous world record by 62 Santas.
• Ski Cooper has been rated one of the five best ski areas in Colorado to learn the ropes by the Colorado Springs Gazette.
• Speaking of Ski Cooper, a reindeer named Comet broke free from Santa Claus at the ski area on Dec. 19 and ran around the base for several minutes until Santa rounded her back up. No one was injured.
• The Buena Vista High School football team beat the defending state champions, Paonia, 28-20 to claim the state 1A crown.
"Notable Quotes"
"Watch out for the reindeer!" – A voice overheard on a video of a runaway reindeer at Ski Cooper in Leadville. – KDVR Fox 31, Dec. 19, 2015
"Let the good times roll, and they're always going to be good. Even when the mining company tells you they are going to close in a few years, tradition is the community isn't going to believe it." – Former Leadville mayor Bud Elliot, announcing he will run for county commissioner in 2016. – The Leadville Herald-Democrat, Dec. 3, 2015
"If we're coming up with a solution, it needs to be soon because if we're willing to sacrifice 30,000 lives due to guns, then that's too many deaths a year to be experimenting with." – Gunnison Middle School eighth-grader Darby Hamilton, whose U.S. History class is taking on the issue of the Second Amendment.
– The Gunnison Country Times, Dec. 17, 2015
"It has been bugging me since I got into office and I am going to have it changed." – Silver Cliff Mayor Larry Weber, who would like to see the community get back its zip code after it was combined with nearby Westcliffe. – Wet Mountain Tribune, Dec. 24, 2015