Don Richmond has been performing in the Colorado-New Mexico area since about 1970. He has released six solo recording projects and has played with a number of bands including Tumbleweed and The Rifters. He has composed and recorded musical soundtracks for three documentary films seen nationally and internationally.
Don also owns and runs a recording studio in Alamosa, Howlin' Dog Recording and is the author of a book, "Getting Your Music Past the Fear." His most recent CD is called "Like Lazarus."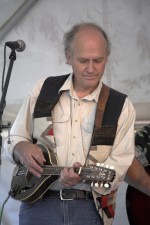 Colorado Central: How did you end up in the San Luis Valley?
Don: My family moved in here in August of 1962, from Iowa City, Iowa, when my father accepted a position teaching voice at Adams State College in Alamosa. I was seven years old, getting ready to enter the third grade. I fell in love with the area quite early, and have never found anywhere else I wanted to be badly enough to make me move. The Valley and the mountains, particularly the Sangre de Cristos, still speak to me powerfully, still excite and inspire me. And I still don't want to leave.
Colorado Central: When did you first get interested in music?
Don: As both of my parents were former professional singers and my father was a teacher of music, there was always music around. All of my siblings and I were expected to take up an instrument of some kind in school and/or sing in the choir. One of my older brothers also started playing guitar, so there was an old Harmony acoustic guitar laying around. I started playing both trumpet and guitar when I was about ten. When I was about thirteen some neighborhood friends and I started playing together in a garage band, and when I was fifteen I started playing in a 3.2 beer bar downtown with some college kids, and actually started getting paid to play music. What a deal!
Colorado Central: Who are some of your influences?
Don: My early band years were heavily influenced by the early country-rock and folk-rock, like Buffalo Springfield, The Byrds, and all the bands that came from them, like Poco, Crosby, Stills, Nash, and Young, Loggins and Messina, The Flying Burrito Brothers, Gram Parsons and Emmylou Harris, and others. Of course, I also played my share of Hendrix, Clapton, The Doors, and of course the Beatles were woven through it all as continuing inspiration.
As I got more into songwriting and a bit of solo performing, singer-songwriters such as James Taylor and Jackson Browne had a big influence on me. I was also always fascinated by musicians who played a lot of instruments, like the members of The Band and The Nitty Gritty Dirt Band, and I started adding more instruments to my presentation. I started tracing the roots of some of this folk-ish and bluegrassy music back down to some people like Doc Watson and some of the traditional bluegrass players. And then I got turned on to the so-called "new acoustic" music like Newgrass Revival, who just blew me away, along with incredible players like Mark O'Connor and Jerry Douglas, followed by folks like Tim O'Brien (and Hot Rize) and Allison Krause. And on and on it goes – everything I hear influences me certainly.
With much of this music I've mentioned, it was a friend or a fellow band member (or my older brothers) who turned me on to it. In other words, it was most often the influence of someone close to me that had been inspired or influenced by someone else who then exposed me to the original source of inspiration, and truly, I thank them all!
Colorado Central: You have composed and recorded musical soundtracks for three documentary films. Could you tell us a little about these and how they came about?
Don: Actually, there have been four full-size ones and a number of smaller ones. The first one, "Roy Bedichek's Vanishing Frontier," came about because I had done a couple CD projects for a singer-songwriter down in Taos who was a close friend of an Emmy-winning Dallas, Texas filmmaker named Ginny Martin. Ginny was visiting in Taos and ended up with a copy of my instrumental CD ("Instrument," 1999) and began using it as temporary music, basically something to listen to while editing, on a film she was working on about the Texas author and naturalist Roy Bedichek. The film was a production of KERA, a large PBS station in Dallas, and they had already hired someone to compose the music. Unfortunately, when they got the music they had hired the composer to do, they didn't like it, and asked me if I could come up with some more along the lines of the tunes on "Instrument." And so I did, and it was a lot of fun and very successful.
I later went on to do two more projects for Ginny Martin – one called "Still Waiting," a powerful film about a large extended family in the New Orleans area trying to put their lives back together after hurricane Katrina. It was broadcast nationally on PBS and is still seen periodically. The other was a film about the changing role of women in the culture and society of the Caribbean island of Martinique. Both of these were quite a stretch stylistically, but a lot of fun to do. I really thought I should have a month or so on location in Martinique to really soak up the vibe, but unfortunately it wasn't in the budget.
I also did music for an amazing film about the civil rights movement in southern Tennessee in the late 1950s and early 1960s called "We Did It All Ourselves," which tells the story of the struggle for voting rights in two Tennessee counties and the tent cities that sprung up when hundreds of people were run off the land they had lived on and farmed for generations, just for attempting to register to vote. It's a truly incredible story, one that I can't imagine that actually happened in my lifetime. It was directed and produced by Fetzer Mills, a writer and filmmaker from Memphis who was living in Taos at the time.
I've also done music for a few different local productions and documentaries. I enjoy the process very much. It's fun to be given so much to work with – the general vibe and feeling, and often a specific event or occasion in the film that requires musical accompaniment. Then you take that and run with it, and see what you can come up with.
Colorado Central: How did The Rifters come to be and do you still perform together?
Don: From 1973 until 1990 I played in an Alamosa-based band called Tumbleweed, mostly in the Colorado mountain towns but also playing a good bit down in the northern New Mexico resort areas. In 1990, due to some personal changes in my life, I needed to stay a little closer to home and travel a little less, so I started playing a lot in the Taos area, which has always had a surprisingly active and vibrant music scene, and is only 90 miles from home. I played in a couple different bands based in Taos, and in 1992 formed a band we called Hired Hands.
Hired Hands was very popular from its inception up until about 2003, when due to one of the members moving away, we retired that name (except for an occasional reunion), and joined up with a couple guys who had been in another area band called the Rounders, who had also just been through a member change. We decided we needed a new name, and after much brainstorming, came up with the geographical/geological/somewhat illogical name of the Rifters.
It's a landform sort of name like the Flatlanders, or the Soggy Mountain Boys – except that the Rifters refers to the Rio Grande Rift, a big crack in the earth's crust that runs from around Leadville all the way down to Las Cruces. We all live on it or close to it, and it's a somewhat intriguing name I think, as in, "What the heck is a Rifter?"
We do indeed still perform together a lot, mostly down in the northern New Mexico music scene, as the other two members live down that way. But we're getting around Colorado more and more.
Colorado Central: Could you talk about your book, "Getting Your Music Past the Fear"?
Don: The book can be looked at in a few different ways. One way to look at it is, it's basically a self-help book for musicians, exploring the way that fears of various kinds get in the way, and ways to get past those fears.
Another way to look at it is it's the story of what music has taught me, over a lifetime of getting up in front of people to perform.
Music has truly been my path and my teacher. Every time I play, it's another opportunity to see how fine I can make it, or how fine I can let it be. How can I optimize this experience? How can I get out of the way more fully? How can I be the conduit for something fine coming through? It's my laboratory, and every performance is another experiment.
Another way to look at it is that I wanted to finally "figure it all out" for myself, as well as I could, and teach it to myself, to whatever degree possible. I am basically a very shy and introverted person, and it is quite ironic that I ended up being a performer. I definitely need all the help I can get, and the reason I actually have something to say about it all is that I know the path (to finding a solid and authentic place to stand while performing) quite well – having traveled it so slowly and laboriously.
I actually spent about a dozen years writing the book, including writing it in a completely different form and throwing it all out and starting over. In my first version I was trying to be "authoritative," writing a compendium of all known knowledge about the topic, or something like that. Then I realized I could not sustain that and could not stand behind it authentically. So I started over with the idea that I would write only what I knew from first-hand experience – what music has taught me. It works a lot better – I can truly stand behind it now. Or in front of it or beside it – whatever works.
Colorado Central: In 2007 you had a life-changing experience when you were diagnosed with colon cancer. Would you tell us how your life changed and how this affected not only your outlook, but also your musical career?
Don: Although the experience of having cancer is not something I would wish on anyone, many blessings and valuable lessons have come from it. Among them: life, and time, have become much more precious. Love, friendship and personal relationships are what is real – forming a web of light that stretches around the globe. Every "now" moment is unique, irreplaceable, never to be repeated, and is to be cherished. Working myself to death, even doing things I love, is not a good idea and serves no one. I need to do more of what brings me joy and feeds my soul – and that is not a selfish thing, for if I don't do that, I soon will not be able to do anything else, for anyone else.
As for how it has affected my musical career – that is more nebulous to me. I think the experience of cancer and its aftermath has deepened me, which does hopefully come out in both my writing and my performance. I have always been quite idealistic in my approach to my career, feeling that if I serve the Muse (God, the Universe) to the best of my ability and do what is placed before me to do that the details will work themselves out and I won't starve, and will hopefully be of service to my community and my world along the way. I feel that this is more true now than it has ever been, and I am more willing to walk this path and overcome whatever (basically self-imposed) obstacles I encounter.
I strive to be worthy of the lessons of the cancer walk – to not lose them, and to do anything I can to be of service to others who are facing this challenge.
Colorado Central: Tell us about your recording studio and how it got started (who has recorded there, etc.)
Don: During the years I was in the band Tumbleweed (1973 – 1990) we recorded three studio albums – one at Applewood Studios in Golden, CO, and two at Kludgit Sound in Cerrillos, NM, south of Santa Fe. These experiences got me pretty hooked on recording and studio work, and that sort of painterly process of creating and crafting a beautiful sonic-scape. These recording projects were always over too fast, and although we did worthy work, I wanted more.
Back in the early 1980s I ended up with a Tascam 4-track cassette recorder, in payment for a bar gig when the owner didn't have the money to pay the band, and I started getting into home recording, demo-ing the songs I was writing.
I started getting pretty good at getting everything I could out of the little machine, and ended up putting out a collection on cassette (Mirage, 1989) of songs I had recorded that I didn't think suited the band, but were worthy of being heard. I had also started helping a few other people to record some stuff on the 4-track, and it really sounded pretty good.
Then in the early 1990s I ended up with another bunch of equipment, a 1/2" reel-to-reel 8-track recorder and a pretty good mixer, also from a bad debt when a friend couldn't repay a loan. So I started getting into it more and doing it for other people more and more.
In 1994 my wife and I bought a house in Alamosa with a little house out in back that became the studio, and I have been fully booked and upgrading and buying equipment ever since. Recording technology has been revolutionized several times over in the intervening years, and it is a constant journey to keep moving along with it.
Most of my clients come from about a 100 mile radius, with lots of folks coming up from northern New Mexico, as I perform down there a lot and know a lot of people in that area (such as Michael Hearne, Bill and Bonnie Hearne, Rick Fowler, Mike Addington, Kim and the Caballeros, Chipper Thompson, Mary Duwe, Bogey, Jennifer Peterson and Creekstone, Rod Taylor). But I also work with folks from Colorado Springs (The Mitguards, Michael and Dawn Moon), Pueblo (Tom Munch), Salida (Brian Rill, The Fractures), Gunnison (Chris Coady, Kevin Walters), Pagosa Springs (Justin Cowan), Walsenburg (Will Dudley), and occasionally with folks from as far away as Texas, Nashville, New York, Oklahoma, and California. And of course there are many from my home in the San Luis Valley (Indian Nickel Band, Rescue Party, Sneakers, Lucky Larue Band, Cathy McNeil, Earthmen, Sage Larsen, Fred Hargrove, Robin James, Eric Karlstrom and many others).
The amount and the quality of the talent that is in this area is astounding. I feel like I poked a hole into a large dam and opened a small valve and it just started gushing out. It feels great to be able to be part of getting this music out into the world. I would love to do more to be able to help people get their music out, as far as being a functional record company, whatever that means in today's world, but I have not had the time and energy to go too far down that road. But we'll see.
Colorado Central: What are your current projects and what's in store for the future?
Don: I've got a brand-new solo CD out (#6), called "Like Lazarus," and I still want to play shows around the area as a solo artist promoting that. I've had great response to it and want to continue to spread it around as best I can, so I'll be working on that.
I usually have a few to several projects of other artists running concurrently in the studio, and that is the case now, with four new ones just getting started and three others just about finished. There are two more in process that I consider "my" projects, in that I am in the band. One is a new CD for The Rifters, which is about 2/3 done – hoping to have it out by summertime. We're shooting for about half cover tunes from our repertoire and half originals, and we're still working on some of the originals. We're excited about it and feeling good.
The other is one especially dear to my heart, which is a CD I'm doing with my two older brothers. It's also mostly there, and we're also hoping to have it done by summer. One of my older brothers (Jim, aka "Diamond" Jim) is also a lifelong professional musician, currently living in the Dallas-Ft. Worth area. My other brother (Ed) is also very musical with a beautiful voice, although he did not pursue music as a profession.
Our parents were both professional vocalists in their earlier years, and yet we have not one recording of either of them singing. Considering what I do for a living, that is both sad and ironic. I don't want that to happen with my brothers – I want to have a recording of them singing some particular songs that I love to hear them sing. So we picked out five songs each that we love – basically older cover tunes that were influential to us, and we're arranging them the way we want and putting them down. We're going to put the proceeds from the CD sales toward an already established scholarship in our father's name at Adams State College, where he taught for so many years, which is awarded annually to a vocal student in the music department there. It's been a great thing making music with my brothers.
As far as other future projects, there are other books I'd love to write, an infinite number of songs waiting to be written, and many hearts to touch and feet to move with live music. I'd love to be able to get more of a real record company thing going, to help support these regional music folks that I care about and admire. I'd love to walk the length of the Sangre de Cristo mountains. (Not on the top – I'm not crazy.) Or at least spend more time in them. Grow more gardens. Build a Watsu pool for my wife – she's a certified practitioner. Hang out with my kids and grandkids more. Same with the rest of my family and friends. Walk across the San Luis Valley. Travel more – go back to Ireland and visit a friend of mine in France (never been to Europe – or most other places in this world). Partake of and experience a world-wide revolution in consciousness and the way we live on this planet. And on and on. Might be too much for this life – we'll see!
Thanks to the folks at Colorado Central, and all the great people that make this part of the world such a glorious place to be!
For more info please visit: www.donrichmond.com