Article by Ed Quillen
Local Lore – September 2007 – Colorado Central Magazine
PUT HALF A DOZEN women on a stage, recalling their careers from an era when there weren't many career options for women in Central Colorado, and you've got the basis for a production that has been playing to packed houses this summer.
It's called "Madams of Central Colorado," and it features impersonations of some of the more notorious businesswomen from our past, among them Cockeyed Liz Spurgeon and Belle Brown of Buena Vista, along with Laura Evans of Leadville and Salida. Other shady ladies from long ago include Lillian Powers, who rose from Salida crib girl to madam of her own bordello in Florence, and two of Miss Laura's employees, Lavern and Silverheels Jesse.
Some don't have last names that are known to history. Prostitution in the Old West gets a fair amount of attention from modern historians, but back in the day, many "soiled doves" used aliases and eschewed surnames. Thus census and court records are hard to connect with distinct people, and newspapers of the time seldom told much about the "brides of the multitude" who abided in the "red light district."
Trying to learn more, and to bring this part of history back to life, has become something between a hobby and a passion for Kathi Perry, who can generally be found working in the old church building that houses the Buena Vista Chamber of Commerce.
It started in 2004, when Buena Vista was celebrating its 125th birthday with historical presentations almost every night. Local writer Marge Dorfmeister had written a melodrama, "The Legend of Cock-eyed Liz," about Buena Vista's most famous madam. Perry who had some amateur theater experience, was asked to play the title role.
The play went over pretty well, Perry recalls, and the more she learned about her character, the more she wanted to find out. Elizabeth Spurgeon ran her Buena Vista "Parlor of Joy" from 1886 to 1897. She became "Cock-eyed Liz" after a rival madam, Belle Brown, sent a bunch of rowdy drunks her way. In the ensuing brawl, Liz was cut with a broken bottle, damaging a nerve that controlled eye movement.
"The really special thing about Liz," Perry says, "is that she got married and settled down. That in itself wasn't unusual, but it was unusual that they stayed in the small town of Buena Vista, and people generally accepted her in her new role."
At the time, prostitutes were generally restricted to certain parts of town, although there were times when they were allowed to visit the more respectable sections to shop for gowns or make-up.
As Mrs. Spurgeon, Liz was able to take on a new life where many residents remembered her old one, but Perry notes that "after she died, they wouldn't let her be buried in the main part of the cemetery. She's out on the edge."
Come 2005, and Buena Vista's Gold Rush Days wanted to bring back a popular street-theater group, the Shady Ladies. "But they wanted more money than we could afford, and then I wondered 'Why can't we do this ourselves?'"
THAT WAS THE GENESIS of "Madams of Central Colorado." Perry pored through several relevant histories (i.e., Ladies of the Tenderloin by Linda Wommack and Bordellos, Brothels & Bad Girls by Jan Mackeel). She interviewed old-time Salida residents who remembered Laura Evans — "they still wanted to be anonymous," she notes — and read the transcripts of interviews with Evans in the Salida Regional Library.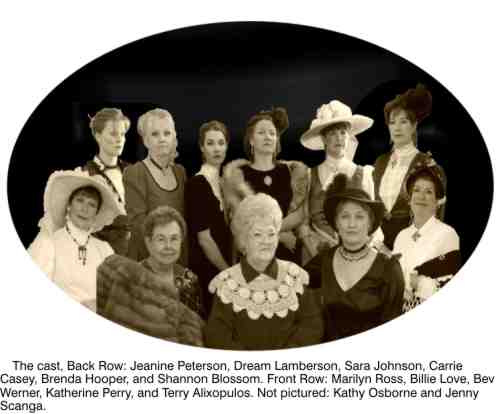 "There was so much material and so many characters," she says, "that right away I needed to trim back. Initially, I had thought about having two of Leadville's notorious madams, Mollie May and Sally Purple, but I wanted to keep the presentation at 90 minutes or less, so we'd keep people's attention and not have to have an intermission."
At first, her script involved each character talking for a few minutes, uninterrupted. "But then I realized that if you had six women in a room, that wouldn't happen. Just as soon as Liz said her Palace of Joy was the finest establishment in town, Belle Brown would naturally speak up and contradict her. So I put in some interchange, and it's developed from there as the actresses get more and more into their characters."
And what did her husband think of this? He said "it's part of our history, and people ought to know about it."
Finding a cast wasn't hard. "As soon as word got around, I had volunteers."
One of them was Billie Love, a Salida native who plays Laura Evans, or "Evens," depending on which authority you consult. Miss Laura's career is pretty well documented because she lived a long life, dying at about 80 years old in 1953, and she was glad to talk to historians and journalists. She started in Leadville, but the union miners boycotted her after she helped smuggle the scabs' payroll to the Maid of Erin Mine during a strike. She moved to Salida at the end of the 19th century, where she became a respected, if not quite respectable, businesswoman.
"I don't think my mother would approve of this." Billie Love laughs about her role. Billie never knew Laura Evans, but she certainly knew of her. As a girl, she wasn't allowed to go into that part of town — Sackett Avenue east of F Street and Front Street on the west — "and if we kids went to the railroad depot, we had to go down E Street and then cut across Riverside Park."
Her father was a mason, and when Laura's brick building (now covered with stucco) needed repairs, he got the call. "Mom told him she didn't like him working over there, but he said her money was just as good as anyone else's, and who could afford to turn down paying work? And besides, he said, he was over there outside in the daylight, so what was the problem?"
She recalled that Laura attended her father's funeral at the Methodist Church, "an act of respect and kindness."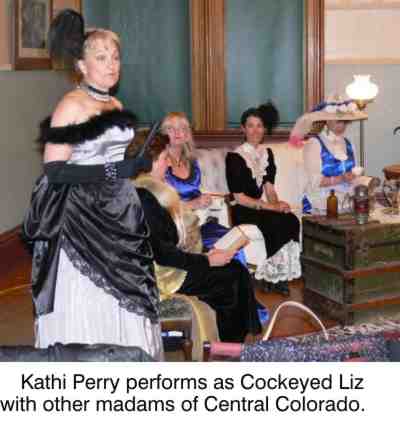 In interviewing Salidans about Laura Evans, Perry said "No one had a bad word for Laura Evans. They all spoke well of her and her contributions to the community, such as during the influenza epidemic of 1918 when she put her girls to work as nurses."
Little is known about some of the other characters in "Madams," but Perry puts them to work in the production to "present a well-rounded picture. We're not trying to glorify it; it was a hard and short life for many women. We're just trying to show people how it was, and explain some history, such as how the 'red-light district' got that name, and we talk about the personal depression and suicides."
Other cast members include Carrie Casey, who plays Belle Brown; Brenda Hooper and Shannon Blossom, who take turns playing Silverheels Jesse; Terry Alixopulos and Dream Lamberson, taking turns as Lillian Powers; Sarah Johnson, Jeanine Peterson, Kathy Osborne, and Jenny Scanga, taking turns as Laverne.
"This is all volunteer work," Perry says, "and people can't always be free when there's a production. So it works out pretty well to have several people who can play the same role."
And there's one other member of the cast. Every first-class whorehouse had "the professor," who played the piano in the parlor. In "Madams," Bev Werner plays rag-time and old favorites for 30 minutes before each show. "She's a show in herself," Perry says.
Perry points out that there's no foul language in the production, but due to its subject matter, children under 13 are not admitted. All proceeds go to Buena Vista Heritage for its preservation work in Buena Vista and St. Elmo.
There are three more productions scheduled for this summer. At 7 p.m. on Sept. 1, the Madams will perform at the Buena Vista Museum in the old courthouse. Tickets are $12 and available at the Buena Vista Chamber (although they may well be sold out by now).
That's something of a realistic venue. Prostitution was technically illegal in early Colorado, but the authorities did not close the houses of ill repute. Instead, they were fined, by the month. The proceeds supported the local police department, and may have cleaned a street or two, as well.
But there's an even more realistic stage for the two Salida productions: Laura Evans's old whorehouse at 129 W. Sackett Ave., now the home of the Mon-Ark Shrine Club. The first performance is at 7 p.m. on Sept. 14, and there will be a matinée at 2 p.m. on Sept. 15. Tickets are $12, and available at the Salida Chamber.
"The Shriners were just wonderful about letting us use it," Perry says, "but there's not a lot of room in there, so get your tickets early."
Ed Quillen, perhaps because he was raised by Baptists, has always been fascinated by the bad side of town, especially Salida's tenderloin.