Article by Jennifer Dempsey
Artists – September 2007 – Colorado Central Magazine
ALMOST 200 YEARS of living art history will be present at the Brookwood Gallery in Westcliffe on September 15th.
"The three of us artists are expected to be there, but being in the 'no green banana phase' there's no guarantee," laughed Gerald Merfeld, 71, owner of the gallery that will display his work alongside Colorado Springs artists Eric Bransby, 90 and his wife Mary Ann Bransby, 87. "When you get to be my age, you don't buy the green bananas anymore!"
Merfeld, who specializes in oil and watercolor and describes himself as "a romantic impressionist with underlying expressionism," said, "It's a big honor to me to show with the Bransbys. They are vital artists expressing themselves in their own terms. They are way past the point of having to prove themselves; they do art out of self-confidence. They are the kind of people you learn from continually. I learn something new every time I talk to them."
Two of Colorado Springs' most celebrated artists, Eric and Mary Ann Bransby had a duo retrospective exhibition at the Colorado Springs Fine Arts Center in 2001. The Westcliffe show will be their first with Merfeld.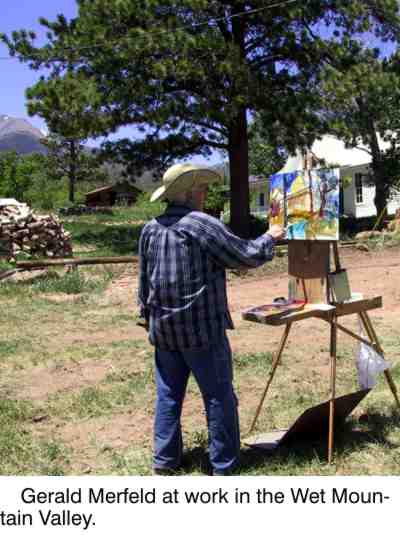 "We have known Gerald for some time and we admire his work," Eric said. "All of our work is quite radically different from each other's. There should be a lot of variety in this show. Mary Ann will show a great many landscapes. She's a very strong colorist, as is Gerald. I tend to be more monochromatic, not quite as colorful. I tend to concentrate on the human figure primarily. Altogether we make an interesting mix. It will be an experiment!"
Merfeld and the Bransbys met fifteen years ago in Westcliffe through a mutual friend, but for years the artists had heard of each other through the art world grapevine.
In the mid 1950's, Merfeld was in New York City apprenticing with illustrator/muralist Dean Cornwell ("the Norman Rockwell of his day," Merfeld said.). Cornwell sat on the Abbey Foundation Committee that granted scholarships to young American muralists to study in Florence, Italy. Bransby was one of those artists.
"I was in New York, he was in Florence on the Abbey scholarship, but I was always hearing Bransby this and Bransby that," Merfeld said.
"Cornwell was responsible for giving me the grant," Bransby said, "so Gerald's and my paths crossed unbeknownst to either of us."
Mary Ann Bransby also trained in Florence as a silversmith, but has enjoyed a long career in watercolors and landscapes, jewelry, ceramics and even as artistic director of a multi-media dance troupe.
"Mary Ann can hold her own with anyone in the world of watercolor," said Merfeld, "not to mention the jewelry and silver works . . . and even the house she and Eric have in Westcliffe – she designed the damn thing. She does everything!"
All three artists have histories art students dream of. The Bransbys studied under mural masters Thomas Hart Benton, Boardman Robinson and Jean Charlot. Merfeld studied painting with William Mosby in Chicago and while mentoring under Cornwell in New York, he would hang out with artists Hans Hoffman, Walter Biggs and Johnny Gannon in Greenwich Village.
The three artists also have impressive lists of awards and exhibitions from a lifetime of achievement. Merfeld was awarded the gold medal of honor by the American Artist Professional League; he has had exhibitions at the Smithsonian, the National Academy of Western Art, and the Allied Artists of America, and has work in the permanent collections at the Museum of Contemporary Impressionism, the John Deere and Company collection and the U.S. Navy Archives.
Mary Ann has shown work in the Lapidary Exhibition in New York City, was a finalist in the Louis Comfort Tiffany fellowship competition, and was named "Artist of the Year" by the Pikes Peak Arts Council in 1987.
Eric has received honorary doctorates from the University of Colorado and Park College, a lifetime achievement award from the Colorado College Alumni Association, and is listed in Who's Who in American Art and Who's Who in the World.
Yet despite all the accolades, Merfeld insists it is the present work that counts.
"All of that stuff is interesting, but it doesn't matter when it comes to this," he said, pointing to a watercolor he was working on at his studio in Westcliffe. "It doesn't matter what you did way back when or with whom. We need to keep producing new work and constantly explore the art world. And that," he said, with a laugh, "is what I will be doing until they slam the lid on me!"
The Merfeld/Bransby show will open September 15th at the Brookwood Gallery, 211 Main Street in Westcliffe and will run through October 9th. Gallery hours are from 1 – 5 p.m. Wednesday through Saturday. For more information call the gallery on (719) 783-2166.
The first Sangres Art Guild Hullabaloo in Westcliffe will happen on September 21, 22 and 23. The Hullabaloo will feature a weekend of gallery shows, art demonstrations, music, street performances by the Salida Circus and participation from the local business community. For more information call Angela Arterburn at (719) 783-2099.
Jennifer Dempsey writes from Salida, where she founded the Salida Circus School.