Chaffee County's past comes alive at a unique historic spot between Salida and Poncha Springs, just off U.S. Hwy. 50. The Hutchinson Homestead and Learning Center is a place where it's easy to imagine what life was like in the early settlement days in the Upper Arkansas Valley.
The Hutchinson family settled in the region in the 1860s, and their ranch was started in 1868 when Joseph Sykes Hutchinson and Annabel McPherson were married, settled on a homestead, and began raising cattle – one of the largest operations in Colorado's high country in its day. In 2019, the Hutchinson cattle business is still in operation.
Dr. Wendell F. Hutchinson, a fourth-generation member of the family, had a vision of preserving the original ranch buildings on the north side of the highway, "To preserve some things from the past so that future generations will know how people lived and worked in those bygone days."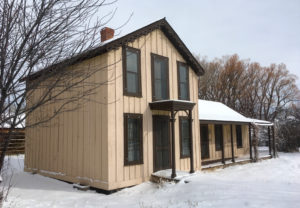 After being designated one of Colorado's Most Endangered Places in 2003, "Hutch," as he was affectionately known by locals, donated the old homestead to the town of Poncha Springs in 2006, and restoration and preservation of the property and structures began soon afterward. Through a partnership between Salida Area Parks, Open Space and Trails, the town of Poncha Springs and the Hutchinson Family, and funding support from History Colorado State Historical Fund and the National Park Service Save America's Treasures Grant Program, the homestead was opened to the public. A brand new Visitor's Center was also completed in 2013, a year before Dr. Hutchinson died on Sept. 20, 2014, just short of his 90th birthday. It houses interpretive materials, educational exhibits, gifts, antiques from the ranch and a conference area.
The site is currently being operated by Guidestone Colorado, a 501c3 nonprofit based in Chaffee County, whose mission is growing a vibrant agricultural future in Colorado through education, community building and partnerships. Besides the Visitor's Center, the site features many of the original structures of the homestead from its earliest days, including a blacksmith shop, granary, the ranch house, a calving shed, milk barn, saddle house and other amazing relics of a bygone era.
The Hutchinson Homestead and Learning Center offers youth programs, summer farmhands education programs, school field trips, guided tours, birthday parties and classes, public events and more. There are also many volunteer opportunities available for those who wish to be a part of maintaining and preserving Colorado's ranching legacy. Donations to help support education programming and maintain the facility are also appreciated and are tax deductible.
The Hutchinson Homestead and Learning Center is located at 8913 W. Hwy 50, between Salida and Poncha Springs. Hours vary by season, so check their website or call in advance. They are also open by appointment. 719-239-0955. www.hutchinsonhomestead.org