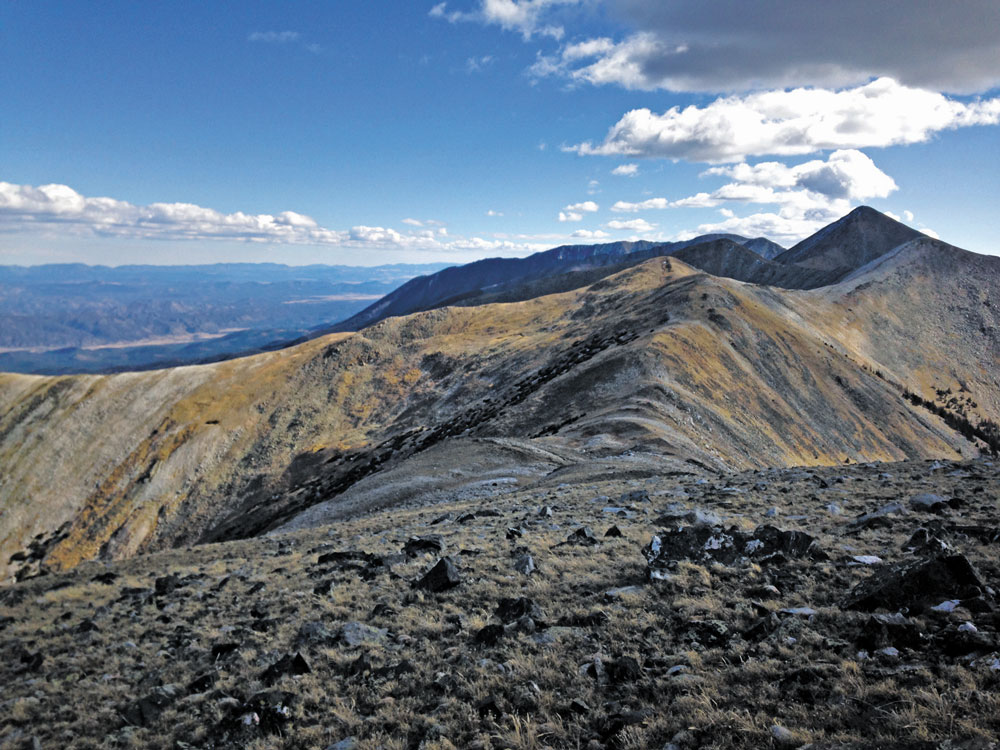 Story and photo by Ericka Kastner
As of the writing of this column, snow had not yet fallen in Central Colorado's banana belt, making it pertinent to write about hiking places rather than snowy adventures for December. Should a descent of the white stuff begin to grace the San Luis Valley and accumulate by the time this piece is published, the road approaching the route would be a fabulous cross country ski, and the trail at higher elevations would provide beautiful and challenging terrain for snowshoeing.
You can keep your fourteeners. I prefer to explore Central Colorado's 12 and 13,000-foot peaks. It is at these lower elevations with fewer visitors that I find more wildness, increased solitude and a grander sense of adventure.
Simmons Peak (12,050 feet), situated between Methodist Mountain and Hunts Peak, is in direct line of sight out my kitchen window, and had been calling to me since I moved up Bear Creek last spring. After studying maps of the Sangre De Cristo Range in detail, I discovered that the route to approach Simmons was to be found on the west side of the range, in the San Luis Valley, and I put it on my list for a late autumn hike.
The 2.8-mile forest service road to the Simmons trailhead is rough in spots, but passable by low clearance vehicles and certainly worth the drive alone via vehicle, ATV or dirtbike for its breathtaking views. On the trail itself, the route can be challenging to follow at times, and offers route-finding enthusiasts the opportunity for exploration. There are also numerous spots for dispersed camping.
Initially, the Simmons Peak trail follows narrow Decker Creek, where rocks and fallen logs resting in the stream are thickly wrapped in bright green moss. Because the trail is not well maintained by the Forest Service, there are plenty of logs to climb over and trees to tunnel under along the way (lovers of Crossfit, rejoice!). Higher up on the first ridge and just past a short section of switchbacks, a large area of blown down trees covers the route. An uncultivated trail now exists just to the southeast of the original trail and can be discovered with a little bit of patience and fortitude.

Freshly cleaned bones in the area make it clear that hikers are in big cat territory and add to the feeling of remoteness along the trail. Continuing further, remnants of an old cabin are the marker for a crossroads on the route. Staying on the main trail will take hikers to Salamander Lake and a one-way route to Dorsey Creek Trailhead. Those interested in a Simmons Peak summit will exit the trail here, looking for a faint deer trail just behind the cabin, and begin a combination of route finding and bushwhacking up the drainage and onto the higher ridge leading to the summit and incredible views of Salida, Howard and the mountains beyond.
Getting There: From the intersection of U.S. 50 and U.S. Hwy. 285 in Poncha Springs, travel south over the pass 11.5 miles, turning East onto Rock Gulch Road 5335. The road is not well marked until you turn onto it, but is also signed Alder Creek Pit and you'll see a small gravel pit right before the turn. Continue along the road .6 mile (there are some decaying cabins and outbuildings to spot along the way) until coming to a "Y" in the road and take the left turn into Decker Road 948. The road becomes somewhat rugged and rocky at this point. At 2.3 miles (from the turnoff at U.S. 285) the road splits again; stay to the left on FS 948 as a turn right goes to Rock Creek. At 2.6 miles take a gentle right for another .2 miles where you will park your car in a clearing just after a creek crossing. Walk uphill from your parking spot, looking for the creek and a spot to cross on foot just after ducking under a couple of fallen trees. It is here you will see a well-worn national forest marker indicating a wilderness boundary and the start of the trail. There are several opportunities for dogs to find water along this trail.
Places columnist and word lover Ericka Kastner keeps a running list of wild places she longs to experience in Central Colorado. View her work online at erickakastner.com.