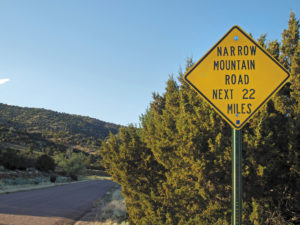 By Ericka Kastner
Phantom Canyon Road lives up to its name; until very recently this route had been haunting me.
It's been several years since a friend told me about the road running from Penrose to Victor. Since then, County Road 67 has been filed in the notes section of my iPhone where I list places in Colorado that I long to experience.
The road follows the route of the former narrow gauge Florence and Cripple Creek Railroad that first arrived in Victor on May 23, 1894. At one time the "Gold Belt Line" was the busiest narrow gauge route in the west and paid for itself during the first year of operation; sadly the tracks were destroyed by flood in 1912 and the route was abandoned.
The funny thing about the 30-mile long, unpaved Phantom Canyon Road is that by all accounts that I've heard prior to traveling the route, it's been described as a rough, narrow 4WD road that should be journeyed through with discretion. Several signs on CR 67 even caution travelers just a few miles in with warnings of "Last Chance to Turn Around" and "Narrow Mountain Road next 22 Miles."
In reality, I found the road definitely to be narrow in spots, but hardly requiring 4WD. Perhaps during certain seasons of the year (I explored Phantom Canyon in May) the road is washed out, muddy or rutted; but I witnessed numerous 2WD vehicles on CR 67. In fact, my only real challenge was maneuvering a continuously wash-boarded road and dodging cars coming towards me at speeds that seemed less than safe, considering the limited sight distance.
The recommendation that no semi trucks or RVs over 25 feet take the road is probably a good one due to the restricted views and tight tunnels in spots along the winding and deep canyon. CR 67 follows Eightmile Creek and offers a fabulous setting for car camping beside the stream.
Views along the entire road are stunning and constantly changing. About 10 miles north of U.S. 50, just before passing through the route's second tunnel, travelers may catch a glimpse to the northeast of the burn area from the 2013 Phantom Canyon Fire. About 11.5 miles in, "Keep Out" signs begin to appear and limit camping for approximately three miles. Shortly thereafter, Baja-esque potholes begin, making it sensible to avoid traveling the road at night. (Perhaps this is where the description of Phantom being a "rough road" came from? Or is it the bullet holes in the signs?)
In addition to camping spots and railroad tunnels, highlights along the route include an original steel bridge about 12.5 miles in from the south, colorful textured vertical rock walls and interpretive signs at various points along CR 67. About 22 miles in, both the road and the views begin to open up. If you time it just right and reach approximately 25 miles in at sunset, you'll be blown away with the views of the Sangre de Cristo Range to the southwest from 9,710-foot Alta Vista point.
One of the most scenic roads in Central Colorado, Phantom Canyon would be a fantastic way to spend a summer day with a picnic or an overnight for camping. I have a sense this would also be a phenomenal drive in the fall.
Getting there: On U.S. 50, approximately four miles east of Cañon City, turn north onto CR 67 or the well-signed Phantom Canyon Road. Travel approximately 30 miles to the town of Victor for sightseeing or an overnight stay, before returning via the same route or taking CR 67 north where it joins US 24 in Divide. Alternatively, continue five miles north from Victor to Cripple Creek and take Shelf Road or CR 9 – paralleling CR 67 – back to Cañon City.
Logophile and Places Columnist Ericka Kastner believes she is extraordinarily lucky to be paid to write about adventures because she'd be having them regardless. If you have a Place in Central Colorado she needs to explore for Cozine, email her at ericka.kastner@yahoo.com. Find more of her work online at erickakastner.com.