THREE OF US "ADVENTURERS" found ourselves enjoying a short jaunt on rail bikes recently. We were in the old D&RGW (Denver & Rio Grande Western) railroad depot in South Fork. A company there regularly rents out bikes for the three-mile run up to the turntable and back. Up for discussion was the idea of pedaling. Since two of us are "a bit slowed down," that didn't work. But Ed LaScala, one of the three owners of Revolution Rail Company, couldn't have welcomed us more warmly to the old depot. 
Ed chatted about how he and the other two owners had started Revolution Rail and about their five locations. He even pushed along a four-person rail bike a ways just for us. The comfortable recumbent bikes seat two or four, so it seemed to me that would be ideal for groups who had a couple of athletic pedalers. Our energetic (and lovely) junior member said she was up for it, but we needed one more rider. Next time we will recruit someone so we can experience the full tour. Time wasn't the issue since the 3 mile ride up to the turntable and back takes less than two hours normally. The price seemed modest to us too.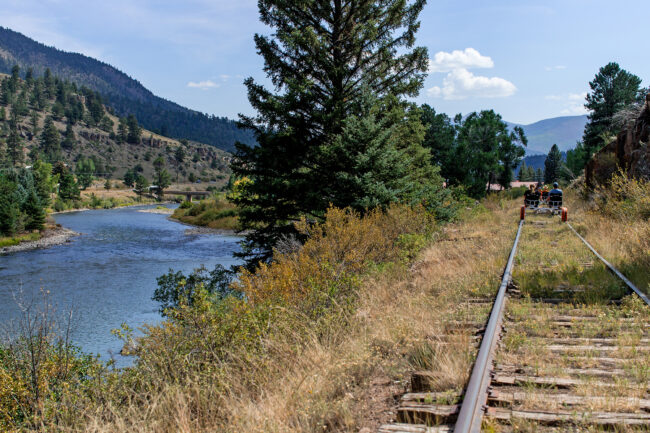 It's a unique experience. Birds hardly noticed our approach and then took off, but not in a particularly alarmed fashion. The trip on plastic wheels is silent. The whole valley was still that day except for the occasional muffled vehicle sounds from over on the highway. It was quite an idyllic ride.
The scenery is Colorado at her best. Artists would enjoy the subtle early fall colors. I liked the way stands of mature plants added their subtle browns and deep greens trackside. The gentle river bends in the south fork of the Rio Grande River must tempt nature photographers. The Colorado sun was shining on a moderately warm day. I even think it could have been nice in the snow. The big rock "slick sides" were impressive too. Geologists could tell us more.
The line goes deep into Colorado history. Those rails of the old D.& R.G.W once went up to the mines around Creede, like the Commodore and the Holy Moses. Narrow gauge until 1902, the rails were then replaced by today's standard gauge. They did follow an easy grade (less than one percent), nice for pedaling today. But the railroad still only briefly hit timing right.
It all started to boom in 1890 when Nicholas Creede hit rich silver lodes. For a time the railroad even had sleepers on the sidings you could rent by the night and a town full of desperate characters. Creede was "day all night." By 1893 the big boom years were over. Still a little silver was mined until the 1930s and a trickle after that.
We were pleasantly surprised when the owner of the rails, Don Shank, showed up. He was on his way to play golf but had a few minutes to talk. He has tried over the years to get some passenger trips going. His tourist railroad plans were well received by those who rode. But a variety of reasons kept the line from flourishing. In fact, he was interviewed for this very publication once about his engine and cars. One car is a famous office combination bunked in by two presidents. He is pleased to live in South Fork, where he can watch happy groups pedal along today.
Rail fans won't want to miss seeing an actual spring switch in operation. After the last wheel crosses over, it automatically springs the rails back to line the main line. We watched that happen. Plus it's great to see the original bridges and grades just as David Moffat paid for them. Some day check out the loving cup tribute to Moffat across from the ticket counter in Union Station in Denver.
A trip to ride the rail bikes is well worth it for many reasons. We enjoyed our private demonstration, next time we'll recruit some strong pedalers.
For more information, visit revrail.com.
Editor's Note: 
By chance, I actually DID the full pedaling tour with André and Dílse the day before Forrest buzzed through. They have five-point harnesses for children! We went at noon, not ideal for this hot-blooded ginger. But the clouds gathered for our return, which was greatly welcomed. We were worried Dilly would lose it half way and, while she did start to whine a bit, she promptly fell asleep! (Until we stopped about five minutes later.) But that tiny cat nap gave her the needed fuel to make the return trip. 
It felt incredibly thrilling to be "riding the rails" in the quietest mode, seeing South Fork from a new perspective. For able-bodied people, the exertion is minimal (and it's downhill on the return). Not to rub Forrest's nose in it, but we had a 92-year-old in our group who pedaled hard. Learning about the history of the rails at the turn around/lunch spot was neat. I absorbed as much as I could, while chasing a toddler and snapping some photos. If Forrest was there he would have added a few more nuggets of history for the group, I'm sure of it. ;)  — Cailey