By Brian Rill
Don Richmond and David Clemmer – Holy Roller and a Rolling Stone
Don Richmond's new collaborative musical work with David Clemmer is a straight-ahead folk album with an old-town vibe. This record was produced among long flat countrysides of the San Louis valley, amid dusty Colorado fields that are swarmed with wasps and ransacked by wondering livestock. An original rural soundtrack rattles along fourteen tracks of acoustic guitar solos and pangs of steel strings twanging out their tunes as they are bent among the backdrop of a dusky sunset studio.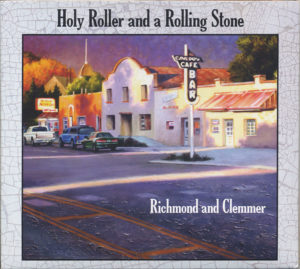 Howlin' Dog Records has created another CD of exquisite quality. Production value as always with this local record company is top notch. The vocals from Clemmer, although naturally rough and subdued, are captured with many rich overtones, shining smoothly through the mix. Don Richmond stands out with his prominent banjo skills and harmony vocals. Clemmer dazzles the ear with an acoustic lead that stands up to scrutiny from the best of the best.
The tender, romantic ballad, Alpine Lullaby features Don Richmond on lead vocals, banjo, violin, accordion and string bass, showcasing his multitasking talent. Don is joined on the amorous tune along with the smooth sounds of Eliza Gilkyson on harmony vocal. Holy Roller and a Rolling Stone also captures this couple on another soft melody with a similar tempo and traditional country tone. It is on Your Love Fits Me Fine where Richmond's acoustical gem, the Weissenborn slide guitar truly shines. Along with Wayne McKinzie on alto saxophone, this slowly lulling song reminds me of a Leonard Cohen classic.
Although Clemmer and Richmond take turns providing vocals among the tracks, the timbre of their male tenor is almost unrecognizably similar; so much so that without referring to the liner notes I cannot tell the difference between the two voices. Which makes this dynamic duo the perfect coalition to dream up a full- faced studio album, piled high with multiple layers of musical awesomeness. There are basically two different tempos on this compilation. The soft, slowly-lilting ballad among smooth harmonies with a whispering deep vocal and multi-track acoustic instrumentation, and then a double-time, solid snare-driven shuffle with uptempo excited staccato of electric lead guitar and high-energy backup cantor.
I would recommend this album for anyone who enjoys soft country and folk. The lack of dynamic tempos doesn't take away too much from the mastery of the musicians to showcase their visionary talents. If you've enjoyed Don Richmond's many other albums, you will not be in the least bit disappointed; in fact the addition of David Clemmer's musical expertise helps add weight to the grist of this compact disk. Its an experience not unlike riding a long elevator up to your penthouse in a giant desert resort. When you finally get to the end, there is a feeling of wanting to slip off your shoes and sink into a sofa while watching the stars twinkle above the pavement, with flashes of city light that synchronize for a moment in a somewhat holy illuminated union.
Brian Rill is a teacher, performer, activist poet and award-winning Latin songwriter voted Salida's best musician 2009.