By Wayne Iverson
After the Chipeta Mountain name was moved to the high point of its massif in 2017, Salidan Craig Nielson came up to me and said that we needed to have a celebration. I said, "Good idea, you're in charge, the budget is zero, I'm going to work in Alaska." Nielson, an architect and mountaineer, put together a dynamic team and dubbed it the Chipeta Mountain Project. They put on a tremendous Chipeta Rising Celebration in October 2017. I then encouraged him to focus on another great idea he had for the following year – Mountain Heritage Park on Tenderfoot ("S") Mountain. Nielson met with city staff and presented his preliminary designs and budget to city council on December 3. It was well-received. The city also requested that restrooms be added near the site. The total budget proposed is $77,000, much of it to be in-kind. The goal right now is to get support and fundraise through the winter, so we will be writing grants and have met with many of the acronyms, such as GARNA, CCHAAB, and SPOT, as well as both Rotary groups. Construction on the park will hopefully start this year.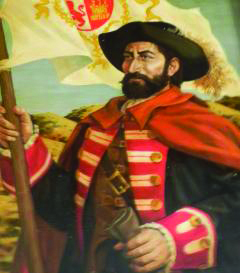 The proposed park would be on a crescent-shaped piece of land owned by the city, located just below the parking area on "S" Mountain, near the top of Frontside Trail. This is the spot where Chipeta's great-great grandson, Roland McCook, blessed and dedicated the new Chipeta Mountain on a blustery day in October 2017. The commanding views of the northern Sangre de Cristo Mountains, the Sawatch (and Tenderfoot Mountain itself) that have shaped the history and culture of Salida and south-central Colorado for generations, would be accompanied by interpretive signs and information.
What will be on the interpretive signs? They would describe and name the above mountains and will celebrate the rich cultural and natural history of them, and add the modern context as well, including mountaineering, skiing and rafting as it relates to our Salida mountain heritage.
I am most interested in the Ute (they prefer the name Nuche) history that will appear on the panel facing the "Ute" mountains – Ouray, Chipeta and Pahlone. We will send this copy to Roland McCook for final editing. (Roland, the former chair of the Northern Ute Tribe, will be speaking at the Collegiate Peaks Forum Series on April 25 in BV). But I also would like to see Juan Batista de Anza's 615-mile, 26-day campaign against the Comanche in 1779, aided by Ute scouts and warriors, included on one of the panels. I make my case here with the help of several excellent articles by de Anza experts in past Colorado Central Magazines – including former owner/editor Ed Quillen himself.
According to Don Garate, an authority on Anza, the name is properly Anza, not De Anza, so I will use that going forward. The z is soft like an s, so as Ed Quillen suggests, "it should be pronounced AHN-sah, the way a snooty New Englander might pronounce answer." Anza is well known as the founder of San Francisco, California in 1776, and Anza Borrego State Park in San Diego County bears his name. In Colorado, the military and political genius has been neglected, while the name of the Comanche chief he killed – Greenhorn – lives on. Anza's 1779 Comanche Campaign was too brilliant to be forgotten. Monte Vista historian Ron Kessler felt as much, wrote a book of the same name, and has traced Anza's route on the ground several times since 1993. Phil Carson's Colorado Central article "On the Trail of Juan Bautista De Anza" chronicles those adventures.
Anza served as colonial governor of New Mexico for the King of Spain from 1777 until 1787. As Quillen explains in his August 2004 Colorado Central sidebar, when Anza moved to Santa Fe, "the Spanish hold on the province of New Mexico was threatened by Comanche raiders.
They came across the Great Plains, crossed the Sangre de Cristo Mountains and took captives from the upper Rio Grande Valley to be sold as slaves. The provincial government was supposed to protect them, but it didn't …"
"From 1767 on, the Spanish had fought an all-out war against the Comanche, but without much success. The raiders would strike at will, then ride east. The Spanish governor would round up an army to pursue them, but out on the Plains, the Comanche had no trouble outrunning the Spanish until they gave up and returned to Santa Fe."
"Anza came up with a new plan. Instead of trying to chase the Comanche, he would bottle them up and force them to fight a set battle where his army would have the advantage."
"So when scouts in the mountains saw the Comanche approaching in the late summer of 1779, Anza assembled an army. But this army wouldn't chase the Comanche. Instead it would march north in the San Luis Valley, cross Poncha Pass, go east across the edge of South Park and emerge on the Great Plains, then go south until they found the Comanche emerging from the mountains. There, they could block the Comanche and force them to battle on Anza's terms."
"It happened as planned. The Comanche were routed in two battles on Sept. 2 and 3, and their war chief, Cuerno Verde (Greenhorn), was killed." Greenhorn's son and six of his sub-chiefs were also killed 18 miles south of Pueblo. Anza's troops had only one casualty. Comanche raids on the upper Rio Grande came to an end. The treaty of 1786 that followed lasted until the Americans came – a fact that, Earle Kittleman observes in his 2001 article Finding Anza's 1779 Battle Site, "adds to Anza's appeal as a colonizer as opposed to a conquistador."
What route did Anza's 800 men and 2,400 horses take through the upper Arkansas Valley? We know from his journal that on August 27, 1779 he camped near present day Poncha Springs (the first written record of what would become Central Colorado) and eventually crossed Ute Pass near Divide, CO. In the first edition of Ron Kessler's book, he believed Anza and his men went up to present-day Johnson Village and up over present day Trout Creek Pass on his way through the southern edge of South Park. Due to some sleuthing by locals Quillen and Kirby Pershbacher, with authors Kessler and Carson in tow ("a high-powered group in low gear"), Kessler changed his tune for his second edition. He now thinks Anza went over the Ute Creek Trail, roughly where Chaffee County 175 crosses Cameron Pass and turns into Fremont County 12 – going right next to the proposed Mountain Heritage Park! I have explored that area intensely and have ideas as to which specific route he might have taken. In 2001 Kittleman queried, "Do the Ute trail and the Anza route have enough historical significance and physical integrity to be commemorated officially?" I think they at least deserve a nod on one of the new park's interpretive displays. And perhaps we can revive Quillen's Anza Day Celebration at Mountain Heritage Park as well. 
Wayne Iverson spends his spare time thinking up whimsical things to say for potential Colorado Central Magazine bylines.