By Jennifer Dempsey
When John Grove and Shawn Woodrum took over the State Highway building at 402 Main Street in Buena Vista a year and a half ago, they weren't exactly sure what the 5,000 square foot warehouse would become.
"We've just basically done it by the seat of our pants," said Grove, 45. "If we had had a business plan it would have changed every other month. We knew we wanted a place that would cater to all walks of life. We wanted this to be a big umbrella that includes everybody in the community, like a modern Mayberry."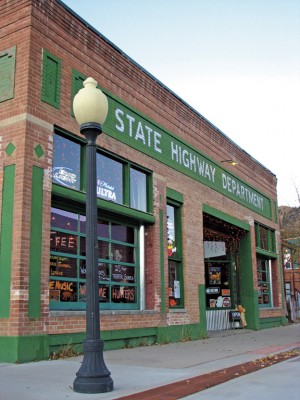 And since Jan 1, it's lived up to its moniker. Voted "Best BV Hang Out," the Roadhouse has hosted film nights for kids, dinner/movie date nights for adults, open mic nights, prom and after-prom for high schoolers, rock concerts, piano concerts, wedding receptions, birthday parties, barbecues, yoga classes and even circus workshops. It's been the site of fundraisers for local non-profits, including Guidestone Organic Farm, Paddlefest, Walden Chamber Music, Ark Valley Roller Derby and Collegiate Peaks Rodeo.
Also known as "Buena Vista's living room," kids come in on any given afternoon to play video or board games, ping pong or pool. Adults come in for an after-work drink, to play darts, or watch Monday night football on a 25-foot screen. On weekends, folks come in to dance, see live theater or hear bands.
The front lobby "Roadhouse Room" is adorned with vintage posters, modern paintings, bookshelves, board games, love seats, and a 40-foot horseshoe bar. A piano sits in the corner, a pool and ping pong table in the center. Garage doors have been converted into open-air windows, adding a European street cafe feel as patrons converse with pedestrians passing by.
In the back Theater Room a trapeze hangs from the 22 foot high ceiling. A row of plush leather couches, theater seats and cocktail tables face a 25-foot stage flanked by towering speakers and laser lights. The white wall behind the stage doubles as a 30-foot high definition video projector screen. By the window is a private couple's dining table. In the way back is a dressing room next to the most inviting public bathrooms in the county. The original giant-sized garage door opens to a 5,000 square foot patio.
"When we took it over in May 2010, we left the doors open and people milled in," Grove said. "There was a palpable desire for an events space in this part of the county. We just started feeling our way along and it's taken a very organic kind of growth. It's become a community-owned thing."
So invested is the community in the Roadhouse that Grove and Woodrum often receive donations – "the piano, that painting, that huge plant" – as well as "tons of" unsolicited advice.
"We love how everyone tells us how we should do it better," Grove said with a laugh. "We know it's well-intended, but when you have a line of seven people wanting to get a drink … the point is, I really believe we are fostering a genuine sense of pride and ownership with our patrons. They all want it here and they want it to succeed."
Originally from Frisco, Grove met Greeley native Woodrum in Boulder 14 years ago. They became business partners and moved to Buena Vista in 1998, opening Floyd's Barber Shop, another Mayberry reference named after the character in "The Andy Griffith Show."
With the help of friends, Grove said they spent a year "bringing the (State Highway) building from an empty brick box back to life. It had been vacant for seven years and was basically boarded up with no power. Some have said we are part of a little renaissance here in BV. Regardless, I think the town is just happy it's being used."
"It's great for them to take the initiative and risk, understanding it was a tough economy when they started and still is," said BV Mayor Joel Bensen. "They have turned around an old building that has been sitting empty for a lot of years. It's great having life on that corner of Main Street. There's no doubt that the acts they are booking will bring in people from all over."
"I really appreciate what they are doing with it," said Town Trustee Carrie Carey. "It's a great asset to Buena Vista. I'm so happy they were able to make an abandoned building thrive. I have been there for bands and when the (Pro Challenge) bicycle race came through it was great to watch it on their big screen TV."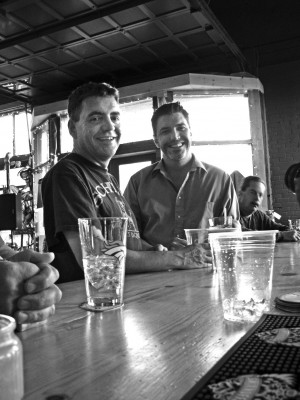 Carey took her daughter to a belly-dance performance at the Roadhouse for her 22nd birthday last February.
"I wouldn't want to take my daughter to a regular bar, but I wasn't afraid to bring my daughter into that environment," she said.
Grove said, "We had a Beatles tribute band from Crested Butte play here. It was an older crowd and they brought their babies and grandkids. When you get three generations dancing together you have a really different thing that you wouldn't find in a bar."
Both Grove and Woodrum agree the Roadhouse has succeeded thus far due to "finding synergy with local people who have the same passion."
One such local is Leo Accaria from Central Colorado Sound and Continental Divide Production, who has offered audio and video equipment and sound checks for bands.
"That's a big plus here,"Grove said. "Bands don't have to bring their amps or mics. They can bring their friends and family instead, so its more of a vacation than just another road gig. We have everything they need. Also, Leo not only brings a state of the art audio/video package, but sound engineer wisdom garnered from decades on the road."
Grove said an "anonymous local benefactor" has recently made her house available for bands to use and that Mount Princeton Hot Springs has offered deals for visiting artists.
"We have gotten incredible performers who will drop one or two zeros from what they would normally charge because of the whole 'modern Mayberry' experience," he said. "I think that speaks volumes about our authenticity here in BV. Adrian Conner from Hell's Belles said we really care about the people who come here to play, that this community made her feel welcome. That's been a huge part of our being able to make this work with virtually no money and no budget."
This winter, local chef Angela Dils joins the Roadhouse crew. Trained at Le Cordon Bleu Culinary School, Dils is building a kitchen in the space and will soon be offering a full menu.
All this in only a year and a half. It remains to be seen what else this 'modern Mayberry' will bring to old town Buena Vista.
To see a schedule of Roadhouse events go to www.statehighwaytheater.com For information or booking events, call 221-0368 and for entertainers who wish to book a performance, call 221-0127.
Jennifer Dempsey is a freelance writer and director of the Salida Circus.