By Connie Vigil Platt
Cowboys have always been known as hard riding, hard working men. They are also known to be ready and willing to have a good time. Being accustomed to the rhythms of a horse, they are naturally good dancers. They also appreciate a lively foot-tapping tune.
Singing cowboys best describes the musical group once known as The Frisco Canyon Ramblers, as most of the band members also had day jobs as working cowboys.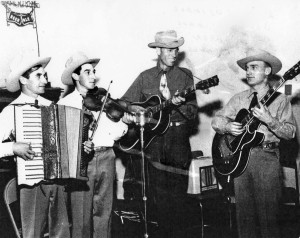 Listening to the mellow sounds of the Ramblers was like a smooth chocolate drink for the senses. You couldn't resist moving your feet to the beat. I count myself as fortunate that I was among those that were able to enjoy the music of the Ramblers.
With the twang of the steel guitar, the out of tune honky-tonk piano, the smooth sound of a violin and the strum of a guitar, it was like dropping into a Hank Williams concert.
The Music
Country music is a blend of popular music originally found in the Southern United States and the Appalachian Mountains. The roots go back to traditional folk music. The term "country" music started in the 1940s when the term "hillbilly" music was deemed too degrading. In the southwestern United States a mix of different ethnic groups created the music that became the Western music of the term "country and western." Another style, Tex/Mex, was made famous by Marty Robbins with his unique style along with his unrivaled, classic ballad "El Paso."
There are other outstanding artists that made cowboy Western music what it is today. Tex Ritter sang about rodeos and rodeo riders with his "Bad Brahma Bull" and the "Boll-weevil" describing the trials of a western farmer. Roy Rogers and the Sons of the Pioneers sang about "Pecos Bill," telling the story of a "Cowboy down in Texas." Gene Autry made "Rudolph the Red-Nosed Reindeer" famous, proving that country kids waited for Santa Claus also. Bob Wills and His Texas Playboys successfully added elements of swing to Western music.
The Frisco Canyon Ramblers
After serving with the Marines in World War II, Louie Cusimano and his brother Joe, along with some friends, formed a cowboy Western band, The Frisco Canyon Ramblers in 1947.
The band consisted of Louie on the accordion, Joe on fiddle, Roy Green on rhythm guitar and Jack Marrow on lead guitar. Later they were joined by Kenneth Caudle who played rhythm piano. He was eventually replaced by Joe's wife Mary who could play lead piano as well.
They began by playing for neighbors and friends, but it was after Joe learned to play the popular Cajun tune Jolie Blonde that they got the attention of the owner of the 85 Club, a dancehall and bar near Ludlow, Colorado. That first real gig paid $10 per man.
Soon they were in demand for school and 4-H dances in the region, including Branson, Aguilar and Trinidad high schools, and began playing the rodeo circuit. They became regulars for the New Mexico Cattle Growers Association, performing for as much as $100 per night in places like Yankee, Springer and Farney, New Mexico.
The band members were all from the same area of Branson, east of Trinidad near the New Mexico border, so they decided to name the group after a canyon where Louis and Joe ranched, but only after tossing a few other names in a hat, including the ill-fated "Rimrock Boys." Throughout the band's existence they had many other musicians sit in from time to time, from drummers to bass fiddle to steel guitar.
Though the Ramblers never quite achieved large-scale notoriety, they did have a loyal following. Whenever the band played a country dance the floor was packed and folks traveled for miles to hear them play. They enjoyed performing the songs of the "Hanks:" Hank Thompson, Hank Snow and Hank Williams, as well as other popular recording artists of the day. None could read music; instead they learned the songs from listening to recordings. The band never made a record but did play live for radio stations such as KCRT and KSFT in Trinidad who would sometimes record their performance on a Friday night to replay on Saturday morning. Often the stations would call them in to hear a sneak preview of a new recording.
Occasionally the band would rent a hall themselves for a dance and charge $1.20 per couple (twenty cents for Uncle Sam, as Louis' wife Judy was quick to add). Joe would sometimes call squares for the dances.
They began getting calls to play for rodeos as far away as Amarillo and Santa Fe, but ultimately would have to turn these down as they were committed to their day jobs near Branson and couldn't take the time off. Eventually Joe and Roy got job offers in Denver, causing the band to fold sometime around 1959. The Frisco Canyon Ramblers reunited for performances in Trinidad in 1963 and again in 1980. They were honored by the Trinidad Historical Society at its annual dinner in 2008.
Louie Cusimano
Louie himself is one of those fortunate people born with a natural talent for playing music and an instinctive sense of rhythm. He is able to play any kind of music on most any instrument; the guitar, violin, and piano – just about anything that makes music. Although it is a very difficult instrument to learn, Louie was very accomplished at the accordion.
His profession was that of a cowboy, but after the workday of riding horses and rounding up cattle was over he was often found playing music.
Growing up in rural Southern Colorado in the days before television, it was commonplace in many households to play music. Louie started playing at an early age with little or no formal training. Like many people in the area, he was self taught and learned from everyone around him as well as others in the band. He told me he couldn't remember a time when he didn't play something. Louie said he not only liked to play music but enjoyed watching people dancing and having a good time.
Now retired, "pushing 90" and living on a ranch with his wife Judy outside Raton, New Mexico, Louis still enjoys country music and has wonderful memories of when he was in the spotlight on stage. He still plays music, but mainly for his own enjoyment. His son Chuck Cusimano, however, carries on the tradition. He plays lead guitar for several Fort Worth, Texas area bands and has written hundreds of songs, one of which, "Eleven Eighteen Nadine Lane" won the award for Western Swing Song of 2006. He has also received the Western Swing Hero Hall of Fame award in Mineral Wells, Texas from the Cowtown Society Of Western Music.
Connie Vigil Platt has gone kicking and screaming from writing on cave walls to the electronic age. She has lived in the country all her life. She has now been published in Australia, Canada, England, Japan as well as in the United States.