Article by Marcia Darnell
Artists – October 2008 – Colorado Central Magazine
IT'S BEEN SAID that art is food for the soul, that it is sustenance to carry one through life's travails. That sentiment is true for La Jara artist June McDaniel, whose painting has seen her through career, marriage, motherhood, and illness, and is still nourishing her in retirement.
Her gratitude and whimsy can be seen in her home/studio, which she calls Lady Bug Creations. Signs denoting her anthropomorphic sense of humor adorn the outside of her house.
"When I was growing up, I was called Junebug, because of my name," she says by way of explanation, "but I thought lady bugs were cuter."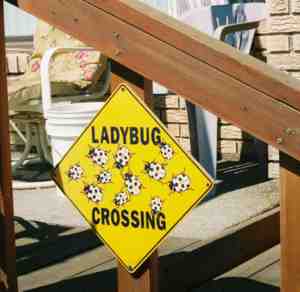 McDaniel was born in Pueblo, lived in Alamosa through college, then moved to La Jara to begin teaching. She worked for 30 years in La Jara and Jefferson County, Colorado, as a primary and P.E. teacher. She says she incorporated art into her primary classes' curricula.
"We did a lot of art with our science and social studies," she says. "I always planned an art thing on Friday afternoons, too. I had a lot of creative students."
McDaniel still runs into former students occasionally in the Valley, and usually gets a hug, "which makes my day," she says.
Her own art impulse started early in life. "I always had a tendency to take things and make other things from them, from toilet paper rolls to plastic bottles and other found objects."
She took lots of art classes at Adams State College, along with her education classes. She mastered oil painting, then stained glass, then quilting. She managed to keep up her creativity along with teaching and raising five children. She now has 10 grandchildren, four step-grandchildren, and one great-grandchild, living around the country. Several of her children and children-in-law are in the teaching profession, which speaks well of her as a mother and an educator.
Having relegated her artwork to summers for so many years, McDaniel now relishes her retirement, and devotes much of her time to creativity. She's part of a loose association of local artists, who call themselves "old ladies who paint."
She says being part of a group is invaluable, for artistic and social reasons.
"A lot of times you can look at a picture and think, 'I know something's wrong with this,' and not get it, but someone else can see it right away," she says of the group's feedback.
"We also laugh a lot and talk and solve the world's problems," she adds, laughing.
McDaniel also works with Rocky Mountain Artists in the San Luis Valley, which mounts two shows a year at the Inn of the Rio Grande in Alamosa.
Like many artists, she finds living in the San Luis Valley inspiring. "There's lots of opportunities to drive out of town and do plein-air painting, and lots of old buildings and scenic vistas," she says, adding, "but you don't get a lot of exposure."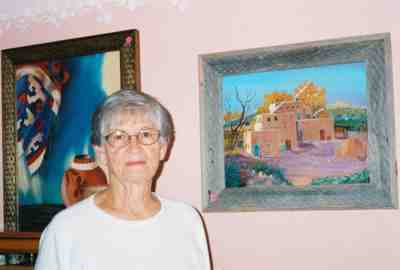 She creates her work in the home she built with Jim, her husband of 52 years. A cancer survivor, she prefers to stay out of the elements and works indoors. Her "studio" is an empty bedroom "that's always a mess," she says. It also holds the family's computer and serves as a storage area.
"I usually have to make a place when I want to do stained glass," she says. "The painting I do in my dining room."
When she wants to paint an outdoor scene, McDaniel grabs a photograph from her vast collection and sets to work, not always reproducing the scene faithfully. "I add and take away," she says of the picture. "Sometimes photographs are too perfect."
Like many artists, she sometimes changes her work over time. During her interview, she pointed to a painting in her home from long ago, saying "I'd like to add another tree to that one.
"Sometimes they look pretty good when you paint them," she explains, "but later you look at it and say, 'I wish I'd done that differently, or I'd like to change that.'"
An eternal learner, McDaniel still sometimes takes lessons from Alamosa artist Coni Grant, and enjoys quilting lessons at the Gray Goose in Alamosa.
For now, she's not internet-available. "I'm not a technology person," she says, but she's slowly working toward a website with a friend.
Currently, she's enjoying a creative retirement after many hectic years. Personally, she plans to stay in her home no matter what. "I'm not going to move," she says. "I'll leave when they carry me out."
Professionally, McDaniel says her work is becoming more abstract, "not so cut and dried." She focuses mostly on still lifes and nature. And she plans to keep painting, no matter what. "I hope to continue doing it," she says. "You can get lost in it."
McDaniel's work can be seen at the Rocky Mountain Artisans in South Fork (in the Coldwell Banker Realty on U.S. 160), at J&K Art Supply in La Jara, and at a show at the SLV Brewing Company in Alamosa through September.
She'll be part of Rocky Mountain Artists' December show at Inn of the Rio Grande in Alamosa. All those venues include her painting and stained glass creations.
Marcia Darnell lives and writes in the San Luis Valley, a place of intense creative energy.