Article by Lynda La Rocca
History – October 2008 – Colorado Central Magazine
SMALL MUSEUMS in small communities are a must-see because they often house the wildest, weirdest, most eclectic displays.
Some focus on the history — natural and manmade — of the area where they are located. Others reflect an individual's obsession with amassing thousands of examples of one type of collectible, be it mineral specimens or mounted butterflies.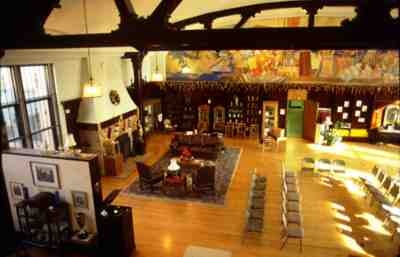 And then there are the places that preserve and promote regional heritage while also safeguarding a hodgepodge of items whose only connection to the area is that they were donated by local residents — places like the Luther Bean Museum at Adams State College in Alamosa.
Named in honor of one of Adams State's first teachers and established "to preserve the history and culture of the college and the surrounding San Luis Valley," according to its director Kat Olance, the Luther Bean Museum is located in Richardson Hall, which is the oldest building on campus and was the college library until 1954. Its main display area looks more like a Gilded Age ballroom than a quiet retreat for reading and studying, however. A cavernous space with lofty, wood-beam ceilings, stenciled chandeliers, wrought- iron-trimmed windows, hardwood floors, and the original tiled fireplace, the museum's main room is dominated by a 49-foot-long mural that covers the entire wall above the entranceway.
Titled "Naming of the Sangre de Cristo Mountains," this mural was created in sections from January through November 1937 by J. Noel Tucker, a college art-department faculty member. The 12-foot-high painting depicts Native American inhabitants of the San Luis Valley confronting (before subsequently attacking) Spanish Colonial-era explorers. Legend has it that the name of the mountain range, which means "Blood of Christ," was bestowed by a wounded Spanish priest who escaped this battle and watched the peaks glow red in the sunset while awaiting word of the fate of his companions.
Some furnishings and many of the antiques on display in the museum's main room were donated to the college by world travelers and avid collectors Charles and Beryl Woodard. Charles Woodard was an attorney who helped Colorado state senator and college namesake William H. "Billy" Adams write the legislation that, in 1921, established the school now known as Adams State College.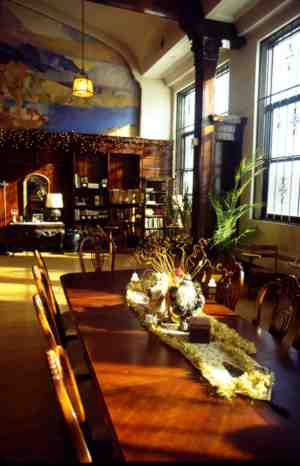 Adams went on to serve as Colorado's governor from 1927-1933; photographs and mementos of his tenure in that office are displayed in one of two auxiliary rooms that also showcase works by contemporary San Luis Valley-based artists. A second-story "loft" contains exhibits of Native American pottery, basketry, and beadwork, along with Hispanic weavings, and the Woodards' collection of 18th- and 19th-century bultos and retablos, Hispanic religious folk art from the valley and northern New Mexico.
But it's the main-floor Woodard Collection items that repeatedly draw my attention, from the hand-painted china and sterling-silver tea service arranged in an area designed to resemble the family's dining room, to the Chippendale table and stunning ivory chess set from China with its intricately hand-carved pieces, half stained red with cinnabar, an ore of mercury. Curio cabinets hold cut glass and crystal, jade statuary and a plethora of European and Asian porcelain, including a dozen white porcelain figurines gilded with 12-karat gold. These circa-1750 pieces were produced by the Capodimonte factory on the grounds of the royal palace near Naples, Italy; this complete set, representing the "Dance of the Hours," is one of the few still in existence, according to Olance.
While most museum tours are self-guided, when Olance is not too busy, she happily accompanies visitors to point out pieces of particular interest, like the cherry-wood cabinet containing a hand-cranked Thomas A. Edison Disc Phonograph. Installed in a campus dormitory some 70 years ago, this phonograph was destined for the dump in the 1950s before a professor retrieved it from the trash. It still works, too, playing a song called "Through the Air" on a thick, black, revolving disc.
"School groups often come here on field trips, and I love to show this to the children," says Olance. "Most don't even know what a record player is anymore."
Alas, I'm old enough to know; I still cherish my collection of Beatles LPs.
But at least I'm not old enough to remember the beast commemorated by a 12-foot-tall bronze statue on the grounds of the Adams State campus. It's "Old Mose, King of the Grizzlies," a 1,300-pound behemoth who, in real life, stood 8½ feet tall and sported six-inch-long claws. Legend has it that this bruin "moseyed" around south-central Colorado for more than two decades, devouring three humans and 800 cattle and leaving behind his distinctive identifying mark: A hind footprint missing two toes, apparently lost during a struggle to escape from a metal trap.
Old Mose finally met his match — and his maker — on April 30, 1904, when he was brought down by two hunters, one of whom had spent years tracking the wily beast.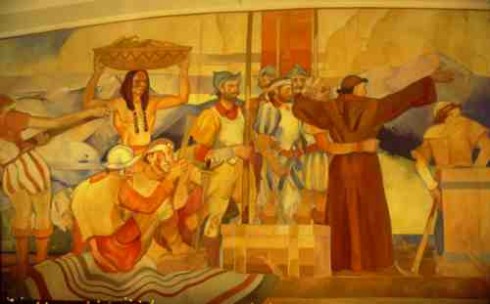 And while I certainly wouldn't have relished running into Old Mose on a high-country hike, it still seems a shame to have killed such a magnificent animal simply for being the bear that he was.
Lynda La Rocca writes from Twin Lakes, where winter often arrives even earlier than it does in Alamosa.