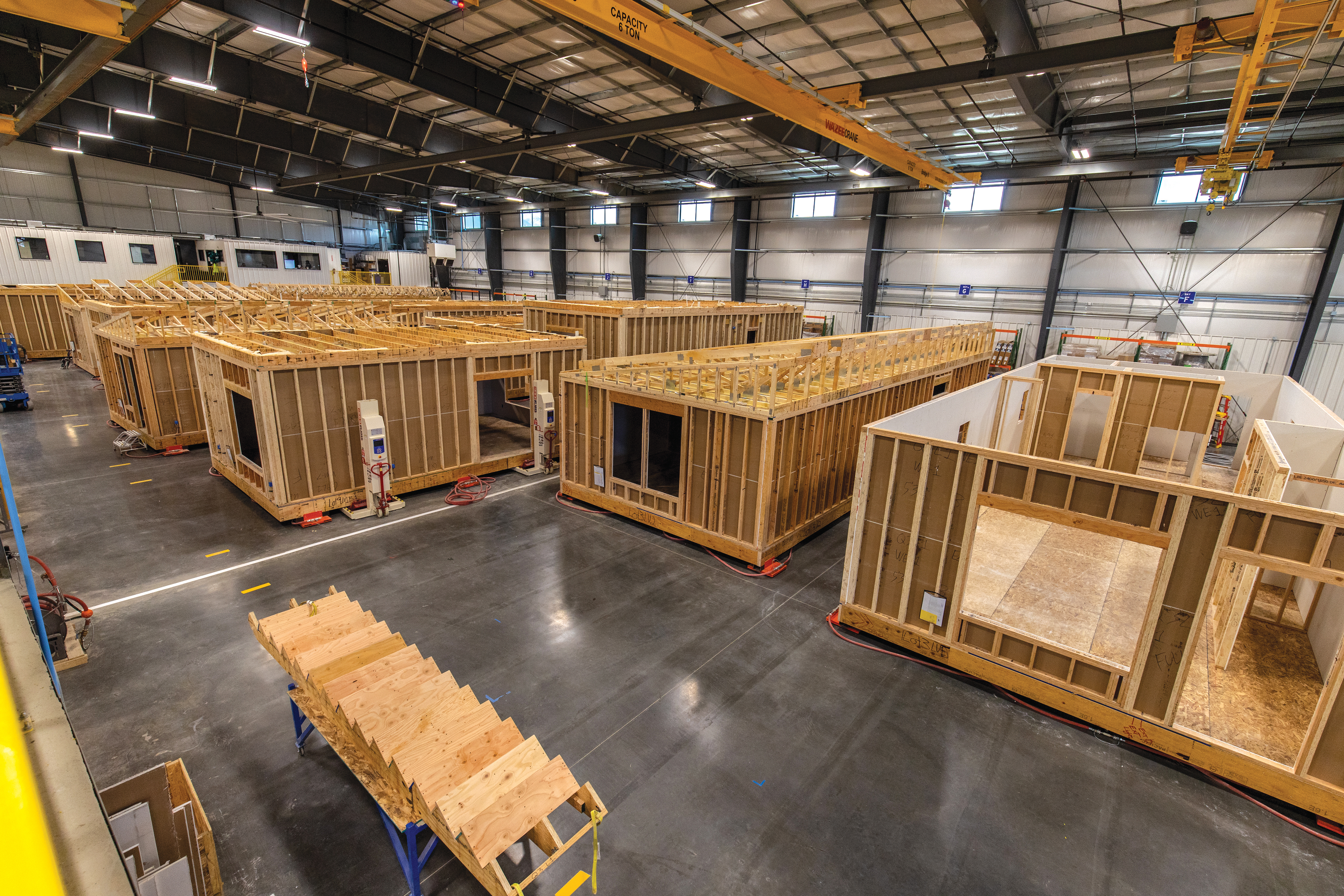 THE STRESSES OF TODAY'S HOUSING MARKET are present nationwide, though their seeming stranglehold has become even more apparent in the Upper Ark Valley through the obvious labor crisis numerous industries are experiencing. While many still contemplate how to handle real estate's skyrocketing prices concurrent with wage battles and rising inflation, Fading West Development is paving the way for a new kind of attainable housing to finally start bridging the gap (instead of just talking about it) in our swiftly evolving mountain towns. 
As one of the fastest-growing companies in Chaffee County, Fading West is adding dozens of jobs while making a noticeable dent in the housing inventory available in the area. The company's benevolently energetic founder, Charlie Chupp, began his vision for the project seven years ago as a way to help the burgeoning number of community workers who were unable to find affordable real estate.
Ashley Ahlene, marketing manager for the team, describes Chupp's concept as a solution to building a quality home that is affordable for someone making at least 80% of the area's median income and expanding the diversity of local communities with both market-rate and deed-restricted homes. She adds that his vision includes bringing a variety of career opportunities to the area as a way to begin repairing both sides of the on-going predicament Buena Vista faces, much like many of the surrounding mountain towns.
"Charlie has a background in manufacturing that led him to think about the home-building process as a complete value stream, and Fading West was born. … Our story started with what we thought would be a one-off project called The Farm at Buena Vista," said Ahlene.
"Since then, Fading West has evolved into a fully integrated design, development, investment, manufacturing, construction and property-management company rooted in "lean" manufacturing processes and a culture of continuous improvement. However, one thing that hasn't changed is our passion for helping to solve the housing crisis."
Construction on The Farm at Buena Vista began in 2015, with Phase I of the project concluding last year and Phase II beginning in January. The first stage provided 90 housing units while the next stage will include 11 detached homes, 40 townhomes and a 77-unit apartment complex. Fading West Development has also begun construction for phase I of Quartz at Poncha Meadows in Poncha Springs, which has completed 18 of the 36 homes projected.
According to Ahlene, Fading West development projects branch into Gunnison, Breckenridge and Telluride as well as several other Ark Valley endeavors. She added that the company mission is focused on Rocky Mountain communities, and because of their centrally located base of operations, Fading West is confident that, through their team and certified partners, they are able to create a statewide network of opportunity for development.
Ahlene describes their lean model of construction as "a vertically integrated system that delivers high quality with greater speed-to-market and more cost control than traditional on-site construction."
She explains that the standard building time line is reduced by more than 25% through their integrated system of operations. This system helps eliminate construction waste while accommodating limited materials and supplies. As in other industries, new technology has enabled Fading West to create a process for producing various home models tailored to different clients' needs through standardized processes that streamline production and help close the gap in the state's housing shortage.
Micah Salazar, chief operations officer, said, "At full capacity, the BV factory will produce several hundred homes annually. Fading West is already looking at sites for additional factories in Colorado to increase the number of homes we can build. As a result, we will be able to develop several more workforce housing developments like The Farm in many Colorado communities."
Pete Reid, human resources director, explained that, in addition to the resolutions made for the necessity of affordable housing accommodations, Fading West's business model has successfully added 150 jobs to the economy with more than 95% being local to the Upper Arkansas Valley. And with the number of planned communities growing, the number of available jobs is also on the rise.
"We are fortunate to have a talented team of really great people. Fading West offers 3-day and 4-day work weeks, competitive pay and full benefits. Fading West is actively hiring people both with and without experience. Our goal is to hire 100 people by the end of 2022," said Reid.
Chupp and his staff at Fading West exemplify the mindset that helped define Upper Ark Valley communities — a mindset that embraces a vision of togetherness and kinship. When growing pains and economic issues arise, as they will in any thriving community, companies like Fading West Development dare to build innovative and connected communities, create fresh opportunity and provide action that speaks much louder than words.
Melody is a native Texan whose heart was stolen by the Rocky Mountains. A toddler wrangler by day and writer by night, she enjoys all things outdoors, classic literature and a bottomless French press of dark roast. This article is sponsored by Mark Zander and Leslie Champ.