Brief by Central Staff
Preservation – July 2006 – Colorado Central Magazine
The Hooper Town Hall has been named to the National Register of Historic Places. It was originally built in 1891 for the Garrison & Howard General Merchandise Store, and is known as the Howard Store building.
Hooper's origins go back to 1890, when the Denver & Rio Grande converted its main lines from narrow-gauge (3 feet between the rails) to standard-gauge (4 feet, 8 inches). Salida and Alamosa, two railroad hubs, were no longer connected by narrow-gauge, so narrow-gauge equipment could not easily be shifted from one to the other to meet shifting traffic demands on Marshall and Cumbres passes.
There was already a narrow-gauge line from Salida over Poncha Pass to the iron mine at Orient (near Valley View Hot Springs). So it was extended south from Villa Grove to Alamosa, thereby producing a narrow-gauge connection.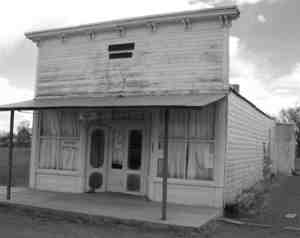 In the process, the railroad created several new towns, among them Mosca (fly in Spanish, and probably named for the creek or the pass) and Garrison. Garrison was often confused with Gunnison, so in 1896 it was renamed for S.K. Hooper, general passenger agent for the railroad. In the 1930s, the railroad was made three-rail from Hooper into Alamosa so that both narrow- and standard-gauge equipment could use it.
The line north from Hooper over Poncha Pass was abandoned in 1951, and the remaining connection to Alamosa was dismantled in 1959. All that remained was a north-pointing wye in the Alamosa yards, and it was being removed this spring when we rode by it on the La Veta train.
Hooper's main claim to fame lies in its municipal government: In 1960, it was the first town in Colorado to have a woman as mayor and women serving in all its trustee positions.
As for the Howard Store building in Hooper (we trust there's not a confusing Hooper Store building in Howard), we don't know when it changed from store to town hall. The registry says it is "a textbook example of a small nineteenth-century commercial building with its recessed central transomed entrance flanked by large display windows above paneled wooden kickplates. The building possesses the distinctive characteristics of the False Front Commercial. Its fa¸ade rises to form a parapet wall with a decorated cornice that extends above the gabled roof and side walls. The building also represents a method of construction with three sides sheathed in sheet metal siding stamped to resemble rock face stone masonry. This economical means of ornamentation was promoted as a durable and fire-resistant material. It is one of the towns best preserved examples of embossed sheet metal siding. The Howard Store has a lengthy association with the commercial history of Hooper; it was one of the oldest and longest operating general merchandise establishments in this San Luis Valley town."