By Mike Rosso
Colorado voters made history in 2012 when they passed Amendment 64, allowing for the cultivation, sale and personal use of marijuana.
But easily overshadowed by its sexier cousin was the part of that ballot initiative that also allows for the growing and processing of industrial hemp. Although 64 did not authorize the immediate cultivation of hemp, it directed the General Assembly to enact legislation regarding it. With sponsors Rep. Don Coran and former Sen. Gail Schwartz, they passed SB13-241, the Industrial Hemp Growers Registration DOA, which was signed into law by Gov. Hickenlooper in May 2013.
Hemp, like marijuana, is derived from the cannabis plant, but contains little if any of the psychoactive components of the popular recreational drug. What hemp does provide is an endless number of commercial, industrial and medical benefits from the entire plant – from stem to seed. It also requires fewer pesticides for growth than most major food crops and requires considerably less water than crops such as corn.
Hemp is currently legal in many other parts of the world including most of Europe. Russia, Japan, Thailand, Chile, India and Canada are among many others that produce industrial hemp, but the leading producer of in the world is – who else? – China.
SOME HEMP HISTORY
Hemp was actually cultivated and used to make rope and fabric by our Founding Fathers; you've heard of them: George Washington, Thomas Jefferson, James Madison, James Monroe, Andrew Jackson – those guys. There's even speculation the fellow whose portrait graces the dollar bill was known to have inhaled (unlike number 42). It was also one of Kentucky's largest pre-Civil War cash crops.
Going back even earlier – about 2,000 years earlier, in the early Western Han Dynasty in China – the first identified coarse paper was made from hemp. Back further still, hemp fiber imprints have been found on Chinese pottery from the Neolithic Age. The ancient Greeks of the Scythia region were said to inhale the vapors of hemp seed smoke for rituals and for recreation, according to Greek historian Herodotus (circa 480 BC).
It was the Spaniards who brought hemp to the western hemisphere, to Chile specifically, where they began cultivating it around 1545, although Native Americans were found to be cultivating hemp in the area now occupied by Richmond, Virginia in the early 1600s, ironically the home of the world's first cigarette-rolling machine. Much of the rope used on Columbus' sailing craft, the Santa Maria, was made from hemp.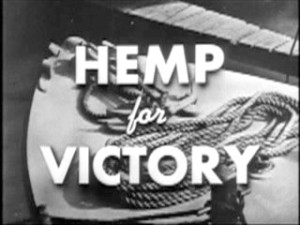 Hemp was actually legal in the United States until 1937, when Congress passed the Marihuana Tax Act, which levied a tax on anyone dealing commercially in hemp, marijuana or cannabis.
There is speculation the Act was signed in order to stifle the U.S. hemp industry. Businessmen such as Andrew Mellon, the Du Pont family and Randolph Hearst, who personally had extensive timber holdings, felt threatened by the introduction of a new device, the decorticator, which reportedly could produce cheap paper pulp for newsprint. Hearst used his syndicate of newspapers to decry the evils of marijuana, lumping it and hemp together for the sake of convenience in an effort to demonize them.
Propaganda films such as Reefer Madness and Marihuana: The Devil's Weed, began making their way to silver screens across the nation, indoctrinating the masses to the supposed evils of the cannabis plant. Mellon, who was secretary of the Treasury in 1937 and, at the time ,the wealthiest man in the U.S., had invested in a new synthetic product introduced by the Du Pont Corporation called nylon, which conceivably could replace hemp on many fronts, thus the animosity toward hemp.
After the outbreak of World War II, Japan was able to cut off large supplies of raw fibers to the U.S., and the U.S. Department of Agriculture encouraged farmers to again begin growing hemp for the war effort, even producing a short propaganda film entitled Hemp for Victory to encourage its cultivation. After the war, however, hemp went back to its illegal status where it remained until recently.
THE NEW LAWS – First in the nation
Amendment 64 directed the Colorado General Assembly to enact legislation governing the cultivation, processing and sale of industrial hemp. Legislation was then adopted to delegate the responsibility for establishing registration and inspection regulations to the Colorado Department of Agriculture (CDA).
Industrial Hemp (IH) indicates a plant of the genus Cannabis and any part of the plant, growing or not, containing a delta-9 tetrahydrocannabinol (THC) concentration of no more than three-tenths of one percent (0.3 percent) on a dry weight basis (more about this later). There are two types of registration for IH: Research and Development (R&D) and Commercial.
This is where Duane Sinning comes in. Possessing one of the more interesting state jobs in the U.S., he is the Assistant Director, Division of Plant Industry for the CDA and is the program manager for Colorado Industrial Hemp. His department is responsible for the oversight of this groundbreaking industry. They process applications and maintain a database for the commercial production and R&D of hemp statewide. The department also does compliance testing for registrants randomly selected for testing of THC levels. He's been contacted by his peers from nearly twenty states about the work he is doing.
Sinning says one of the main issues facing the nascent industry is image. "There is so much misinformation and confusion about what hemp is and how it differs from its psychoactive cousin, marijuana. A lot of that is because this is an emerging industry and like any other emerging industry there is lots of promise for development and lots of promises are made. Knowing which is fact, which is passion, and which is fear is something the industry still struggles with."
Another issue is the limited availability of agronomic information and resources, he said. "The state universities have been reluctant to provide the services or do the research they do in other crops, justifiably so because of the threat posed to their federal funding. That lack of research information and extension support adds pressure for anyone who is already trying to rationalize exploring any new crop."
Uncertainty about banking regulations at the federal level is certainly causing many traditional farmers to hesitate planting hemp, but Sinning says the number of registered acres and participants actually planting hemp has risen significantly this year.
A fourth issue facing potential growers is availability of low-THC seed. Farmers could conceivably be in hot water with the federal government if they are in possession of seed, sometimes smuggled, that contains more than the 0.3 percent THC content. Sinning believes the seed problem will work itself out. "Had Colorado farmers planted 200,000 acres [last year] the infrastructure to handle processing and distribution wasn't in place. Farmers would have been left holding the bag."
On June 5, 2015, the state legislature passed SB196, requiring the CDA to administer an IH certified seed program and authorizing the transportation and possession of industrial hemp. This truly means "game on."
We asked Sinning about conditions for growing hemp in the state. "Hemp has been a registered crop in many counties for a wide variety of reasons; lower water requirement than corn in areas where aquifers are being depleted, and areas with high salts that make other crops less viable are just two of the areas where hemp may be an option … most farmers are looking at this much like corn or pinto beans, one crop in a growing season. There is still a lot of research to be done, but preliminary information from our registrants seems to indicate that hemp takes about one-third to one-half the water needed for corn."
There is currently over 450,000 square feet of registered indoor hemp production in the state, with about 200 total outdoor acres planted last year.
But current federal regulations do not allow for the import or export of raw hemp materials across state lines. Only products manufactured in-state from hemp can leave the state, leaving Colorado with another potential growth industry: hemp-based products.
APPLICATIONS/USES – what is CBD?
Hemp is most commonly known for its use in ropes and textiles, but the early pioneers of Colorado's 21st-century hemp industry are focusing their attention mainly on its medicinal components. Startup costs to process hemp into textiles is prohibitive – at least several million dollars to purchase and set up the equipment necessary to process the plant for textile use, employing mainly the stalks. Modern growers are instead focusing on the production of leaves and seeds: seeds for oil extraction and for retailing to potential farmers, and leaves for the extraction of cannabidiol (CBD).
Cannabinoids are a diverse class of diverse chemical compounds that act as cannabinoid receptors on cells that repress neurotransmitter release in the brain, according to Wikipedia. CBD is one of at least 85 active cannabinoids identified in cannabis including cannabichromene (CBC), an anti-inflammatory which may contribute to the painkilling effect of cannabis. CBD is a major phytocannabinoid, accounting for up to 40 percent of the plant's extract, and is considered to have a wider scope of medical applications than THC.
Fifteen states have so far legalized CBD to some degree, but it remains illegal at the federal level in the U.S. The DEA considers CBD to be a part of the marijuana plant and a Class I substance.
In 2012, an Israeli facility created a new strain of the plant containing only CBD as an active ingredient, and virtually no THC. This strain provides the medical benefits of cannabis without the intoxicating effects. The researchers claim that this CBD can be used for treating diseases like rheumatoid arthritis, colitis, liver inflammation, heart disease and diabetes.
A high CBD/low THC cannabis extract has been developed by the Realm of Caring Foundation, a 501c3 nonprofit organization in Colorado Springs. Named Charlotte's Web, it's used to treat debilitating seizure disorders. It was named after 5-year-old Charlotte Figi, who had been suffering from a rare disorder called Dravet's syndrome and was featured in a CNN documentary in 2013. CBD also has anti-psychotic effects, and some reports show it to be an alternative treatment for schizophrenia. Oils derived from plants grown from high CBD crops are also used for arthritis and other joint pains. Overall, cannabinoids can be used to treat nausea, anxiety and psoriasis, reduce blood sugar levels in diabetics, and manage psychosis, among other ailments.
Marc Brannigan is with CBDRx, an agriculture company located along the Arkansas River east of Pueblo. He says the facility is the nation's largest hemp farm, with a current inventory of 50,000 plants grown from clones. Their proprietary strain of hemp produces plants rich in cannabinoids such as CBD and CBC, grown in an organic environment. The company has invested $5 million in the farm in Pueblo as well as an R&D facility in Longmont, and hopes to have as many as 60 employees by the end of this year. Their mission is to create and bring high-quality U.S.-grown hemp oils to the expanding domestic medical and nutraceutical markets, as a replacement for low-grade commercial hemp imported from China and Canada.
If you're not yet convinced of the benefits of hemp, consider this; hemp seeds have the most concentrated balance of proteins, essential fats, vitamins and enzymes combined with a relative absence of sugar, starches and saturated fats, of any food source. They are easily digested and contain essential fats (Omega 3 and 6), antioxidants, amino acids, carotene, zinc, magnesium and vitamins B1, E, B2 and D, among others. The oils contain 75-80 percent polyunsaturated fatty acids (the good ones) and can be eaten by those intolerant of nuts, gluten, lactose or sugar. In fact, there are no known allergies to hemp foods.
Your next home may even have a hemp component. Hempcrete has been in use in Europe since 1986. The concrete-like blocks are made with hemp and lime and are used for construction and insulation. They also work as a moisture regulator and are lighter in weight and considerably less brittle than traditional concrete, but are stronger and more durable. Hemp plasters are also available and provide additional insular qualities. Additionally, hemp is employed as a composite material in car door panels from Audis to Volvos, so you've likely got a hemp product sitting in your driveway. Then there's hemp use in weed control, soil purification, water and biofuels, bird feed, animal bedding, jewelry and of course, rope.
ADAMS STATE PROGRAM TAKES ROOT
Mary Hoffman discovered the benefits of hemp while researching alternatives to plastic baling twine. The widely used twine is very difficult for rural San Luis Valley farmers to recycle, and the nearest facility to recycle it is nearly 1,000 miles away. As the executive director of the Center for Rural Sustainability Solutions at Adams State University (ASU), she began researching hemp twine as an alternative and possible cash crop for Valley farmers.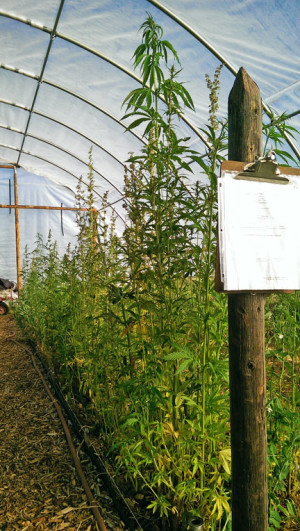 Hoffman was approached by ASU graduate Arnold Valdez of Rezolana Farms in San Luis, Colorado, and Rebecca Burgess of Fibershed in San Geronimo, California. They proposed a collaboration with ASU, with the end goal of determining the viability of hemp as an agricultural product for the San Luis Valley. Both had worked with University of California, Berkeley in a previous IH research trial. In the ASU collaboration, the primary interest is the commercial potential of hempcrete and hemp fiber. Fibershed, a nonprofit project, was founded by Burgess to address and educate people regarding the environmental, economic and social benefits of de-centralizing the textile supply chain.
After consultation with the school's attorneys, the collaboration received the blessing of former ASU President Dr. David Svaldi and incoming president Dr. Beverlee McClure.
Asst. Professor of Biology Kristy Duran hopes to involve her plant science students in the project. Still at its early stages, many other research and student experiential learning opportunities are expected to surface. A number of ASU professors have designed courses where students must conduct research of various kinds. Other tie-ins could be chemistry, business, earth science and government. The new project is located on 1.5 acres in San Luis and will run until May 2016.
GREEN ACRES
Six miles east of Alamosa in the San Luis Valley is the Green Acres Hemp Farm, founded in 2014 by Jim and Lisa Strang. An 80-acre, commercially licensed hemp farm, they began their current grow of 400 plants from old Kentucky hemp seed indoors in April. In June, the crop found a home outside on a half acre. Another 100 plants have been started and are still indoors. The Strangs' hope to eventually plant the entire 80 acres, depending on the availability of seed stock.
They make their own products from the plant, mainly oils and lotions, and produce an all-natural, fragrance-free infused hemp lotion using oil extracted from the leaves called Limbo Lotion. They claim the extracted oil from the hemp leaves cures extreme dry skin and conditions such as psoriasis and dermatitis, and that it also works to relieve joint and arthritis pain. They've put the extracted oils into capsule form and claim to have a 100 percent success rate in curing some types of cancers including leukemia. "We cured a man with stage 4 pancreatic cancer in four months taking one pill a day. Within one week of taking hemp oil he was out of bed and working around the yard," said Jim.
Strang himself claims hemp oil has cured him of severe lower back and shoulder pain, and is currently off commercial painkillers.
Their lotion is currently available in Alamosa at SLV Tobacco & Pipes, The Green Spot, Smoothy's Juice Bar, and Wake and Bake, as well as online at greenacreshempfarm.com. They are also looking for new retailers as well as buyers for the seed, leaf and stems from their grows.
"Our short- and long-term goals are to get the word out about the benefits of hemp and its abilities to cure all cancers, and to make this world a greener and healthier world to live in," said Jim.
Zagia's Apothecary Farm
In 1977, while serving as a member of the U.S. Army, Kim Dommer was brutally assaulted by three male servicemen, leaving her with a twisted spine, an injury still impacting her today. But rather than give in to her condition, she went on to receive two doctorate degrees and build a spirit camp and healing center in the Magdalena Mountains of New Mexico. As part native Ojibwe, the camp was also designed to help preserve Native American traditions. She also worked as a natural healer for a decade in Wisconsin where she wild-crafted 60-80 medicinal herbs a year, partly in an effort to treat her own paralysis using nature rather than pharmaceuticals.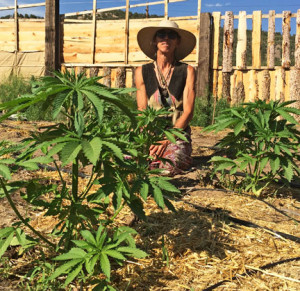 Now, Dommer has set up shop near the banks of the Arkansas River in Howard, with the goal of starting a second healing center. She is remodeling an old farmhouse and growing hemp along with other medicinal herbs, including Lion's Mane mushrooms, which are being used experimentally to treat Parkinson's disease.
After a grueling effort of recovery involving her own initiatives and the Veteran's Administration, including a full body cast and being on morphine sulfate, Dommer is a living testament to will and perseverance in the face of physical adversity. In 2009, she heard about the healing properties of cannabis from a staff member at a VA hospital in New Mexico. As a skeptical non-drug user, she learned some of the Vietnam veterans and paraplegic patients were getting relief from pot and that it helped to ease some of the negative neurological effects they suffered.
After relocating to Colorado, she spent time at a hemp farm in Elbert, learning about its cultivation and processing. After she suffered both a heart attack and a stroke within seven months of each other, the staff at the Denver VA hospital were amazed she was still alive. Dommer was then diagnosed with a condition called autonomic dysreflexia, a reaction of the autonomic (involuntary) nervous system to overstimulation. Wind is particularly hard on her body.
At this point she began crawling, literally like a baby, to keep active and managed to plant a garden on her knees. And not just any garden – her efforts led to such a large bounty that she started a program she dubbed the Empress's Secret Garden to help support local food banks with open pollinated, non-GMO organic foods. And she's since brought the garden to Howard.
She is a certified commercial grower and has begun growing industrial hemp, a field project she's calling "Seeds of Life," in which she is offering CBD products to community members and veterans. She is offering to gift 30 seeds each to farmers who agree to sponsor someone with health issues in their community who might benefit from the use of the various medicines derived from CBD. The name of Dommer's business is Zagia's Apothecary Farm.
GUNN HAYDON – THE SEED GUY
For Texas native Gunn Haydon, it's all about the seed.
When Haydon and his wife, Toni, moved to Cañon City in 2013, he had no idea he'd be getting into the industrial hemp business. With a background in construction and solar and wind energy, the 69 year-old Vietnam combat veteran was thrilled to purchase city property that already had established grape vines and apple trees, as well as a share of the city's ditch water.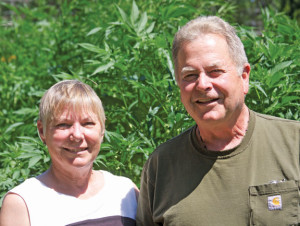 Haydon traces his roots back to an ancestor, an indentured servant from Great Britain who landed in Lancaster County, Virginia in 1657. After working off his indenture, he worked up and down the Delmarva Peninsula and acquired enough of a stake to go back to Virginia and purchase a piece of property. In 1787 his ancestors moved to Lexington and grew mainly tobacco, but they increased their production of hemp for the War of 1812.
After arriving in Colorado, Haydon looked at both the fledgling marijuana and hemp industries. "It was a no-brainer for me, because the marijuana industry could literally go away. But once hemp gets transferred to the USDA, it's never going away. It has too much value."
He began looking for seed and found some in Boulder, naturally, where he could buy a limited quantity and start his own seed-producing facility. For $10 a seed or seedling, he was on his way. Once he established his first crop, he began selling his seed via growhempcolorado.com, a site established by Veronica Carpio, whom Haydon describes as the hemp queen of Colorado. He sells the dried leaf material to CBD producers in the state via her website. "Veronica can sell ice cream to Eskimos, at twice the price," he said. His seed has been tested by the CDA and is not more than 0.26 percent or below THC content. "Most of it is 0.08 and I've got CBD levels of 3.9 percent." he said.
Despite his limited current involvement in the burgeoning industry, Haydon sees the big picture and considers himself a hemp advocate but also sees a day when he'll be selling the idea of Hempcrete to nearby cement facilities, putting together the economic package for the fiber and the paper, exploring biodiesel, and, a unique idea that has worked for cleanup in the aftermath of the Chernobyl nuclear disaster in the Ukraine, phytoremediation. After the historic accident, extensive radioactive contamination was discovered in areas up to 100 km from the site. Phytoremediation is a process that takes advantage of the fact that green plants can extract and concentrate certain elements within their ecosystem. After experimenting with a strain of sunflower to remove toxic contaminants, scientists began planting hemp near the Chernobyl site with much success. Haydon sees huge potential for hemp to be used in this manner at contaminated sites in Colorado, such as the Cotter Uranium Mill site in Fremont County.
Depending on the quantity, Haydon's seeds run about a dollar each. The seeds are hand-harvested by he and his wife in their garage and packaged for resale. "I wanted to grow seed because I wanted to see more hemp planted. I want to see more people use this extremely valuable crop."