SHERIFF CYRUS "DOC" SHORES and STOCK DETECTIVE TOM HORN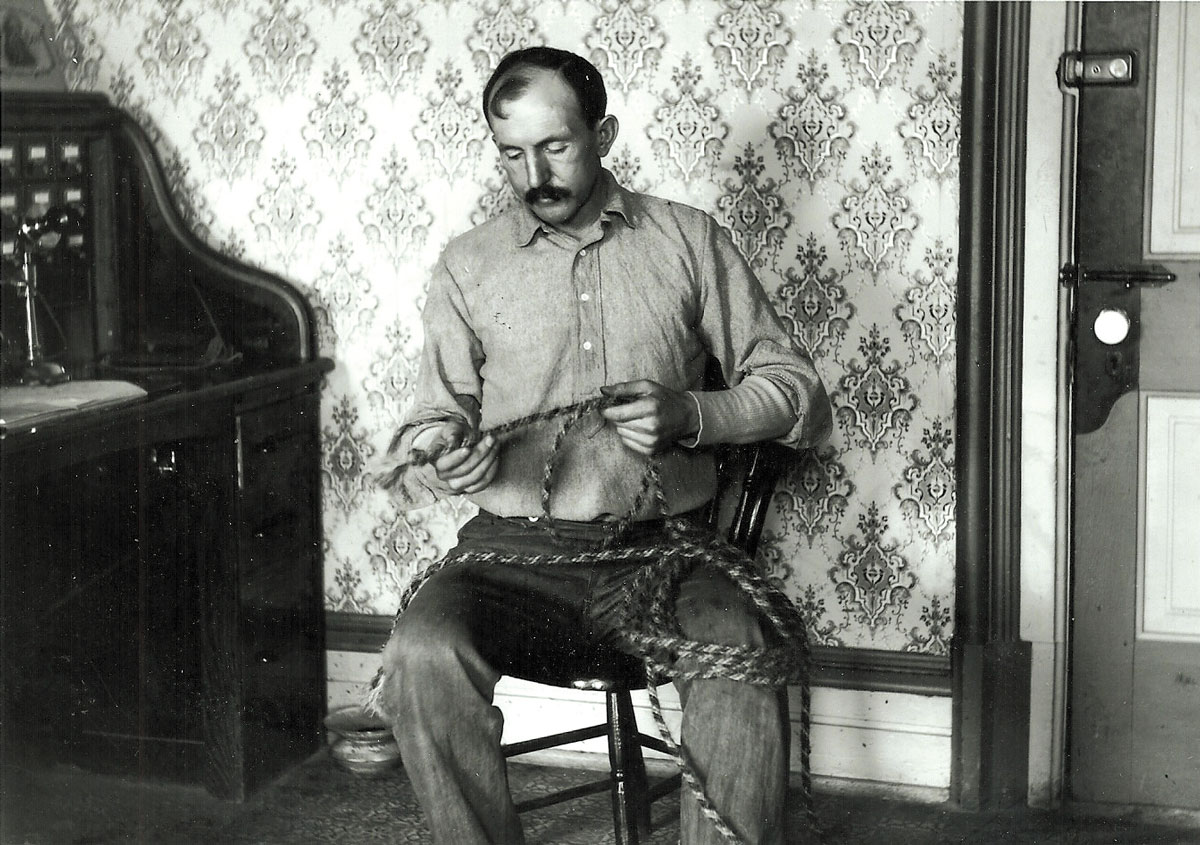 By Judy Buffington Sammons
Both Doc Shores and Tom Horn were law enforcement officers in the frontier era of Colorado's Western Slope. Shores, upon his death at the age of ninety, had become a celebrated peace officer, who would be recalled thenceforth as "… just, fearless, and above reproach." Horn, on the other hand, abused his power, besmirched his reputation, and died at the age of forty-three, swinging at the end of a rope. Unlikely as it later seemed, these two men once worked together as a team and were very successful in the apprehension of horse thieves and train robbers.
In the late 1890s, Doc Shores, in his capacity as Sheriff of Gunnison County, Colorado, Deputy U.S. Marshal, and part-time Pinkerton agent, was trailing horse thieves from Western Colorado down into Arizona. Upon his arrival in Arizona, he swore in ranch foreman Tom Horn as a deputy to assist him. In his memoirs, Doc described Tom Horn as he appeared at their first meeting, as "a tall, dark-complected man with a black mustache … an imposing figure of a man – deep chested, lean loined, and arrow straight … (he) had black, shifty eyes." Putting aside the untrustworthy eyes and a further feeling that Horn was "not the type of man one liked to argue with," Doc was apparently impressed enough with Horn's horse-thief tracking skills to recommend his deputy for a job with the Pinkerton National Detective Agency, which had a branch office in Denver. Horn was soon employed by Pinkerton and would meet with Sheriff Shores again in the line of duty when, after a 300-mile chase, the two closed in on a party of train robbers. This event would be the end of any kind of working partnership between the two, as Shores soon thereafter formed the opinion, which he expressed later in his life, that Horn appeared to be a man of no conscience. Shores stated in his memoirs that at the time of their last job together, chasing down the train robbers, "Tom was more and more showing a side of his character that I had never seen before … moody, insisted on his own way … I made a point of never working with him again."
These two lawmen, however brief their association in the line of duty, were the epitome of the labels "good cop – bad cop," each earning a reputation that bore this early assessment out. Doc Shores started out his career in law enforcement in 1884 as a small town sheriff employed in the rough frontier town of Gunnison. Already hardened by his adventures in the West when he reached Gunnison, he was a tall, thin, but powerfully built man, looking every inch the part of a frontier lawman. He was said to have "kindly, but piercing eyes" and was judged to be a man who could "think on his feet." He served eight years in the capacity of sheriff of Gunnison County, his reputation becoming sterling along the way. Eventually he moved on to Grand Junction, Denver, and Salt Lake City, serving as a railroad detective and in other law enforcement roles. Al Look, author of Unforgettable Characters of Western Colorado, aptly described Doc Shores: "His method of catching criminals was tedious, without fanfare, without bugles sounding a charge. He had no radio on his saddle, used no wire tapping device, and there were very few telephones when Doc accepted the keys to the Gunnison, Colorado jail." Look goes on to say, "Doc went his quiet way without the blustery blood and thunder usually attributed to the early day law man … he never killed a man. No one ever had nerve enough to call his draw … he was absolutely fearless and went after criminals to the end of the trail …."
Tom Horn took an entirely different track. While Shores had indeed recommended Horn to the Pinkerton Agency in good faith, and while Tom seemed to have worked successfully there for two years, Shores' trust in him further evaporated when Tom changed jobs. In 1892, Horn went to work as a stock detective for John Clay, president of the Wyoming Stock Growers Association and manager of the huge Swan Land and Cattle Company. Horn's job was to apprehend cattle rustlers. From that time on, Tom Horn was little more than a hired killer. Doc Shores again recorded his low opinion of Horn in his memoirs, stating that, "His real fame and immortality in cowboy legends was to come later when in 1892 as a 'stock detective' he began to kill cattle rustlers and sheepmen for the cow barons in Utah, Colorado, and Wyoming. Horn stood out from all the rest because of the small value he placed on human life … he became a professional killer, or 'cattle rustler exterminator,' as he called himself, shooting victims from ambush for his customary price of $600 per head."
Doc Shores' assessment of Tom Horn, formed years before Tom's demise, proved to be an accurate one. After a decade of acting as a hired gun, Horn made a fatal slip, ambushing and killing a fourteen year old boy. Controversy continues to this day concerning his guilt or innocence, but nevertheless he was hung for the crime. This intelligent and fine-looking man – expert in both the fast draw and the ambush, but also cowardly beyond question – went to the gallows bravely. It is recorded that he was, in fact, the coolest man present on the occasion of his execution, expressing no guilt for his past, about which he had stated earlier, "Killing men is my specialty. I look upon it as a business proposition, and I think I have a corner on the market." A modern-day police profiler would probably label Horn a psychopath. After the execution, his body was transported from Wyoming to Boulder, Colorado, where a brother resided. He is buried in a cemetery there, his grave marked by a stone that simply states: "In Loving Memory of Tom Horn – 1861-1903." Many historians have recorded his ill-fated life, making the one time lawman, if not a hero, at least an infamous figure in the history of the West's desperadoes.
Doc Shores lived a long life, earning the esteem of all who knew him, as well as the guarded respect of the train robbers, cattle thieves, and bank robbers he relentlessly pursued all his life. He was an old man when he died, but he still retained the hard muscled, eagle-eyed look he had possessed as a young lawman. He was still able to keep up a brisk pace, and, fortunately for posterity, was effective in recording his great store of memories as a lawman. (Memoirs of a Lawman, Edited by Wilson Rockwell) Shores died in 1934 and is buried near Gunnison – the town that gave him his start in law enforcement and where, from the beginning, he was as "good a cop" as Tom Horn was "bad."
(This article is excerpted from Gunnison author Judy Buffington Sammons' book Keepin' the Peace – Early-day Justice on Colorado's Western Slope. The book is available at westref@montrose.net – Western Reflections Publishing)
Gunnison author, Judy Buffington Sammons has written six books on local and western Colorado history. She balances retirement with hiking, writing, dogs, and grandchildren, emphasis on dogs and grandchildren.