By Jan MacKell Collins
If you have ever dreamt of owning an historic brothel, now is your chance. The former House of Joy, once owned by Buena Vista's "Cockeyed Liz," is for sale.
There is much to be said about this charming little property, located right downtown on Main Street. Most interesting is its former owner, who was born in 1857 and was a child bride in Denver by 1870. Liz told others she was only 13 years old when she married a man old enough to be her father, who forced her into prostitution. "I used to run away," she said, "but he would always find me and bring me back. He would beat me so badly that I finally gave up."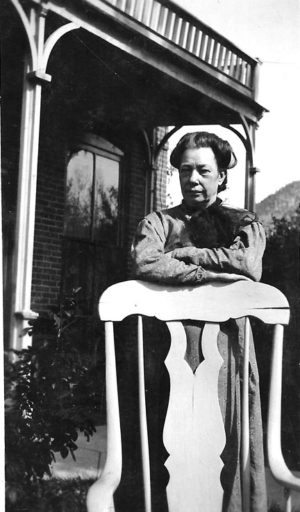 The 1880 census is believed to identify Liz in Silver Cliff, when she was the wife one Robert Marshall. Notably, Robert was forty-four years old, nearly twice the age of twenty-one year old Liz. Lizzie Marshall was alone and calling herself Lizzie Spurgen when she arrived in Buena Vista in 1885. An article in the Buena Vista Democrat during May of 1885 verified that Edward Krueger was suing Lizzie Marshall and Mary Taylor over some property in Block 3, Lot 12 – the same lot upon which Liz later operated her House of Joy. Krueger claimed he bought the property at a sheriff's sale, but that Richard Taylor had already sold the lot to Mary Taylor, who in turn sold it to Lizzie. Krueger wanted "to oust said Lizzie Marshall from said premises."
Krueger did not get his wish. In October, the Democrat sniped that "The Westsiders are about to experience the existence of a brothel in their midst," ending with a command to "Vindicate the law and enforce our ordinances." Nearly a year later, in August of 1886, the Democrat furthered its disdain, stating, "The only way to protect your families from the sights of debauchery incident to the low brothel on Main Street is to move away. It wouldn't do to inconvenience the prostitutes." The paper was likely referring to the House of Joy – alternately known as the Palace Manor and Palace of Joy – which was the only known bordello to grace Main Street.
People who knew Liz could not help noticing that her right eye visibly strayed, earning her the nickname "Cockeyed Liz." The true nature of the impairment remains a mystery. Author Ron Franscell attributed it to a childhood injury, while historian Caroline Bancroft claimed that an adversary, madam Belle Brown, once got several men drunk and encouraged them to go fighting at the House of Joy. Liz's eye was injured in the fray. Her malady aside, Liz was described as quite tall with dark brown hair, blue eyes and velvety skin. She was also a "fancy dresser."
The brothel was large enough to accommodate four other prostitutes. Men paid $3 for a visit. Liz paid the local boys a dime to take notes to the saloon men around town, and hired a buggy to parade her girls around in public. Her most unique marketing technique was her pet magpie, which called to passersby from its cage on the lawn: "Come in boys. Come in." Liz once joked that "A parlor house is where the girls go to look for a husband and the husbands go to look for a girl."
Liz's statement rang true, even for herself. Three years after advertising in the 1894 statewide "Traveler's Night Guide" for those seeking female entertainment, she married one of her customers. He was Alphonse "Foozy" Enderlin, a miner whose knack for gardening intrigued her. Foozy expressed his distaste for the house wine and was soon cooking up his own fermentations in Liz's kitchen. The couple married at Fairplay in 1897, and returned to Buena Vista, where Liz closed her business and settled into a quiet and pleasant married life. (Foozy worked as a plumber in Buena Vista and also served on the volunteer fire department. At a fireman's contest in Leadville, the Buena Vista hose cart team competed with the Leadville team. Alphonse did not get a connection tightened on the fire hydrant during the compeition and it blew off. His team mates then labeled him Foozy because he "foozled" the connection and they lost the contest.)
Foozy appears to have been an ideal husband. As of 1900, Liz was renting legitimate rooms at the former House of Joy. Foozy later built onto the house and became a plumber on the county payroll. The couple never had children, although Liz told the 1910 census taker that she had given birth to two children, neither of whom was living.
The rest of Liz's life remains shrouded in mystery. She obviously believed she had good reason to hide her past, a point illustrated by her switching her birthplaces depending on the census year. There was also a modicum of shame over her former life. She once told her housekeeper, "I'll have to pay for the awful things I've done, won't I? I couldn't help myself when I was young, but, oh, all the little lives I've destroyed – that's what I'll have to pay for – all those little young lives."
On August 18, 1929, Liz suffered a heart attack and died at age seventy-two. The Chaffee County Republican ran a brief obituary in its August 23 issue. The rumor in history circles is that despite being respectably married for over three decades, not a church in Buena Vista would hold services for her. Foozy remained at the old House of Joy until his death in 1934. He is buried beside Liz in Buena Vista.
In a time when many former brothels were abandoned or torn down, the House of Joy survived over time, mostly as a rental property. In 2015, the building was renovated in its entirety. Its drab yellow paint was replaced with more demure, pastel pink with white trim. Inside, the original five bedrooms and two apartments were remodeled into two spacious bedrooms and two bathrooms. Hardwood floors were accented with modern décor and updated plumbing, but the original brick chimneys remained in place. Three separate outside doors in front illustrate the days when Liz, her girls, and later her boarders, enjoyed their own private entrances.
According to Zillow.com, the house can be yours for a cool $955,000. The price includes the House of Joy, but also adjoining lots. The listing explains that "this building is recognized as a significant contribution to Colorado's old west heritage. Preserving the character and charm of the property was ever present during the restoration process, and little was spared on interior finishes or the integrity of the building." Liz would like that. 
Jan MacKell Collins writes about the more interesting aspects of Colorado's past, including its spectral history.
Thanks also to Suzy Kelly of Buena Vista for providing additional background on Foozy.