Column by Hal Walter
Burros – May 2008 – Colorado Central Magazine
THE UPCOMING 60th running of the World Championship Pack-Burro Race, along with the selection of a Central Colorado donkey as the official mascot for the Democratic National Convention to be held in Denver this summer, has created a curious focal point.
For those unfamiliar with the annual event, the race of man and beast is a 29-mile trek from Fairplay to the summit of Mosquito Pass, elevation 13,187 feet, and back to Fairplay. Over the route, racers and their burros encounter 3,000 vertical feet of climbing, rocky roads, icy streams, spongy tundra, a rough and tumble trail up a talus slope, and very little available oxygen. This "World's Longest, Highest, Roughest, Toughest Race" showcases the spirit, determination, endurance, and toughness of both man and donkey.
And for those who have not heard of the Democratic Party, its choice of Mordecai, the 2006 world champion pack-burro owned by Curtis Imrie of Buena Vista, as its official donkey mascot has brought attention from a wide variety of media. If you don't think this is a big deal, just Google it. Much of this attention has been of the trite variety but some has been pretty well-done
Oddly, The Denver Post, official winner of the 2008 Banality Sweepstakes Award for Newspapers, ran a front-page article that called into question the use of Western culture in promoting the event. Among other things, the writer described the selection of the donkey mascot as a "sore point for boosters," but exactly why this is a sore point was left unexplained.
Have I missed something here? The donkey has been the Democratic Party's mascot since Andrew Jackson adopted it in 1828. Last time I checked a map, Denver was still located in the West. And we all know burros, beans, and brawn won the West.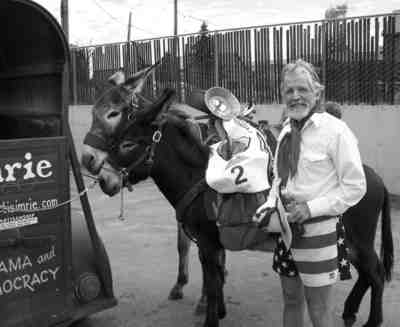 What was explained in the article was that Dean Singleton, publisher of The Denver Post and chief executive of MediaNews Group Inc., reportedly threatened to yank financial support from the media welcoming party scheduled the Saturday night before the convention begins on Aug. 25.
The reason? Some organizers, including U.S. Sen. Ken Salazar, a San Luis Valley rancher, want to have a Western-style cattle-drive parade to kick off the event. Singleton evidently objects because he does not want the media's first impression of Denver to be of a cow town (although he declined to comment about the matter in his own newspaper).
Something for Mr. Singleton to consider: The Rocky Mountain News, the other Denver newspaper that has a joint operating agreement with the Post, put up $500 and a trophy for the first pack-burro race in 1949.
How times have changed.
Oddly, this animation of the political process and its collision with Western culture coincides with a number of other talking points in relation to donkeys and our culture.
FOR INSTANCE, while Fairplay is gearing up for its big event with additional prizes and incentives for entrants, Cripple Creek has canceled its Donkey Derby Days. Meanwhile, a book simply titled Donkey has received national attention and outstanding reviews, including some from people who admit they have absolutely no interest in the long-eared animals. And the movie Grass: A Nation's Battle for Life — a black-and-white documentary filmed in 1925 that features literally thousands of donkeys and other animals — has risen from cinema history to receive excellent five-star reviews from viewers at Netflix, and clips are available for viewing on, of all places, YouTube.
The news from Cripple Creek was hardly a surprise for someone whos been on the pack-burro racing scene for as long as I have, which at last count was 28 years. The basic problem: Pack-burro racing is a sport with soul and Cripple Creek is a town that sold its soul when it embraced casino gambling. Burro racing was born out of the idea of striking it rich through adventure, hard work, and independence. Low stakes casino gambling allows rich people to strike it rich by stealing from poor people. That race won't be missed by me.
Meanwhile, in Fairplay where the sport was born, Dale and Kathy Fitting, owners of the Hand Hotel where the world championship race starts and finishes, have put up some of their own money to make the race more enticing to entrants, calling it the Hand Hotel Purse. First off, they've offered three $500 prizes to be awarded by drawing among all finishers of the 29-mile course. In addition, they are offering $250 to the winner if he or she breaks last year's time. Lastly there is $500 for a long-course winner who breaks the record of 3 hours, 44 minutes and 18 seconds set by Tom Sobal and his burro Maynard in 1989. This last prize will be increased by $500 yearly until the course record is broken.
Dale and Kathy have been huge supporters of the Fairplay race since they bought the Hand Hotel several years ago. They provide a room for racers to shower after the race, host the postrace awards banquet, and give away special prizes every year. Their generosity shows not only their dedication to this event, but also an understanding of the Western culture represented by this peculiar sport and event.
I DO HAVE TO SAY, however, that I will be surprised if Tom's record is ever broken. I was there the day he and Maynard ran 3:44, and I have several reasons to believe nobody will ever run that race that fast again. For starters, Tom and Maynard were a team we may never see the likes of again. But they had help — there were at least four other runners and burros in 1989 capable of staying in the same ZIP Code as Tom and Maynard on that course, and this level of competition surely helped push them to the record. I also believe changes to the course have added length and difficulty at the beginning and end. Lastly, the upper section of Mosquito Pass road has become increasingly rugged due to lack of maintenance and more vehicular travel, especially ATVs and motorcycles, making for a much more rugged — therefore slower — descent.
The authors of Donkey, Michael Tobias and Jane Morrison, probably would not appreciate such a race. Though they pay homage to the working donkey in its more than 6,000 years of domesticated history, the authors' view seems to be that this time has passed and employing donkeys as work animals amounts to abuse. Despite this mischaracterization of the species in general — I have found that some donkeys like having a job — the book is interesting from a perspective of history, biology, literature and especially artwork. However, the strictly petting-zoo image is quite different than the view I have gained over nearly three decades of working with the animals. The book struck me as a well-meaning attempt to educate the public about this fascinating animal written by people who spent a lot of time researching donkeys but not enough time really getting to know donkeys.
One disappointment with the book is that it ignores a growing modern appreciation for these animals not only as good pets, but also as sturdy backcountry packers, cart-pullers, and saddle animals.
WHICH BRINGS US TO Grass, a film that should be required viewing for anyone with the misguided view that war in Iran is a good idea. The movie was made in 1925 by explorers Merian C. Cooper and Ernest B. Schoedsack, and chronicles the annual 48-day migration of the 50,000-member Bakhtiari tribe of Persia (which is now Iran) — and their 500,000 animals — through deserts, icy glacial rivers and a snow-covered 12,000-foot mountain pass that is scaled barefoot because cotton shoes don't work very well in the snow.
The migration captured in Grass makes Fairplay's pack-burro race look like a 5K walk on the beach. When the grass runs out for their animals, the tribespeople simply fold their tents, round up their animals and trek hundreds of miles in a search for greener pastures. There is no 16-week Runner's World training program or special diet. They don't even give up smoking, though one wonders what exactly is in those pipes, especially given the film's title.
This black-and-white story is supported only by storyboards between scenes and a traditional Iranian music score. Horses, mules, cattle, goats, sheep and donkeys — thousands of donkeys — are shown being driven over some of the most rugged terrain on Earth. On many of their backs are the tribespeople's belongings, including some live cargo such as chickens, dogs, young goats and even children in cradles. It is an amazing documentary and one of the most incredible films I have ever watched.
The irony of all this, of course, is that no donkey cares about any of it. Truly a Zen animal, the donkey lives in "The Now," focusing simply on the task at hand, whether it's grazing, packing a load, defending its territory, or simply basking in the spring sunshine. The past is gone, and the future does not exist. There are more than a few people who could take a lesson from these oft-misunderstood animals.
Hal Walter cultivates burros and prose from the ghost town of Ilse in the Sierra Mojada of Custer County.