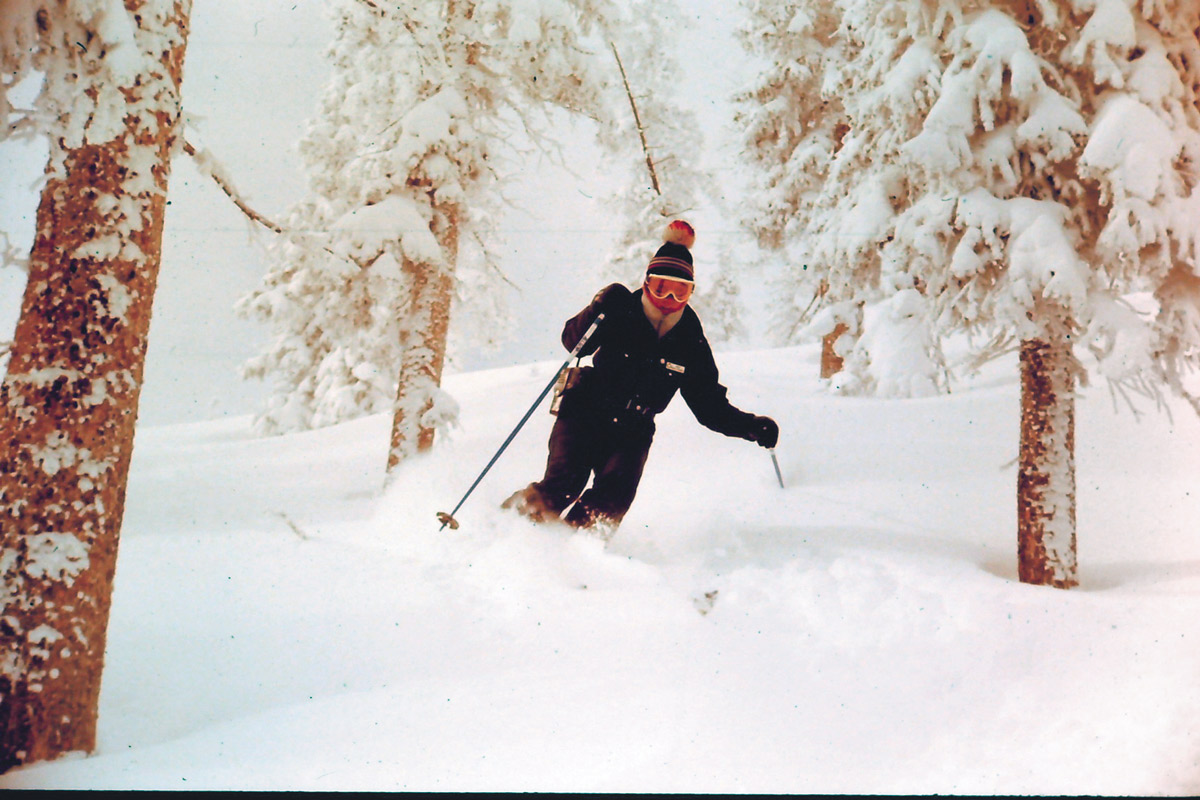 By John Cameron

Uncle Poncho forced the car through freshly fallen snow, only sliding a little bit as he carefully negotiated the mountain curves. From the back seat, Deb Davies watched as they drove deeper into the mountains that would define her life.

She was only 15 years old, her love of skiing still new. In just a few years though, the white-knuckle drives through the twisted walls of Bighorn Sheep Canyon would lead her to become Monarch Mountain's first female ski patroller.

For Deb, every weekend was a chance to ski. She was hooked on it, hooked on snow and the adventure surrounding those early trips to the mountain. The car was a "tank," she said about the 1965 Chevy Bel Air that they rode in. For whatever reason, Uncle Poncho agreed to drive Deb, her brother Fuzzy and a handful of teenage friends who crammed into the car with piles of ski gear. Poncho knew the road to Monarch Mountain better than most and carefully drove each of the 240-mile round trip miles from Pueblo to Monarch no matter the road conditions.

It might have been the winter of 1974, she can't quite remember, but Fuzzy discovered a way that he and Deb could ski for free all season long. Together they applied and to their surprise were offered positions as members of Monarch's volunteer Ski Patrol.

At that time it was common for ski patrollers to volunteer. Medical and training standards were directed mostly by the National Ski Patrol, and members would offer their expertise in exchange for a season pass. Monarch through the 1970s was much like it is today, a small, close-knit group of people who loved to ski. There were fewer than a dozen patrollers on the hill on any given day but it was enough to get the job done.

Up until 1977, Monarch Ski Patrol had remained exclusively staffed by male patrollers. Deb had already been a volunteer patroller for three seasons when Scott Stevenson, Monarch's former Pro Patrol Director, asked her to try out for a paid position. She was determined not to let the opportunity get away.

Tryouts for the following season began with a skier ability test on Gunbarrel, a steep "expert" run full of moguls that plunge directly to the base of the ski area. Stephenson, clipboard in hand, watched along with the rest of the patrol as each prospective patroller skied the run one at a time. For Deb, the skiing was easy. She rolled through the moguls in perfect rhythm all the way to the bottom. Her emergency medical knowledge was also sharp and well-practiced.

Easily Deb met all the requirements for the position and her fellow patrollers welcomed her to the team. In the winter of 1977 she became the first female professional patroller to hold the position at Monarch. "I absolutely loved working with my colleagues." she said, "I was treated equally and fairly."

Today, patrolling continues to be a profession that leans heavily toward males. Among the roughly 30,000 members of National Ski Patrol, which includes both volunteer and professional patrollers, the demographic breaks down to 79 percent men and 21 percent women. The snowsports industry as a whole trends in the same direction with men making up a majority of participants at 62 percent as recently as 2015.

Only once during her time at Monarch did an injured skier ever question Deb's ability. The injured skier was sitting on a bench that used to be on the side of Tango, also an expert run. Deb arrived with a rescue toboggan but despite the skier's inability to continue on his own, he insisted on the help of male patroller. She looked at him with his leg gingerly stretched out in front of him and flatly explained to the skier his limited set of options: "Get in the toboggan, start walking, or stay there," she said. He accepted the ride from Deb to the base area clinic.
Deb patrolled at Monarch for four years, throwing hand charges on control routes and responding to medical emergencies. She became a trainer and guided new patrollers through the techniques of the trade. In her first trainee class was Leslie Felts, Monarch's second female patroller. Many have since followed their lead.
During her time patrolling at Monarch, Deb said she found love. She married a fellow patroller and together they moved a couple hours south to work at the then-new Conquistador Ski Area near Westcliffe. Together they worked on patrol and eventually opened a ski shop at the base of the mountain. In 1988 the ski area closed down leaving them with a shop full of ski equipment.
Several years on, three sons came and a marriage went. "It was fun while it lasted," she remembers. After the ski area went down, a few attempts were made to keep the shop open by moving it to Salida but that idea eventually melted too. Deb looked for work that would allow her to get a job anytime anywhere. "I decided on dental hygiene and entered the program at Pueblo Community College," she said.
For the last 20 years, Deb has worked as a Professor of Dental Assisting at Central Oregon Community College in Bend and is now looking forward to retiring soon. She is proud of her sons and her young granddaughter. Looking for photos from her days patrolling in Colorado brought back memories of growing up and living in the mountains. "I love these memories," she said. "It was such an awesome time of my life."
John Cameron is a patroller and writer in central Colorado. He is collecting stories and photos for an upcoming book on the history of ski patrol in Colorado.