Brief by Central Staff
Art – November 2006 – Colorado Central Magazine
Crestone Winterfest, November 24 & 25
Crestone WinterFest is an annual town-wide celebration of the arrival of winter. It's a time to meet local artists and artisans at four craft shows featuring holiday foods, one-of-a-kind gifts, entertainment, and Santa. This year, it happens on Friday evening, November 24 from 5 p.m. to 8 p.m. and on Saturday, November 25 from 10 a.m. to 4 p.m.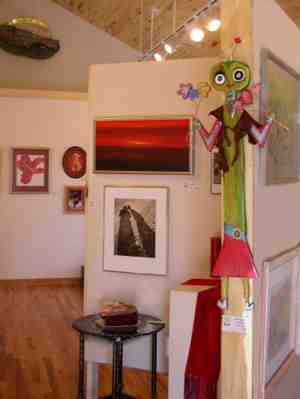 On November 24 from 5 p.m. to 8 p.m., the Crestone Artisans Gallery also invites visitors to an artists' reception for their Gallery Gift Fest Show. The gallery is on the corner of Galena and Cottonwood in downtown Crestone, next to Artisans Park, and features the work of artists, artisans, writers, and musicians, offering a wide selection of oil paintings, watercolors, photography, silk paintings, sculptures, pottery, jewelry, handmade scarves, leather purses, mirrors, bells, and ornamental glass, along with CD/DVDs by local musicians, and books by local authors.
It also offers a unique selection of special "Crestonian items," such as Crestone Prayer Flags, Crestone Cards, Crestone Walking Sticks, Crestone Rock Necklaces, and images of the local landscape.