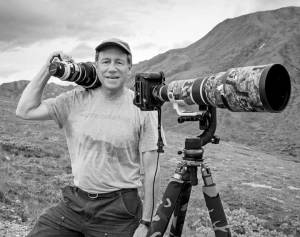 As a boy, Mark Weidman spent Friday nights (while his parents were out) digging a secret tunnel in his backyard. Not many seek adventure in suburban Philadelphia, but Mark was born to explore.
A horseback trip in Yosemite when he was 14 introduced him to the panoramic beauty and wide-open spaces of the American West, and suggested the possibility for real adventure in the Great Outdoors. After a year of engineering studies (and weekly ski trips to the nearby mountains) at the University of Vermont, he changed course and headed west to Alta, Utah, where he ski bummed for a year and began his lifelong love affair with the West.
Mark developed his passion for photography after enrolling in a photojournalism course at the University of Utah. He moved back East to complete a photography degree at Rochester Institute of Photography and then flew to Europe, where he began the first of many personal photography projects, photographing the nomadic Vlach people of northern Greece.
After returning stateside, he landed a corporate photography position with DuPont, and eight months later started his own freelance business, with DuPont as his first customer. Over the next 30 years, corporate, advertising and editorial assignments for clients like Lands' End, W. L. Gore (Goretex) and Unisys took him to six of the seven continents shooting everything from coal mines and airlines to the Vienna Boys' Choir and arctic explorers. Along the way, he partnered with Graphic Arts Center on a coffee table book about his home state of Pennsylvania and built a diverse library of 150,000 stock photo images, which he licenses through agencies around the world.
Mark's images have appeared in many calendars, books and national magazines, including Outside, Audubon, The New York Times Magazine and National Geographic Traveler. His photography has been exhibited at the Smithsonian Museum and featured in two PBS documentaries: "Faces of the North" and "Pennsylvania."
In 2004, friends invited him to stay in their new home in Salida, and Mark immediately knew he had found a place to call home. For six years, he divided his time between Colorado and his family in Pennsylvania until he and his wife settled permanently in Salida. Since his move to Colorado, Mark has focused on photographing active people in the out-of-doors and Colorado landscapes. He also built a studio where he shoots artwork for regional artists and products for local companies. His current project, Salida Ink, is a photo essay about Salidans and the stories behind their tattoos. Sample tattoo portraits can be viewed at www.weidmanphoto.com/salida_ink/. This is a new project and Mark is now looking for interested subjects, so feel free to call him at 719-207-4713 or email at mark@weidmanphoto.com for more information.
When not shooting, Mark bikes, skis and hikes with his wife and two golden retrievers, Ani and Kati. He loves bad weather, good conversation, jazz and living in Mountain Time, "the only time," according to Mark.