By Hal Walter
If all the portents are correct, The Pueblo Chieftain, the last of Colorado's family-owned major daily newspapers, could be sold to a chain before you read this, and along with it a volume of non-news stories from within its walls will fade entirely into the banality of corporate-run media.
My own story with the newspaper began as an intern-reporter from the University of Colorado back in 1981. Then the company was publishing both evening and morning editions, The Star-Journal and The Chieftain. I was assigned to the evening Star-Journal, and placed under the tutelage of a burly dark-haired editor who boasted he used to "hang with Elvis" and claimed he sang with Linda Ronstadt and the Stone Poneys. He also spoke of abilities to track a mouse across granite and run from Colorado Springs to Pueblo with a mouth full of water – skills he said learned from Apache elders.
Aside from his obvious proclivity for personal fiction, he was actually a decent journalist and quite skilled in the use of language. Under his guidance I performed such important chores as typing and editing the church briefs. Once I'd proven I could handle that, I was assigned to fill in for vacationing reporters on various beats such as the courts, police, Colorado State Fair, and an early Faux News pilot called "Positive Pueblo." Since I wanted a more complete experience than the boilerplate tasks of the typical intern, I penned stories about the Moral Majority's influence on the local religion scene and also wrote features about the survivalist movement – people stocking up on food and guns – in Pueblo.
When it was time to go back to CU later that summer, an opening materialized in the sports department and I was offered the position. The proposal was that I take the job and work while I finished my degree at the University of Southern Colorado. I anguished for a couple weeks over this before finally deciding to return to Boulder for my senior year and to finish my degree.
Nevertheless, two days after graduating that next spring I found myself at work on The Chieftain's nightside copy desk, where I had absolutely no idea what I was doing.
The Chieftain newsroom was at once a frenetic and smoke-filled chamber of talent, incompetence, comedy and urgency. There were brilliant self-made reporters. There were some less-than-talented too. But at least there were lots of them, a good thing since we were putting out some big newspapers back then. Plus, we had an eight-person team of editors to wrangle all the copy. I worked alongside seasoned and skillful wordsmiths, including Patrick "Mad Dog" O'Grady who remains a close friend to this day.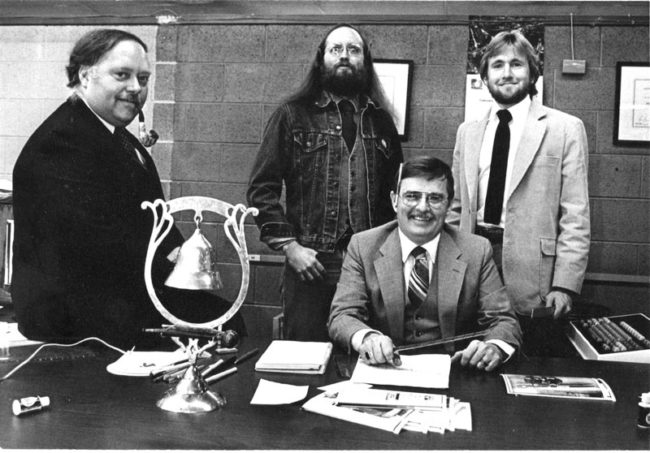 I learned much of my early abilities with words from reporters, fellow editors and a microclimate within the madness that promoted quality work.
I was there for big headlines like when a local Golden Gloves boxing champ went berserk in a downtown bar, killed a woman, then sent police on an all night search while he hid out on rooftops. The space shuttle exploded. The dorms at USC caught fire. U.S. jets bombed Libya. This was during the latter stages of the Cold War, and when I learned by AM radio on my drive home late one night that Soviet leader Leonid Brezhnev had died, I turned my 1972 Toyota Land Cruiser around at an I-25 exit ramp and headed for The Mozart, where I dragged several editors out of the bar and back to the office to stop the press and remake the front page.
We beat every newspaper in the state on that story, and the next day found a personal handwritten note from Publisher Bob Rawlings on the desk praising our diligence.
It was an exciting time to be in the newspaper business. But I also grew disillusioned as time and again I saw good reporters depart due to differences with management over what I'll call "editorial policy" since it's all just water under the bridge now anyway. O'Grady's rebellious attitude began taking on more outrageous tones. After an incident in which he got down on all fours howling like a dog, then stood with his leg lifted at a post in the newsroom, he was offered a severance that left the entire newsroom gasping in a vacuum of departing talent.
Unlike O'Grady, I would not quit just once. In fact, I hold the World Record for the most number of quits at The Chieftain – five, including twice in one month. I would also hold titles as regional editor and The Chieftain's first graphics editor, as well as being a reporter, copy editor, "slot" editor, relief news editor and relief night city editor.
At the height of the empire when I was regional editor, The Chieftain was covering about one-quarter of the state. This included distribution networks and "stringer" reporters in every town along the Arkansas from Leadville to Lamar, the entire San Luis Valley, as well as Walsenburg, Trinidad, Las Animas and Raton, New Mexico.
In addition to the record for quitting, I also have the distinction of being the first member of the newsroom to be laid off in 2008 when the entire industry went into a tailspin. This was purely of my own making – if I hadn't quit so many times I'd have had 26 years seniority. Instead I was the lowest person on the totem pole. Fortunately, during these "sabbaticals" from The Chieftain I'd gained other experiences and skills that I could use to make an income.
Over time the paper would continue to cut back on staffing and news coverage, and drastically shrink its distribution area. Last spring Bob Rawlings died, leaving The Chieftain up for grabs among potential buyers, including Digital First Media, owners of The Denver Post, and Clarity Media, owners of the Colorado Springs Gazette. Then two other newspaper chains, Gatehouse Media and Adams Publishing joined the fray, leaving the Post and Gazette behind in a wake of larger offers. At this point it appears it's between Gatehouse and Adams.
Regardless, the winning bidder will be buying a mere ghost of the newspaper's former self.
None of these outfits have a reputation for overspending on staff, so it's difficult to say what the future holds for The Chieftain, its remaining staff and news coverage in Southeastern Colorado.
Despite my differences with Bob over his editorial policies, politics and the way he ran the business, I'll give him this – he underwrote my journeyman's journey as well as that of others for many years, and kept the business in his family for as long as he was alive.
To me, the sale of The Chieftain seems not so much a passing of an era as it is the closing of a chapter in my own journalism experience. I often have wondered how it would have turned out had I just bitten the bullet, toed the company line and hung on there waiting for retirement.
Now I know.
Hal Walter is a "recovering" newspaper editor and author of three books.