By John Cameron
Crestone Needle rises from the valley floor as an imposing and jagged peak. It was the last 14,000-foot peak in Colorado to be climbed, a feat once presumed to be impossible. During a daring expedition in 1916, two of the best known climbers in North America would prove that the summit was possible.
Today the Needle (14,203 feet) is still considered one of the most technically challenging 14ers in the state. To reach the summit by the easiest route requires difficult scrambling with high exposure that can quickly be complicated by inclement weather. Located in the central Sangre de Cristo range, the peak is subject to sudden and treacherous weather.
Over the last decade there have been five deaths on Crestone Needle, including a couple swept from the side of the mountain during a "violent storm" in 2010.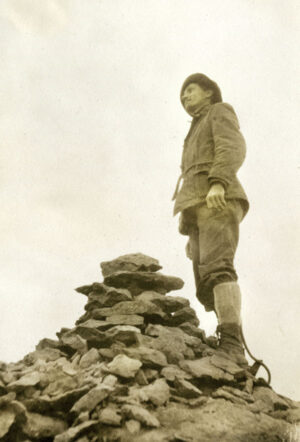 When the first ascensionists Albert Ellingwood and Eleanor Davis set off, they faced challenges of "pessimistic doubts" about the steep terrain which, from their vantage point below, reached "verticality" near the summit. While they may have had their doubts, others did not. They were considered by many to be among the best climbers of the day.
The early 20th century proved to be a bit of a golden age for North American climbers seeking summit victory. Advancements in climbing equipment and technique allowed climbers to reach summits believed to be unclimbable only a few years earlier.
Climbing techniques like the shoulder stand, which literally involved standing on your partner's shoulders to surmount obstacles, were giving way to more modern techniques like the use of ropes to protect climbers from falls. As a young man, Ellingwood traveled to Europe and was introduced to advanced climbing techniques mastered by Swiss alpine guides.
Ellingwood was tall and lean and became a prolific climber. He was one of the first three people to climb all of the named 14ers in Colorado and claimed the first ascent of not just Crestone Needle but also Crestone Peak (14,295 feet), Little Bear (14,035 feet), and Kit Carson (14,170 feet.) He and a cast of climbing partners raced up many others, by alternate and often harder routes, for the first time. While climbing, Ellingwood sported knee-high hobnailed boots popular among European alpinists, wool knickers, and frequently carried an 80 foot-long hemp climbing rope for belays.
Born in 1888, Ellingwood was a scholar and professor of political science at Colorado College. His career as a professor often took him around the country, although he frequently made time to return to the mountains and was a pioneering member of the Colorado Mountain Club.
The effort to climb Crestone Needle for the first time seems monumental when compared to the means by which the mountain can be approached today. Ellingwood led a group of seven other climbers, six of whom were women, on a month-long expedition that began in Colorado Springs in July of 1916. To save money on train fare, a couple of members of the group walked to Cañon City where they boarded a train to Hillside located in the Wet Mountain Valley.
There the expedition disembarked and stared into the Sangre De Cristo range ahead of them. The distant peaks were striking and to Ellingwood were "quite so like the idealized representations of what mountains ought to be."
From Hillside, the group hiked south and west roughly 30 miles over ridge tops and peaks to Willow Creek Lakes where they established a basecamp. They are believed to have been the first to summit several lesser peaks, just on their way to their camp, with the main objective still ahead of them.
Eleanor Davis worked as a women's physical education teacher at Colorado College but would become known as one of the most accomplished female climbers of her time. She was the first woman to stand atop the Grand Teton in Wyoming and later, along with Ellingwood, to make the first ascent of both the Middle and South Teton on the same day in 1923.
She shunned the long dresses typically worn by women climbers and instead also wore the far more practical knickers of other fellow climbers. During her exploits as a mountaineer, Davis managed to climb over half of the 14ers in Colorado.
In his book "Fred Beckey's 100 Favorite North American Climbs," legendary climber Fred Becky said Davis was likely to be one of the most experienced climbers of the era.
During the 1916 expedition, Ellingwood kept a diary. As the group moved south through the range, he jotted notes of their progress and glimpses of moments that took place between the summits.
"Frittering around camp," he wrote on July 20. A week later he wrote "fished."
During the time between those entries, however, Ellingwood and Davis made their summit attempt on the Crestone Needle. They left a high camp near Spanish Creek on July 24 with two other members of the expedition, Joseph "Jo" Deutschbein and Frances "Bee" Rogers, and began by climbing the north ridge of Crestone Peak.
Along the way, Jo made the decision that he would turn back because of nagging knee pain. Accounts of what happens next, however, are still unclear. The summit of Crestone Peak and Crestone Needle are connected by a steep and narrow ridge. When the terrain ahead became more technical, Ellingwood pulled out his rope and tied-in as they continued the climb.
While it is well-known that Ellingwood and Davis reached the summit of both Crestone Peak and Crestone Needle, it is not clear whether Bee was with them on one or both summits. She was far less experienced than the other two on the ridge that day. It is not clear if she continued to summit or returned to camp with Jo.
After reaching the summit of Crestone Needle, the climbers descended the east side of the peak, then turned northward and returned to their camp at Spanish Creek fifteen hours after they had begun.
After climbing Crestone Needle, the expedition continued southward for several more days and summited Blanca Peak (14,344 feet).
Several years later, Ellingwood and Davis returned to the Needle and climbed a more sustained and technical route now called the Ellingwood Ledges (5.7 III) in August 1925. The route became recognized as one of 50 classic climbing routes in North America.
The peak continues to draw climbers today because of its elevation and well-known and challenging routes.
After their 1916 expedition, Ellingwood and Davis continued climbing together across the Rockies. Ellingwood died at the relatively young age of 46 after a medical procedure in 1934. Davis, however, continued climbing, and lived in Colorado Springs until 1993, where she died at the age of 107.
Their endeavors continue to inspire climbers who retrace their steps through the mountains, and will continue to do so for years to come.
John Cameron is a skier, writer and climber in Salida. He is the co-author of "Ski Patrol in Colorado," a book about the many lies, legends and history gathered from ski patrollers across the state.