Article by Columbine Quillen
Local Art – March 2003 – Colorado Central Magazine
ANYONE WHO COMES THROUGH Salida these days notices all of the art galleries. Artists from all over the country have moved here in recent years, but very few of them grew up here.
Cindy Lilly's trade, however, wasn't learned at an art institute or a faraway college, but acquired right here in the town where she was raised.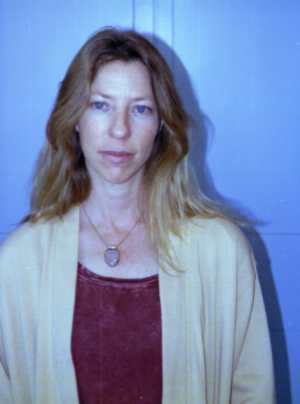 Cindy came to Salida in 1963, when she was only three years old. "We hitchhiked from the panhandle of Texas," she says.
As a child, Cindy attended Salida schools and often went rockhounding with her father. In those early years, she gleaned a life-long love for this region and shiny stones. When she was older, Cindy left a couple of times but she never found anyplace that she liked as much as Salida.
In 1977, she met her husband Joe at the Salida Safeway, and they've been together ever since. (Joe's sister was a friend of hers.) Joe is a flint knapper, and makes arrowheads out of Australian opal using antler and rock.
In around 1997, Cindy decided that she could mount some of Joe's arrowheads to make jewelry, so she got a friend to sit down with her and show her some basics of silversmithing. Then Cindy bought some books and some simple equipment and went to work. Before long, she realized that she really enjoyed working with silver.
"After I got started there was no stopping."
Cindy had been working in Terry Barkett's gallery since 1996, and when Terry saw her work in 1998 she gave her a case and said, "Fill it up."
"She's been really encouraging," Cindy says of Terry. "And it's great to have a nice place to sell."
Cindy's jewelry is stunning in its shapes and colors. She uses stones from all over the world to create bracelets, watches, earrings, pendants, and rings. The stones sit in a thick silver base that accents their intensity and brilliance — and in pieces with more than one stone, the colors unite to flatter and compliment one another.

Although Cindy's silver work is beautiful, it's the stones that make her jewelry stand out. Cindy invests a lot of time in finding really dazzling rocks because she has always adored pretty stones. "I've always loved rocks and now I have a good excuse to buy them."
Cindy travels to rock shops and trade shows to find her specimens, and one of her favorite places is the Contin-tail Gem and Mineral show in Buena Vista. "It lasts three days and it is just a blast. It's just people selling rocks out of their tailgates." But a lot of those rocks are very special.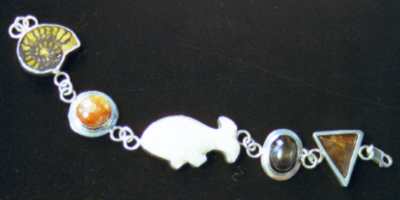 Some of Cindy's most interesting jewelry contains drusy stones which mean that they contain hundreds of tiny crystals. Such stones make for a very exotic and enticing look since they glitter and sparkle more than diamonds. Also interesting is the chryscola, which looks a little like turquoise but has more shine and character.
"I use a little turquoise, but I like to use the chryscola instead because it's different."
Cindy also uses a lot of eudialyte which is a stone found only in Quebec. It has a deep reddish purple color which comes from the magnesium in it.
Although Cindy has upgraded some of her equipment, she still likes to keep it simple and basic. She does appreciate her new equipment, though. "It is a real luxury to have more expensive equipment because it does a better job in less time."
"I have a little torch that uses oxygen and propane. It's not as hot as a regular jeweler would use with acetylene." Cindy also uses a Dremel tool and a polisher with a double spindle with a vacuum filter on it so that the particles don't go into the air.
It's not safe to breathe the fumes and particles from silversmithing, and because of that, she installed a regular stove hood in her studio to help with the pollution. "I don't know how most people do it because I am self taught."
Cindy also does feather paintings. "I actually paint on a turkey feather. I do wildlife scenes on them and then matte and frame them." Sometimes she also incorporates Joe's arrowheads into her feather work.
Cindy buys turkey feathers from a specialized feather dealer because she doesn't want to encourage poaching. "There must be proper documentation. I've heard a lot of nightmare stories from other artists about their work being confiscated because the feathers weren't properly documented."
Cindy also does some bead work using pearls and beaded stones, but she enjoys silver smithing the most. At this point, she's not sure what the future holds for her jewelry. "I am excited to do different things. I used to do what I thought would sell, but now I do what I want to.
"The majority of people are looking for something simple, like a pair of earrings," she says. "When I do the really jazzy stuff it takes just the right person to walk in and really dig it."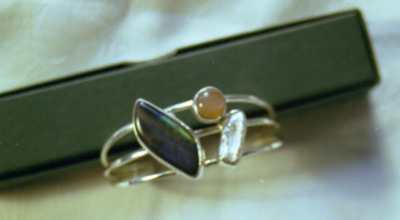 Cindy's jewelry ranges from $18 to $425 depending on the size and type of stones she's used. She can also do custom work if someone has a beautiful stone that they want set in silver.
Cindy Lilly's silver jewelry can be found at Mountain Spirit Winery and Gallery on F Street in Salida. Her feather paintings and mounted arrowheads, which she does with her husband, can be found at the Mountain Moose Gallery, downtown Salida.
Columbine Quillen grew up in Salida, too, and gets put to work on the magazine whenver she's back in town.