Crooked Creek
by Maximilian Werner
Torrey House Press, Paperback, 178 pp, $15.95
ISBN-10: 193722600X
ISBN-13: 978-1937226008
Reviewed by Annie Dawid
"Not to have known – as most men have not – either the mountain or the desert is not to have known one's self. Not to have known one's self is to have known no one." So begins Utah writer Maximilian Werner's novel with this epigraph from Joseph Wood Krutch. Such an opening portends a fiction about self-knowledge, it would seem, or an attempt at such a voyage.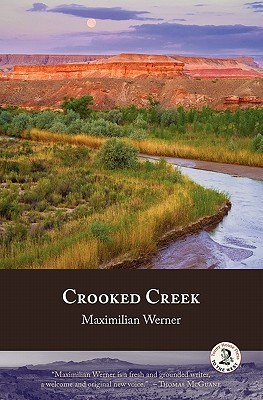 Crooked Creek, Werner's debut long fiction, is not that journey. The author's Black River Dreams, a collection of essays about fly-fishing, won the 2008 Utah Arts Council's non-fiction prize, and this volume excels at describing the physical world as experienced by the senses.
If the reader detects hints of Hemingway and Cormac McCarthy, s/he will find on the acknowledgements page Werner's nod to McCarthy's Blood Meridian and Sam Shepherd's True West.
As those influences suggest, Crooked Creek chronicles a dark family story replete with violent malevolence. The last of the Wood family begins and ends the tale, with a long middle backtracking to early nineteenth century progenitors moving West from Missouri. Some violence is deliberate, other events random, like the desert traveler who massacres a Chinese family he encounters on the plains. We don't know why he kills them; perhaps robbery is an ultimate goal – though they own little he wants – but it seems more likely he kills them because he can.
Not a McCarthy fan, this reviewer took a while to get comfortable in this gothic world, where dead Utes and their pilfered artifacts haunt both characters and nature. The dead appear to certain family members, who find it difficult to exist in a world populated by murdered spirits and murderous contemporaries. More than one suicide occurs in this short but dense work, where people and animals die often from natural illness and accidents.
Werner's characters also ruminate and speculate, though the focus here is on the hard Darwinian logic of brutal survival. "Life is frightening even for the most sure-footed of travelers," muses Sarah, a tough woman capable of serious labor of all sorts. "How must it have been for her brother, who heard birds breathing in the dark and worms sliding into their holes? And who, when he looked at the smooth, gray river stones, saw skulls? Nor could he behold the faces of familiars and strangers without also seeing whatever troubled them in the darkness that attends every life."
Although Werner's fiction, like its landscape, does not welcome the stranger, it shimmers with a strange beauty that also entices. Scattered throughout the story are figurines stolen by whites from indigenous peoples, and these totems elicit fear in those who behold them.
"The doll was carved of wood and wore a top hat and its face was soft, white, and sunken as if nothing were beneath it. When Gil looked on this visage he screamed, and as if wise to his horror, the doll awakened, its eyes widened, and it opened its mouth and mocked him until it seemed the doll alone were the screamer." Like Gil, the reader will remain imprinted by this image as well as others, long after the last character flees.
On Stage: River City Nomads Poetry Performances, Volume One 2004 -2009
Cattail Press, 2011
$10.00, 50pp.
Reviewed by Eduardo Rey Brummel
This collection of poetry is of work performed, on stage, by five regional poets, not a one of them strangers to this magazine: Peter Anderson, Lawton Eddy, Laurie James, Lynda LaRocca, and Craig Nielson. Back during my grade school years, I was told that poetry is meant to be read aloud, not silently to one's self. If so, then this is a book of actual poetry. And being poetry, this collection is many things. To list just a few, it is a clear-eyed recording and recollecting of the surroundings; reminiscence of lives lived, lost, longed for, cherished, still lived and nurtured; a song of thanksgiving, gratitude, and love to place; a charge to awaken to the, "essential," that, according to Saint-Exupéry, "is invisible to the eye."
I can be a tough crowd where poetry's concerned. I expect it to have depth, layers of meaning, a resonance that lingers after the listening, and all the while remain accessible, even if it requires we stretch ourselves a bit in accessing it. Too much of the "poetry" I encounter nowadays is either just pretty language or is so dense its meaning has withered from lack of air and sun. I personally know, and am known by, three of the River City Nomads; so I was a bit nervous when given this book to review. What if its poetry fell into the wrong camps? Fortunately, (deeply exhaled sigh of relief), all of this collection is, indeed, poetry.
According to Maya Angelou, "Poetry is music written for the human voice." On Stage contains more than only the five voices of its poets. As would be expected of performances "on stage," other narrators present both themselves and their words. For more than a handful of poems, two or more Nomads join in an ensemble voicing. This is where the printed page falls flat in its service. Again, poetry is meant to be witnessed, not only read.
Sherrie York provided linocuts for this book. As with all other poetry, as strikingly splendid as her work is on the page, it's far better to see it, "in person," which I've had the grace-riddled opportunities to do.
Because of this collection, I've gone to the local library, checking out books and books of poetry, wanting more and more, now that I've tasted how exquisite it can be.
Eduardo Rey Brummel is becoming increasingly convinced that the longer he stays put in Salida, the more delightful surprises will allow themselves to be revealed.