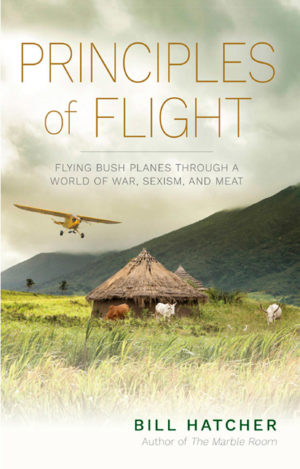 by Bill Hatcher
Lantern Books, 274 pages
ISBN 9781590565742
Reviewed by Martha Quillen
Principles of Flight is a memoir and a treatise against war, sexism, religion, capitalism, militarism, government policies, and eating meat. It contains lots of geographic color, general information and political commentary. But it has the spirit of a literary novel, and is rife with alienation, angst, confusion and psychic pain.
Hatcher focuses on classic themes: What is a man? What makes a person good? Or bad? And his book is more reminiscent of topics explored by D.H. Lawrence and James Joyce than is typical for non-fiction.
Hatcher's tale begins when he arrives in Africa and starts taking flying lessons. He's been in Africa and has flown before, and within short order the reader knows he was in a terrible crash. But the details are disclosed slowly.
In the opening chapters, the author skips from character to character and place to place, and it's a bit confusing. At first I thought that was because the book is a sequel to one about Hatcher's earlier years. But this tendency persists throughout, and plays a large part in illustrating Hatcher's uncertainty and inability to connect with others.
In fact, this seems to be the way the author sees the world: that people are personally influenced by whom they know, what they eat, what governments decide, what religions contend, and how they've been taught to feel. Hatcher is trying to overcome some of those influences in order to find himself, but his observations display startling insecurities:
"Still, as an American and former Christian, I had an almost pathological ability to deceive myself about my own virtue."
"I had fooled myself. Africa was no magic kingdom. It was not my island of adventure, and now it had robbed me, beaten me, and rejected me."
"… she knew who she was and where she was going in life. This quality attracted me to her even more, and if my airplane ambitions fell through, I could attach myself to her world and her needs and further avoid confronting my own."
"… Just as my country built a military stronger than any other … I exercised until I hurt myself, flew planes until I crashed, and climbed dangerous mountains to the brink of death – all in a vain attempt to convince myself I was good enough and strong enough, and that I controlled my world."
Throughout
Principles of Flight
, Hatcher characterizes himself as impaired and immature due to the effects of a culture that stresses masculinity and killing. The book reveals his quest to become a better person, and for Hatcher that means transcending the negative influences of male dominance, militarism and eating meat.
One suspects a lot of readers will doubt that the new level of consciousness and ideas Hatcher speaks of can heal the world, but they seem to have healed the man.
And in the end? Hatcher finally lands in a place he wants to be – and the inner turmoil he shares along the way is fascinating.