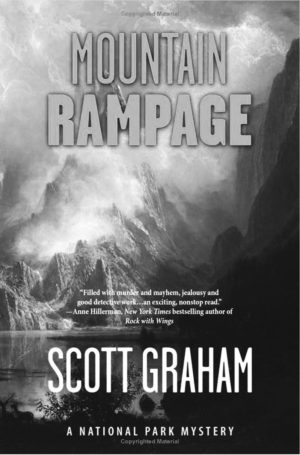 Mountain Rampage
By Scott Graham
ISBN: 978-1-937226-45-9
Torrey House Press: 2015
$14.95, 269pp.
Reviewed by Eduardo Rey Brummel
In Rocky Mountain National Park someone is poaching Rocky Mountain sheep, taking just the heads and leaving the bodies. Meanwhile, Chuck Bender, hired by a professor at Durango's Fort Lewis College, is leading an eight-week college field class in historical archeology, also in Rocky Mountain National Park. During their final week, a huge pool of blood is found outside their Estes Park dormitories, which turns out to be the first of several horrors about to take place.

At their field site, an abandoned mine and cabin, a hole is discovered when part of the mine's floor gives way, nearly taking three of the students into the bottom of its maw. Later, Chuck is locked inside the mine and two murders take place outside the students' dormitories. Near the end of the novel, Chuck nearly captures the poacher, only to have the start of what becomes a raging forest fire prevent him from taking the poacher to the police.
Scott Graham captures the reader's attention and keeps the pages turning with his story's intrigue, how the evidence surrounding the found blood and the murders persistently points to one of the group's leaders, and a concerned and fearful, "What's going to happen next?" Just as when hooking a fish, Graham knows when to maintain pressure and when to back off a bit. Due to his adept storytelling, this reader was constantly wondering how things were going to work out – or whether they weren't.
Mountain Rampage
falls into the mystery/thriller genre of popular fiction, but it reads incredibly close to literary fiction, such as written by Rick Moody, Richard Russo and Stuart Dybek. Graham's abilities, and his level of command over them, are far above what's usually found in genre fiction (excluding Stephen King). His characters are three-dimensional, flesh and blood people, like the people you already know. You understand their motivations, just as you understand their flaws. There's nothing unusual in anyone's actions. Graham needs no deus ex machina, nor any wizard behind the curtains, for nothing takes place that's apart from how things could be expected to go.
This is Graham's second book in his "A National Park Mystery" series. The third,
Yellowstone Standoff
, is due out this month, and he's currently working on
Yosemite Fall.
Graham's previous book,
Extreme Kids
, won the National Outdoor Book Award.
Utah's Torrey House Press, the publisher of Graham's mystery series, is making a name for itself due to the quality of its publications. Three years ago, Barbara Richardson's
Tributary
won the Utah Book Award, and was a WILLA Historical Fiction Finalist. So it's no big surprise seeing that they're publishing Graham's stories – being such an adroit storyteller and writer, he fits right in.