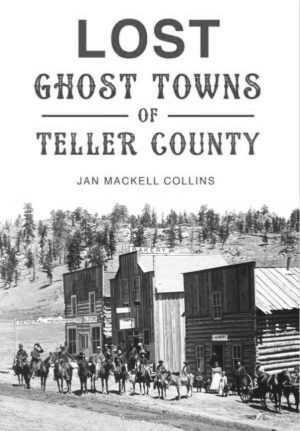 Reviewed by Forrest Whitman
By Jan Mackell Collins
History Press, 2016
ISBN 878.146713.512.2
This author has done a commendable job of researching the lost ghost towns around Cripple Creek and other Teller County locations. Her attention to detail is excellent. The book might entice one to try and find some of the sites, or what little is left of most of them. She discourages visitation however, saying: "… readers will note the absence of clear directions to most of these places."
Bison Park near Cripple Creek is pretty well known. The ghost towns of Clyde and High Park City are covered extensively. Tourists who take the Cripple Creek Railroad can ask the knowledgeable conductor to talk about the Short Line Railroad which served Clyde (built in 1899, by my sources). Her data on Manitou Park and its founder Dr. William Bell, is interesting. He is often credited with starting the trout fishing industry in Colorado.
Her tales of the bad men who haunted Spring Creek are also arresting. That town seemed to attract arsonists thieves and other unsavory types and are a highlight of the book. Spring Creek, like most of her ghost towns, declined by 1920, due to the playing out of the Cripple Creek District mines.
Quite interesting is her description of Summit Park. A strange religion flourished there. Henry Truman Williams was the leader of this sect. It was Williams who first gave William Jackson Palmer, of the D&RG Railroad fame, a tour of the future Colorado Springs. The details of the sect are not known, though Williams moved there after having had limited success in Chicago and Brooklyn. Converts were not allowed to marry, and they took in many orphans. When the Chicago branch was raided and the Williamites there arrested, the children feared for their lives and were put in foster homes. A typical cult, converts had to give all their worldly goods to Williams.
Many of her mining camps and towns are given only a few lines, but their names are fun. Places like Dutchtown, Jackpot, Los Angeles and Peck's Camp came and went quickly.
A weakness in her book is one I often find in regional history. Very little is mentioned about the bigger picture in which the towns existed. We learn that in 1894, Altman was abandoned due to the labor wars. She does a good job of reporting the events, but gives us no wider context. Why did the wars happen, and where were the famous strike leaders like Harry Orchard (later to be hanged)? We'd like to know more about that context even if we are Colorado history buffs. For that matter, information about the big picture fluctuations in the minerals market or the loss of the bi-metal standard (leading to William Jennings Bryan's famous "cross of gold" speech) would make for a good paragraph.
All in all this is a good read and one you'll go back to over and over again.