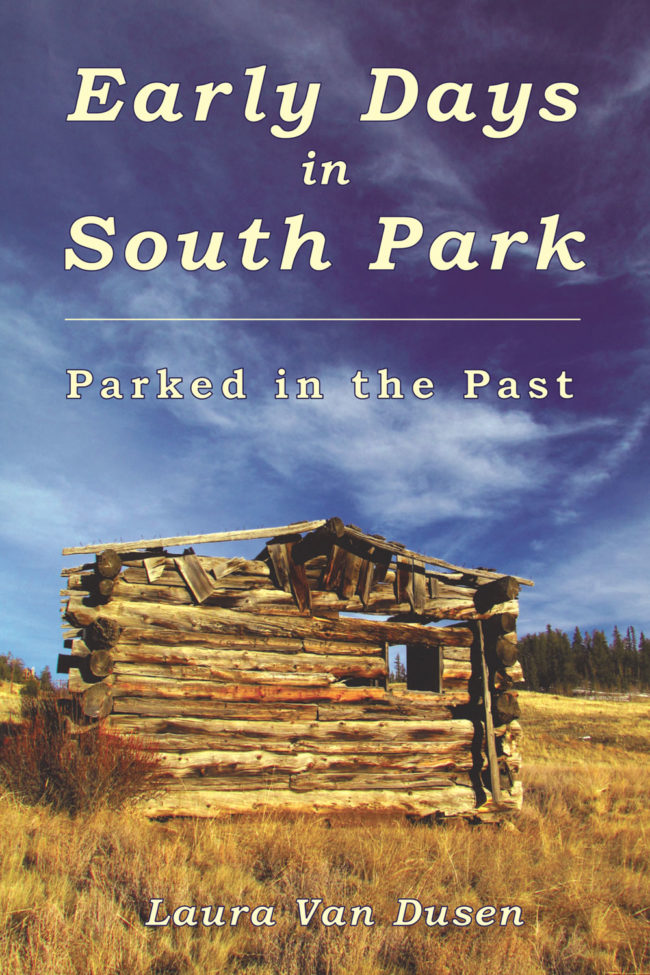 By Laura Van Dusen
Vandusenville Publications, 189 pages
ISBN 978-692-72310-4
Reviewed by Forrest Whitman
Sooner or later, if you live in Colorado, you'll drive through South Park. It's a lovely ride in its own right, but this book will keep the motorist seeing it all in a fresh way. Van Dusen, long-time writer for many publications (including this one), opens up the surprising history of the park.
Her vignettes about early notables in the park are well done and give us a new look at them. Some of them, like Willia Hamilton Johnson of Alma, or Marshall Lewis Link, are especially crisp. She reveals them in "the bad and the good." They emerge as real people.
She draws on the letters of Wilbur Fisk Stone to show us just how dastardly some of our early heroes and villains were. Her historical accounts of the outlaws are gripping. Some of the bad guys, like the Espinoza brothers, were terrorists of the most incredible kind.
Wilbur Stone spared neither Governor John Evans nor Reverend Chivington (the fighting Methodist minister who led the massacre at Sand Creek). Both were crooked and amazing liars, as were many others who dealt with the Indians.
A weakness in Van Dusen's coverage concerns the Utes. They were very much a part of South Park history, but other than a brief appearance by Chief Saguache, they don't come through. On the other hand, Van Dusen can write only about the accounts of the first settlers, and the Indians were only backdrops for them.
Especially interesting is her coverage of how hard life was in South Park. For instance, Benjamin Berg, second owner of the Fairplay Hotel, lost three of his children to typhoid. During World War I, The Fairplay  Flume reported death after death to the Spanish influenza. Some 675,000 died in the U.S. in that outbreak.
There were interesting cures to various diseases, which she covers in detail, including Bayer Heroine, Lydia Pinkham's Herbal Remedy (popular with women partly because of its alcohol content) and Magic oil (87 percent alcohol).
Driving on U.S. Hwy. 285, the motorist will have a new understanding of how hard travel was by stage coach. You'll also learn more about Como. This was a big rambling coal mining town with its own "war" to remember. Her chapters on Como and the Antero Reservoir fights are especially good. The motorist may even pause to think of the King Coal disaster where so many miners died. The book makes a routine trip through South Park fascinating.
There's more to the book than the 19th century too. Her accounts of pre-history and the Porcupine Cave are compelling. So are her accounts of modern history. She covers the death of JFK and the beginning of the Ed Snell race.
I'm always looking for books to add to my holiday giving list. Early Days in South Park is on mine this year. Laura Van Dusen has done an outstanding job here.
Early Days in South Park is available at the South Park Ranger District Office, and the Hand Hotel in Fairplay and the Mountain Man Gallery in Como. It can also be found online at www.Facebook.com/parkedinthepast and at Amazon.com. By mail, send a check to the author at P.O. Box 445, Como, CO 80432, for $23.77 (includes tax and mailing fees).