A Dozen on Denver: Stories – edited by the Rocky Mountain News
Fulcrum Publishing, 2009
ISBN: 9781555917272
Reviewed by Elliot Jackson
The late, lamented Rocky Mountain News, shortly before its demise, commissioned a collection of tales from twelve Colorado authors, some famous and some virtually unknown, to commemorate the sesquicentennial of both the paper and the city of Denver. The idea for this collection was inspired, according to the forward by former RMN editor John Temple, by a similar collection of tales commissioned by the Times of London.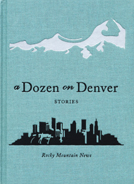 The first eleven stories are each set in a particular decade between the 1870s and the 2000s, with the twelfth, reserved for the winner of a writing contest sponsored by the Rocky Mountain News, set in the undetermined (but presumably not-too-distant) future; and all feature as their setting some portion of one of Denver's major arteries, Larimer Street.
While I found all of the stories to be interesting and worth reading, a few of them stood out for me: "Yellow Roses", by mystery writer Margaret Coel, is set in Denver's earliest days, and outlines a woman's decision to stay on in the new settlement after her husband's sudden death. For sheer enjoyment value, it was a toss-up between Manuel Ramos's "Fence Busters", set in the 1950s and telling the story of Kiko, a shoeshine boy who has a fateful encounter with a Beat-era writer in his earliest days of fame, and Connie Willis's "New Hat" (set in the 1920s). Willis, best known for her humorous and elegantly-scripted fantasy/sci-fi novels, exhibits her customary sense of whimsy in this tale of a young woman getting her first intoxicating taste of financial and emotional freedom. Fans of Diane Mott Davidson's Goldy Bear culinary mysteries will be particularly gratified by the inclusion of "Beginnings: 1982", an origin tale that sets Goldy (accompanied and aided by her son Arch) on her path to criminal investigation and catering.
Finally, a shout-out to the winner of the writing contest, Robert Pogue Ziegler, from my old home town of Paonia, whose tale "Heirlooms" reminded me of the futuristic writings of one of my favorite novelists Marge Piercy – full of evocative details that focus more on the aftermath of a holocaust than its build-up, and featuring as its real protagonist – a garden of heirloom vegetables, more precious than gold or gasoline or even water in this new future. Somehow that seems appropriate for a writer from Paonia, the niche-agriculture center of the Western Slope, and surely, in my partial and prejudiced opinion, a nicer place in which to wait out the apocalypse than Larimer Street.