TWO CENTRAL COLORADO ARTISTS were among eight Colorado artists selected to participate in the Colorado Art Science Environment Fellowship, a program that connects artists with University of Colorado Boulder scientists and educators to visually explore the climate crisis in their own communities. "We could essentially choose any environmental issue that affected the way our community functioned," said selected artist, Jocelyn Catterson.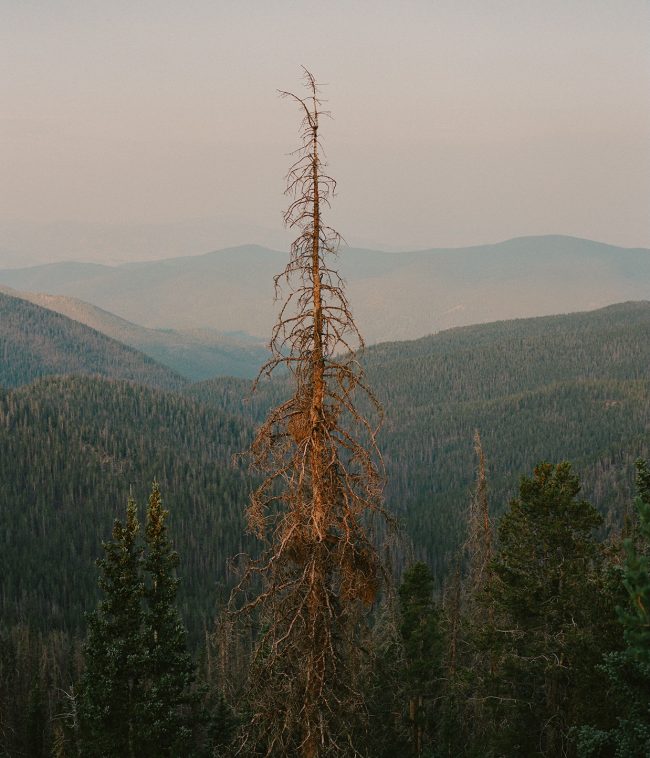 Catterson, a painter and environmental educator from Del Norte, teamed up with Holly Barnard, an Associate Dean of Research and Associate Professor of Geography and Hydrologic Sciences to study groundwater in the San Luis Valley. "I wanted to be as collaborative and community based as possible," said Catterson. "I started by interviewing close to 20 people in the valley, from water related non-profits, different government organizations, scientists, land owners and hydrologists who work for public land agencies," she said.
Their project, "Making the Invisible Visible: Groundwater in the San Luis Valley," is a result of those conversations. "As a community, we've been trying to decrease groundwater usage to make sure we can meet water compacts without depleting the aquifer below us. The sad story tied to all of this is that if you look at the data, we have decreased pumping dramatically but aquifer levels have continued to plummet." According to Catterson, this is largely due to the effects of climate change, including the timing of snowmelt, snowpack, wind and wildfire.
A freelance photographer with more than a decade of experience, Beth Johnston of Salida also turned to the community to start her own project with Kendi Davies, an Associate Professor of Ecology and Evolutionary Biology. Their project, "Beetle Kill in Monarch Pass: Symptom or Disease," explores the impacts of an overpopulation of spruce beetles on the high-elevation forests of Monarch Pass.
After countless conversations with Arkansas River Valley community members and local forest managers, Johnston learned that with ongoing drought and increased temperatures, the beetle population has gotten out of balance. "Normally the beetles only attack dead or weakened trees. But now that their population is so big, and without cold snaps in winter to kill off the excess larvae, they're attacking healthy trees," she said.
But the beetle itself is actually a native and healthy part of the ecosystem. At endemic or low population levels, spruce beetles generally only infest downed trees. "I'm fascinated with the underlying issues and trying to embrace questions instead of rushing to the answer. We simplify complex issues by identifying a quick enemy," said Johnston. "The beetles help with decomposition and keeping forest ecology going. It's the underlying issues that have created this imbalance," she said.
While the project explores the impacts of a specific beetle in a specific place, Johnston said that it's also an invitation to consider what lies beyond what we currently see. "We only see the tip of the iceberg. We reduce the issue just to the beetles coming in and wiping out the trees, but it's more complicated than that," she said. Instead, Johnston is looking at how land management practices, indigenous displacement and things that are not always visible in the science have created such a visibly ominous landscape. "I'm using an old polaroid camera to represent this. Only 10% of the images are going to be visible because it's expired film, they don't all turn out," she said.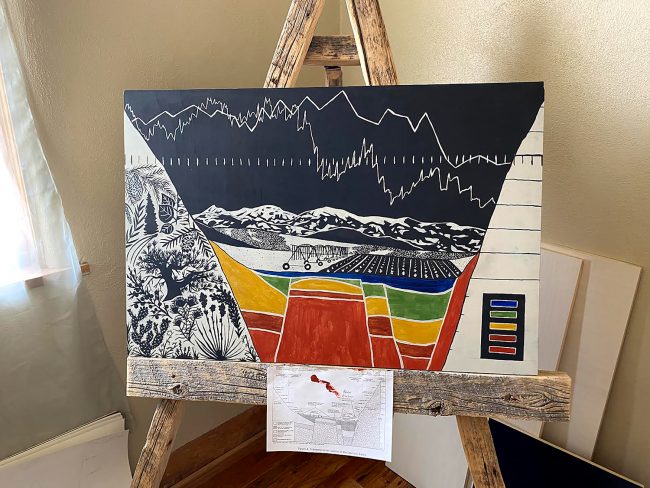 Using large-scale wood paintings, Catterson is also interested in representing the complex, invisible underlying conditions of groundwater use. "I don't use much color so that when I do, it really stands out. The colors help emphasize the contrast from agricultural land and where the water actually sits in the valley," she said. "The project is focused on those different viewpoints that transcend what we can actually see on the valley floor," she said. "I'm trying to take in all those perspectives, including below the ground and an aerial perspective to illustrate how they are all connected and tied to the data that we are experiencing as a community," she said.
Both artists' work will be featured in an exhibition at the Colorado State Capital from May 19  to October 16. But both women feel strongly that their work should ultimately end up back in their communities. "Art is the motive, it's emotional. It transcends the thinking, logical brain. A lot of people might hear about these issues but it doesn't have a huge felt impact," said Catterson. "The goal of the whole fellowship is to bring more awareness to an issue through a different way of knowing and experiencing that issue. By bringing in art to the picture, I'm hoping to get people involved that may not have otherwise joined the conversation." Johnston is also interested in having more complicating conversations with her community. "I feel like art's purpose is largely to raise questions that other realms can't necessarily do," she said.
Amelia Stern is a reporter and newcomer to Colorado, who has lived in California, Massachusetts, Maine and Washington D.C. When she's not writing, she's either hiking or watching the latest true-crime documentary with her cat Clio.