by Hal Walter
Westcliffe area residents no longer need to drive far for a selection of inexpensive plastic things made in China. A Family Dollar store opened here in May.
I watched in curiosity for most of the winter as the ground was broken and construction began for the new business. I was intrigued because I had in fact never been inside a Family Dollar. And since I seemed to be doing just fine without anything from there I doubted I'd ever need to set foot in the place.
Oddly, the store's grand opening came at a time when many of the town's businesses are for sale, and when real estate signs are popping up faster than wildflowers across the landscape.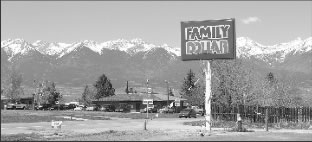 Family Dollar isn't the first chain store to set up shop in Westcliffe. There is an Ace hardware store, and a Subway sandwich shop inside the Valley Fuel. But a chain discount convenience store is something different altogether — a hybrid business that competes with many other establishments on many levels.
It seemed a pivotal moment in Westcliffe economic history, right up there with the establishment of a railroad head in the 1800s, the ski area scheme of the 1980s and early 90s, and the great grocery store war of the late 1990s. Other notable recent economic milestones are the establishment of a bowling alley and the opening of a health club and pool.
When you've lived here as long as I have, you can remember visiting the old F&S Hardware Store on 2nd Street long before there was a Valley Ace Home Center. And Valley Fuel was where we bought rubber for our vehicles before Jared ever had a spare tire to lose at Subway.
Jennings Market kept us in grub between trips "Down Below" or to Salida. The produce was often iffy, but the meat was always good and wrapped in paper, not plastic. When the new Westcliffe Super Market opened, there were some of us who initially refused to shop there on general principle. It seemed wrong that someone would come into a small town, put up a steel building and try to put the hometown grocery out of business.
But that's exactly what happened and I have to admit the produce is better at the "Metal Mart" than it ever was at Jennings, and some of the former Jennings employees work in the new grocery, which now has been in business more than a decade. The Chop Shop, located across the alley behind the old Jennings building, now operates a meat counter reminiscent of the old grocery.
When the bowling alley was being built I recall a conversation with my friend and former area resident Patrick "Mad Dog" O'Grady, an eternal pessimist, in which I said "that'll never fly." But he said he actually thought it would. His argument was that a bowling alley was a perfect business in a place where the population is generally older and not very active, and where the weather is pretty lousy for many days of the year. Well, I was wrong; he was right, and now Cliff Lanes is where people go to bowl, play billiards, eat breakfast, lunch and dinner, and have meetings or private parties.
Club America opened a few years ago with exercise facilities and an indoor swimming pool, something seriously lacking in the area. Recently, when the club nearly shut down, the Custer 2020 board and a group of local volunteers took over to keep it open. The floundering health club possibly reflected a general downturn in the area's growth, partly due to the overall economy, but also part of the general boom and bust cycle that seems to grip resort towns, particularly ones like Westcliffe where there's no actual resort.
Still, one has to wonder what's next. Certainly a Wal-Mart is out of the question. But for some time my bet has been on one of those mini City Markets like the one in Buena Vista.
But the Family Dollar's grand opening in early May was something I could not have predicted, and the store just seems so alien to the town with its red and orange sign backdropped by the Sangres.
I decided to take an informal poll of people I know to see what they thought about the new business. The more enthusiastic answers ranged from "It's nice!" to "We need it." Others were more cautious though they mentioned they had already been there and bought some things. On the negative side there was: "What's going to go into that building when it goes out of business?"
I decided that I needed to check the place out in person. I allotted myself $15 in research funds and stopped in one morning to look over the goods. As expected, there was an overwhelming amount of plastic stuff. But there were also some clothing items, cleaning goods, packaged foods, automobile supplies, and over-the-counter medications. The store was staffed by some familiar Custer County faces.
I chose a pair of knockoff Croc-style sandals for my son for $4. We needed a dust pan and I found one for $1. I also selected some Glad brand plastic sandwich bags, which were actually made in the U.S. I must admit I was intrigued by an MP3 player that sold for around $20, but I left with just the three items and my total was $7.34.
But the fact of the matter remained: I didn't actually need any of this stuff.
But that's just me. There are reportedly about 6,600 Family Dollar stores nationwide. I bet the people who operate these things have a pretty good idea where they can sell a lot of plastic stuff from China, and Westcliffe just might be one of these places.
Hal Walter writes and edits from the Wet Mountains. You can keep up with him regularly at his blog:
www.hardscrabbletimes.wordpress.com