By Mike Rosso
In recent years, Salida has become known as a bicycling mecca, especially mountain biking. There are 23 miles of trails just within the Salida Mountain Trails system, and that's not counting such trails as the Colorado and Monarch Crest.
Shawn Gillis, owner of Absolute Bikes, had a sense of the potential for Salida when he opened his store here in 1999. Nearly 20 years later, the shop, located on Sackett Avenue with the Arkansas River flowing behind it, is integral in most everything "bicycle" in the region. It is a busy hub for locals and out-of-town fans of two-wheel transportation and recreation. Offering everything from budget town cruisers to high-end mountain bikes costing thousands of dollars, electric-assist bikes, custom bike fitting, clothing, shoes, accessories and a fully-staffed repair shop, the former feed store is buzzing with activity 12 months a year.
Gillis, a native of Encinitas, California, caught the bike bug early; he worked summer jobs in bike shops and worked on his own bikes including building wheels. "I grew up surfing, running and riding bikes; there were no buses to get to school, so I went everywhere on bike," he said. In the following years, he competed in several Ironman triathlons including Kona, and was a pro mountain bike racer from 1990 to 1994. He completed the Leadville Trail 100 run in 1998 and is a 20-time finisher of the Leadville Trail 100 bike race.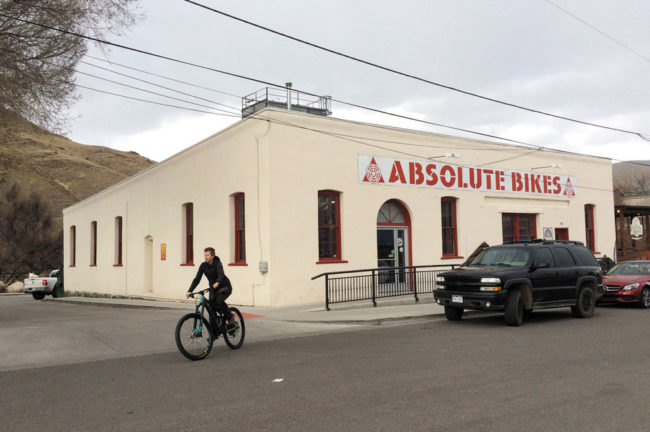 He, along with two partners, decided to open a bike shop in Flagstaff, Arizona, in 1989 after attending the Interbike Trade Show in Reno, Nevada. "I actually lived in the bike shop for about six months before I could afford rent of fifty dollars a week that summer. I sold my truck, borrowed money from grandparents and parents, and then did everything on a bike for the next year," Gillis explained.
Gillis' wife, Dena, was part owner of Mt. Shavano Ski Rental in Salida with her brother and sister in-law. She and Shawn were engaged December 1998 and her father offered financial assistance if they were to move closer to Dena's family here in Colorado. They surprised him by taking him up on it and purchased the old feed store on Sackett in 1999, an industrial building in what was then a neglected part of town. Shawn sold his share of the shop in Arizona, which is still operating. The old place required a lot of imagination and sweat equity to make it a functioning retail operation, but it turned out the be a smart move; the shop is located in a neighborhood which is seeing rapid growth and urban renewal, not to mention the Arkansas River, of which Absolute donated a quarter-acre easement to the city for its river park.
Since opening its doors, Absolute has been known for its community outreach, starting programs such as the 4th Grade Helmet Program, now in its eleventh year, and Absolute Youth Cycling, which offers 2-Wheel Fridays, bicycling and mountain bike programs for elementary and middle school children; presenting topics such as land and trail stewardship, road/traffic/trail etiquette, team work; bicycle maintenance and repairs and more.
Absolute also works closely with Salida-area Parks, Open-space and Trails (SPOT), of which Gillis is a board member, as well as with Salida Mountain Trails (SMT), an all volunteer organization committed to building and maintaining sustainable, non-motorized, multi-user trails on public lands adjoining the city of Salida. The shop also sponsors the annual Vapor Trail 125, a grueling, all-night 125-mile mountain bike race with a total of 17,163 feet of elevation gain, with all proceeds going to SMT and Salida High School Racing.
In 2016, Absolute introduced the Salida Area Trails and Event Routes Map, a comprehensive map of regional trails and bike routes. The store was also instrumental in getting the mountain bike race included as an annual June FIBark event. "I consider our town a mecca just by how full our bike racks are at all three Salida schools," said Gillis. "When we do events all over the state and people learn we are from Salida they say great things to us. Part of it is about bikes and trails but much of it is how awesome the community is and how welcome they feel when they visit."
For 18 months in the mid-2000s, the store was the temporary home for the Mountain Bike Hall of Fame which eventually relocated from Crested Butte to Fairfax, California in 2014. The store continues to display 58 classic, vintage bikes including a Don McClung "shortie."
Gillis is a certified Specialized Body Geometry Master Bike Fitter and Absolute's head mechanic Scot Banks is a USA Cycling Certified and Licensed mechanic. Gillis can't emphasize enough how important his staff is to the store. "Our business can only be successful from the people who work here," says Gillis. He found that out the hard way recently after he was injured in a bike crash at a race in early February, resulting in 7-8 broken ribs, a concussion and a collapsed lung. During his rehabilitation, his trusted crew rallied to keep the store going. "The care from my team here at the store, and from community, was a lesson to myself," he explained.
In 2015, Absolute was chosen for the Interbike Best Mountain Bike Shop Award and a 2017 Interbike Innovations Award, only one of 10 shops nationally. It has been voted Best Bike Shop in the "Best of Salida" awards from 2010 to 2017 and was voted "Best Local Business" in 2017.
Gillis considers the entire bike industry to be somewhat volatile at the moment, what with competition from the Internet and the homogenization of the industry, forcing shops to display more and more of the same product, but he has committed to "a big investment in bikes, inventory and people," to satisfy their loyal customers, as well as new ones.
The Salida area will continue to see an increase in bike popularity and Absolute Bikes will be right there to service and assist that trend. Visit www.absolutebikes.com for more information.