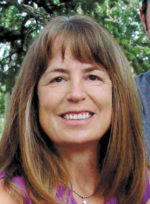 I grew up in Denver, but always had the mountains in my blood. As a young girl, I would often ask my parents if we could move to the mountains and get a horse. I attended Colorado Mountain College in Glenwood Springs where my interest in photography was sparked. I took numerous photography classes during my studies there. Although I have never done photography as a means of income, I have always liked it as a treasured pastime. Most of my photographs represent nature and the outdoors, because that's where I like to be.
After college I pursued a career in accounting and property management while raising three children, and photography was not a very big part of my life at that time. In 1999 I moved to Salida and shortly afterwards digital photography came into being. That re-ignited my photography passion and I have had the privilege of presenting my photographs in several different venues and shows.
As for the cover photo, it was taken on a ride to Hartenstein Lake in the Collegiate Peaks Wilderness with Curtis Imrie and Sue Conroe in August 2016. Curtis was riding his fairly new saddle donkey called "Peaches." There was a core group of us who went riding fairly regularly and Curtis liked to call our group "The Happy Bottom Riding Club." We had stopped at the lake for lunch and I had been walking around to check out the area. Upon coming back, I saw Peaches with her head down in Curtis' lap to get a bite of his lunch. Of course, I snapped the photo as it was so endearing!