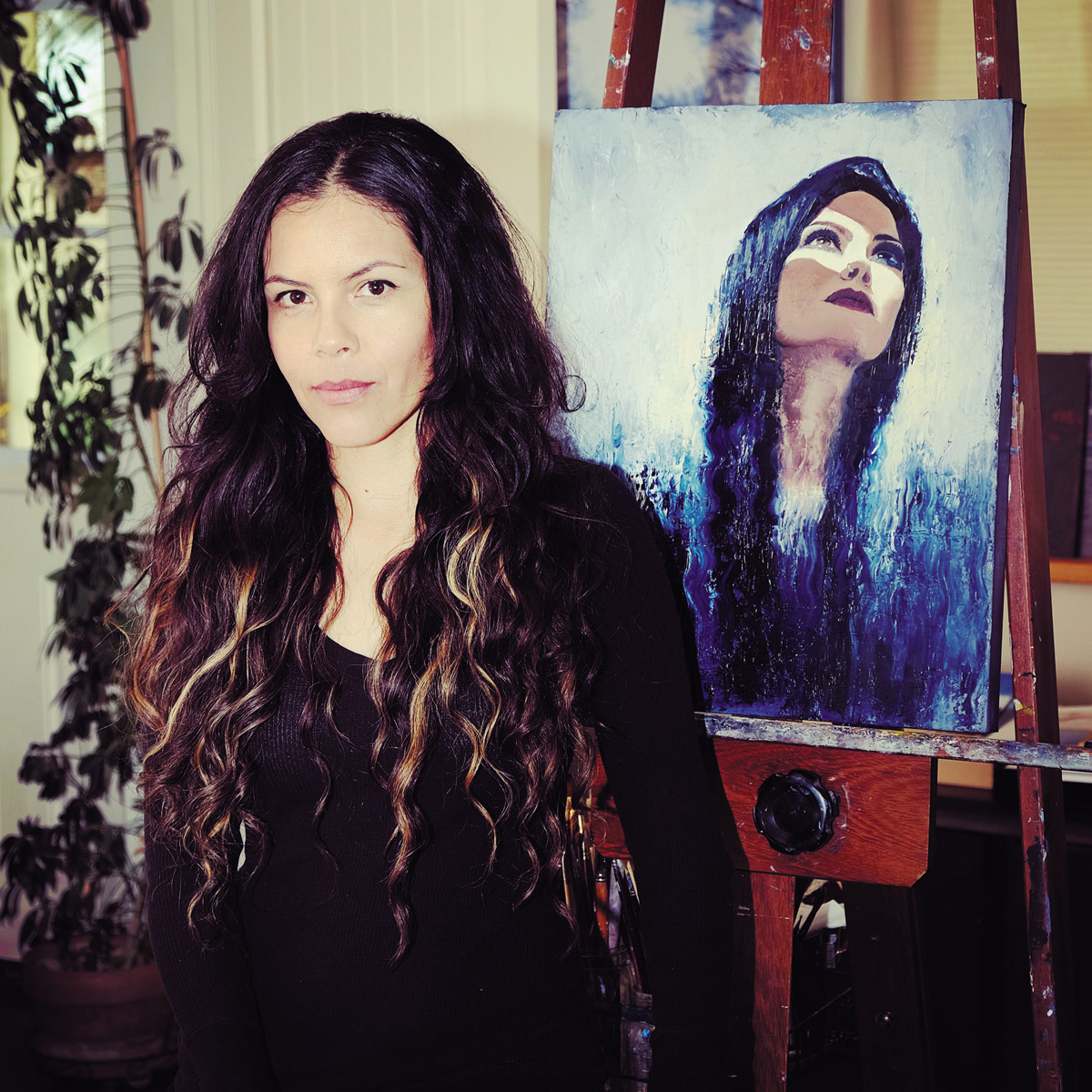 Beatris Burgoin was born and raised in southern Baja California, Mexico, as a member of an artistic family. She started painting when she was 19 and recuperating from a car accident. She's been developing her style for over 17 years and has evolved into a modernistic oil painter utilizing only three primary colors and white. Residing in Crestone, Colorado, she has become a very prolific artist and finds that with Crestone's big spaces, natural beauty and loud silence, she has room to grow and go deep into her artistic path. In Crestone she has explored different forms of art while continuing to develop technics in oil painting. Her artwork has been acquired by collectors around the globe, including Europe, Latin America, the Western Pacific and North America.
Being of free spirit and a nonconformist she has dedicated herself to search for satisfaction through artistic expression. With spontaneous results using self-developed techniques (she has no formal art training), Beatris has sought self-awareness through her work. This journey has resulted in achieving steady improvement and increased recognition from people who value original artwork. A serene yet decisive character guides her in her processes which continually reveals the mysteries of life so eloquently expressed in her art.
"An idea catches my attention, circles my mind and inspires me to create. My process is organic and changes as clouds in the sky. Discovering as I go. My main influence is light and the subtle contrast to dark, and how I manifest that with the use of palette knives, brushes and my hands, giving and impasto effect with the buttery texture inherent in oil paints. Oils dry slowly. This allows me to pause the process and begin again with, perhaps, a fresh perspective. I sometimes use a brush, but mainly, I use a painting knife. The knife lets me bring clean and vibrant color, as well as texture, to the canvas. I choose to use only the three primary colors and white which gives me the freedom to create any hue I want and brings a certain harmony, as if I am a conductor of a color orchestra!
I believe that when making art we transform. When we push ourselves to the limits, we are able to expand artistically and, at the same time, connect. In that moment, mind takes a break. You find yourself in pure presence, where everything is beyond judgement. As the viewer sees the work, he/she bears witness to the journey. When we really look with all of our senses, we can connect to the expansion and glance at our own limitlessness." – Beatris Burgoin
For more information about her work visit: www.beatrisburgoin.com