This group photo of gold miners in front of a large log cabin near the town of Granite, Colorado, shows horses, a wagon, and a miner sitting on a Kuner Pickle Company barrel.
It was taken between 1890 and 1900 by Charles W. (C.W.) Erdlen (1857-1935) and was provided to us by the Western History and Genealogy Department at the Denver Public Library.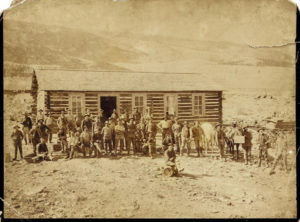 This albumen print is mounted on a card and on the back in pencil is written, "Erdlen" and "Salida, Colo." Albumen prints were commonly used in the late nineteenth century, and are a type of photograph made from paper coated with albumen (egg white). It was the first commercially viable method of producing a photographic print on a paper base from a negative.
The designation of "Salida" on the back of the print usually indicated the photographer had a studio there at one time, which Erdlen did, from 1889 to 1898. Some evidence points to a studio in Buena Vista as well. His name can be found on many of the historic images taken in Central Colorado in the 1880s which can be found in the Denver Public Library's archives. In 1891 Erdlen provided the photographs for a book authored by A.R. Pelton and titled "San Luis Valley Illustrated," which includes photos of "Public buildings, Summer resorts, Residences, Business blocks, Manufactories and Citizens." He also is credited with photographing the hanging of Nocolo Fiminello, alias Mike George, in 1888, the first and only legal hanging in Chaffee County.
Erdlen also served for a time as the Chaffee County Treasurer and as Vice President of the Commercial National Bank of Salida. A likely relative, J.F. Erdlen was the publisher of the Semi-Weekly Mail newspaper in the late 1800s, according to the Colorado Historic Newspapers Collection website. – By Mike Rosso